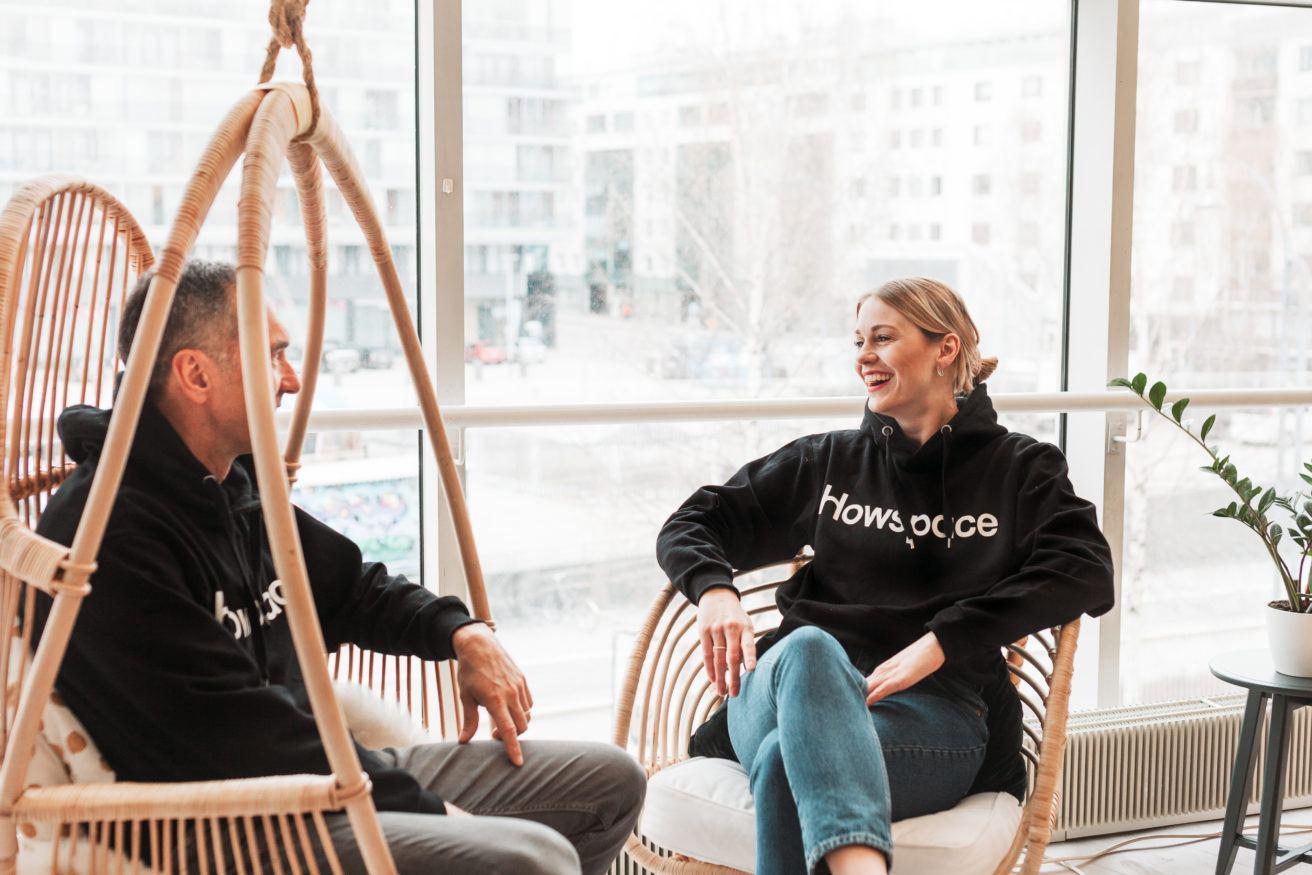 How to create impact by taking a workflow-based approach to collaboration
The workflow-based design principle is all about building your own processes and using the right tools to bring people together for transformative impact.
At Howspace, we don't claim to have the best processes in the world—we don't want to tell people how to run the show. After all, you know well how your organization and people work. Leaders, trainers, facilitators, project managers, and consultants are all experts in organizing workflows. So you know best how to facilitate a collaboration journey that moves ahead smoothly and generates a feeling of togetherness. We don't want to get in your way—we simply want to give you the platform that empowers you to succeed in your work.
In this post, we'll outline what workflow-based means in practice, and we'll share concrete tips for how to apply this principle in your work.
What workflow-based means in practice
You design the process
When we talk about workflows, we talk about designing the collaborative process. It's not about having a fixed process that you need to follow for every project, but about choosing the best approach for collaboration in a given context.
As a facilitator, you consider what steps are needed at different phases of a process, and build your workspace to create that flow.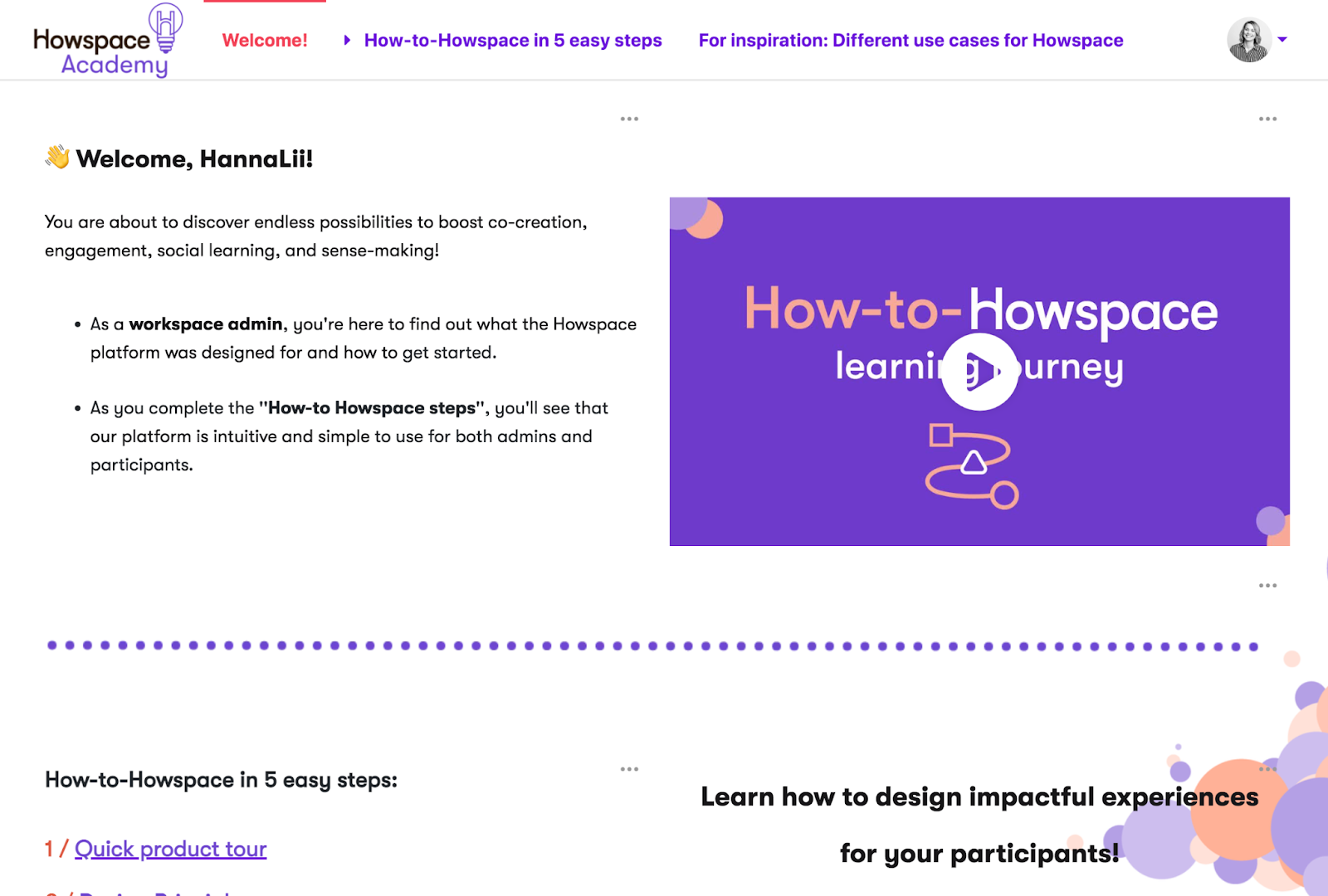 You can easily invite participants to the right place with a direct link to the current phase of the process.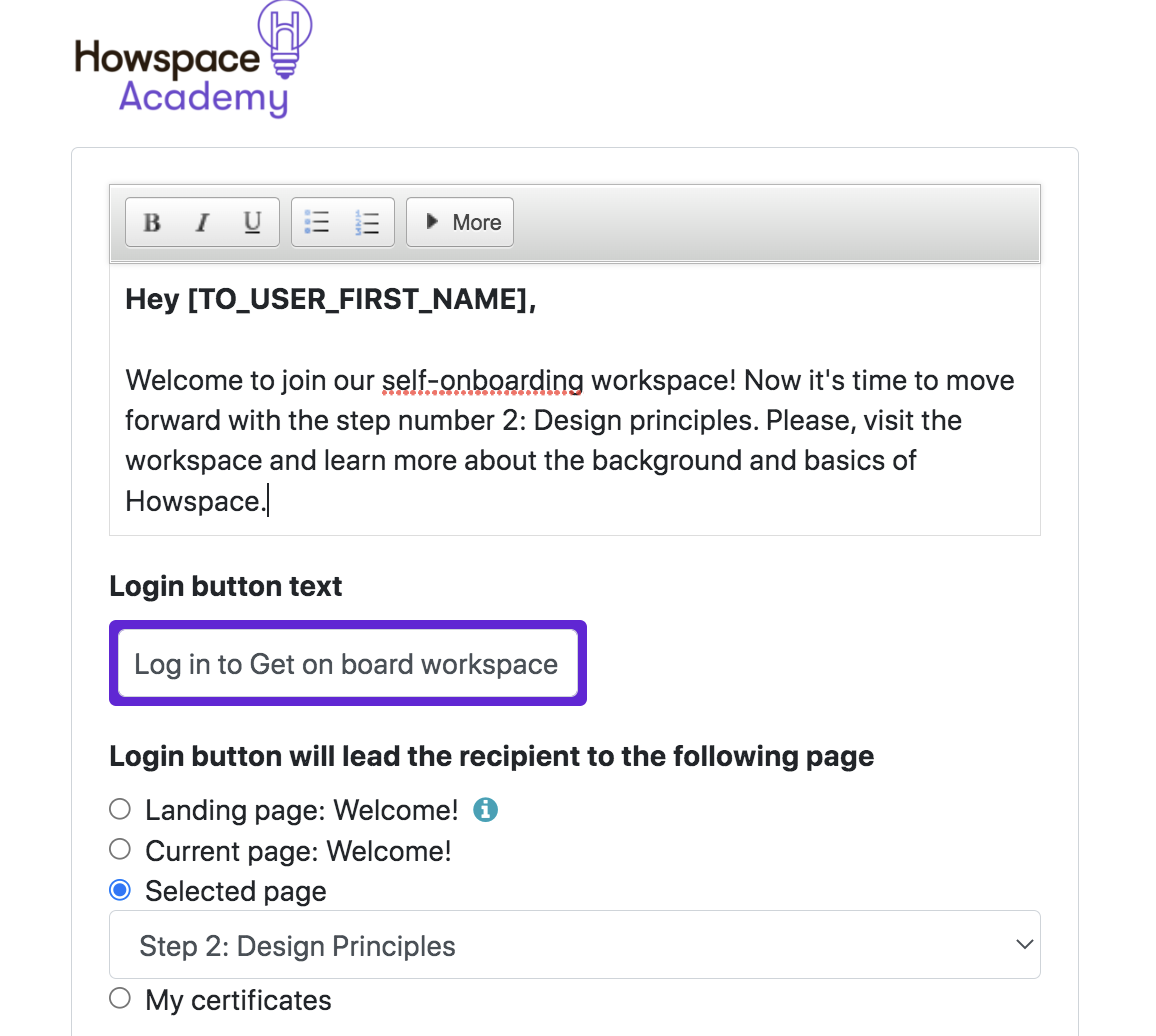 Unlike many technologies, Howspace doesn't force you to follow pre-set structures for your collaborative projects. Instead, you can design processes according to your own ways of working, and what kind of groups you want to invite to different phases of a process. While you need to know what you're trying to achieve with your initiative, you don't need to predict the final outcome—you can do different experiments, see where they take you, and finetune the journey on the go.
Simply put, instead of adapting to the tools you use, your tools should be flexible and adapt to your ways of working.
With Howspace, it's easy to transfer your existing face-to-face facilitation methods to a virtual setting. You can incorporate all the work, methods, and sessions you did in-person into one structured workflow that's easy for every participant to follow. When it comes to converting in-person processes to the virtual environment, remember to keep an open mind and let go of the constraints of the physical world.
Jean-François Hivon, General Manager and VP of Sales at Juice, shares how they reimagined what learning could look like in a virtual environment: "Howspace opened up new business opportunities for us—we're now working more with larger virtual engagements. People see the value of reimagining their events and bringing people together in a virtual space. We have to think about it differently and build it differently, but Howspace is enabling us to literally show people what it could look like."
In Howspace, you can select what widgets and content pieces you need at any given time, and drag and drop them in the right order based on your program's workflow. You can always hide and show what's relevant in the moment, as we've outlined in the other design principles.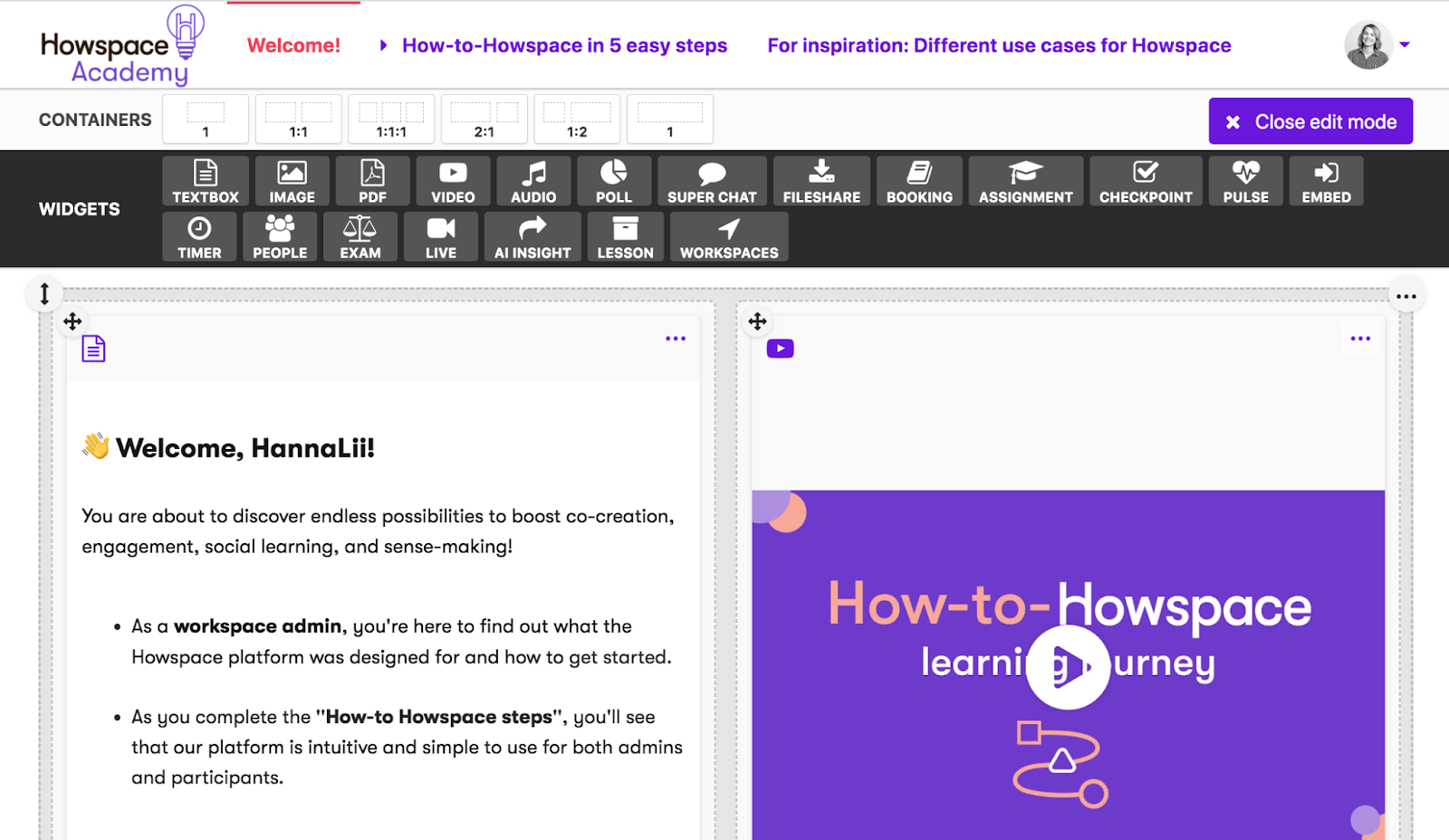 How to apply the workflow-based approach in your work
Focus on the next steps you want participants to take
The technology you use and the content you share is important in your initiative, but there's something even more important than these things: the process.
The most important question you can ask yourself as a facilitator is: What's the next step participants should take?
Rather than facilitating one-off workshops and meetings, focusing on the overall process enables you to align participants for the greatest impact.
Facilitate collaborative sense-making
The Howspace design principles exist in the context of the systemic approach. One of the basic ideas behind systemic thinking, which Howspace is built upon, is taking a not-knowing position. Leaders and facilitators don't need to know all the answers. After all, no one is a sole expert in an organization.
Most learning platforms only allow you to feed participants information, but in Howspace, you can start a collaborative process even with very little preset content. How? You can start by asking a question, inviting everyone to share their opinions, then discussing and making sense of things together. Especially for complex work, collaborative sense-making is the only way to advance things.
Participants can write their answers in a chat, and with the help of Howspace's AI tools, you'll get a clear idea of the discussion in real-time—without spending hours reading through countless comments.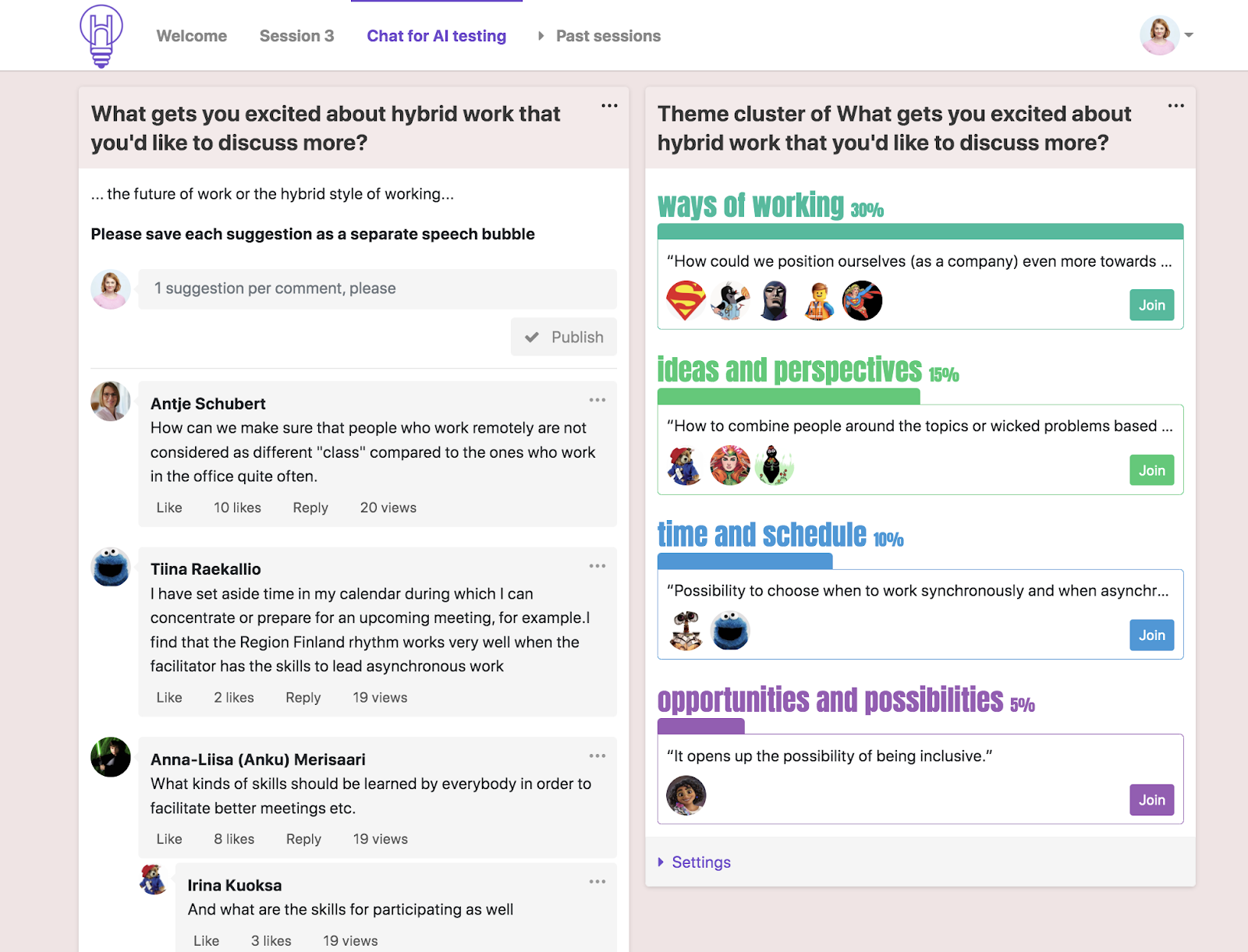 Remember: designing a workflow isn't just about collecting ideas—it's about creating a rhythm for the process. After people have been actively participating, give them time to be more passive and reflect, and show them that their input actually matters.
Use advanced settings to build an effective process
You can customize the widgets in Howspace to take designing your workflows to the next level. For example, with the chat widget, you can build an effective process with a single widget by making a few changes to the widget settings.
Let's say you want to start your collaborative process with a pre-assignment—you want to hear about your participants' expectations for the project. Here are the steps you could take to do this with the chat widget:
Simplify the settings: To get started, enable only text input so that participants can't add any comments, likes, or attachments. You can even select an option so that participants don't see each others' answers before they have answered themselves.
Put the likes on: Ask your participants to read others ideas and like the ones that are the most relevant for them. This way, you guide your participants to get familiar and listen to each other.
Filter the comments: Filter the comments based on number of likes to show what the most important topics are for your group. This way, you can enable brainstorming or collaborative decision-making and show participants' that their inputs affect the progress.
Put on "reply": Invite your participants to comment on others' answers. Be clear on what kind of dialogue you are looking for by including instructions in the comment field. You could write something like: "How can you take this idea even forward?" or "What part of the answer is relevant for you?" This gets participants engaging with one another.
It's all about the process
The workflow-based design principle is all about having the right processes and structures in place to facilitate meaningful conversations and get everyone working together to make an impact.
Howspace adapts to your ways of working, making it easy for you to design collaborative processes that perfectly suit your project's needs.
---
Deep-dive into each design principle
Workflow-based is the fourth Howspace Design Principle. Check out other design principles blog posts in the series to learn about what's at the core of our platform: