Involve your people in transformation
Better alignment, faster results, and lasting impact! Howspace is the transformation platform to engage everyone in impactful change.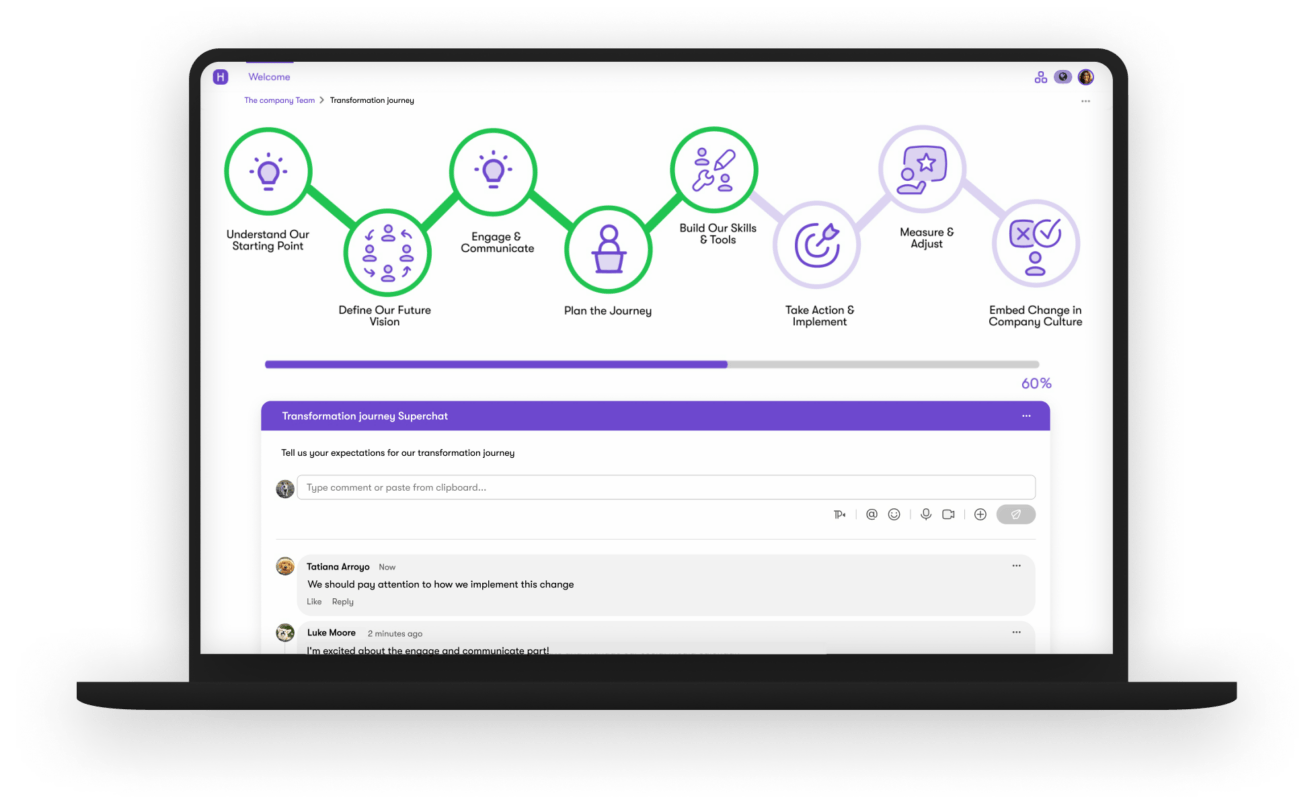 Trusted by
A simple platform to manage the complexities of transformations.
Increased engagement at scale

Greater inclusivity & diverse voices

Faster alignment & decision making

Lasting impact & culture change
Stronger resilience to new challenges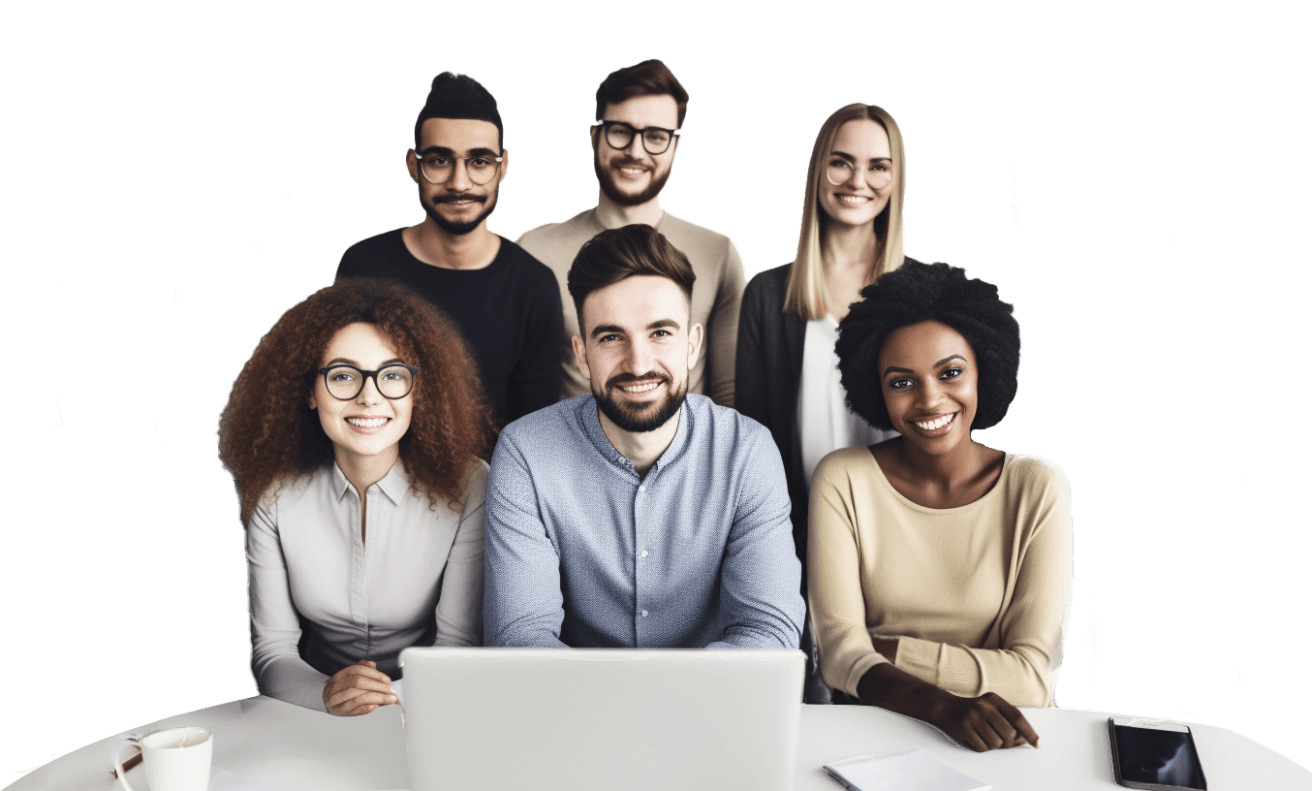 Use cases
Your solution, as you build it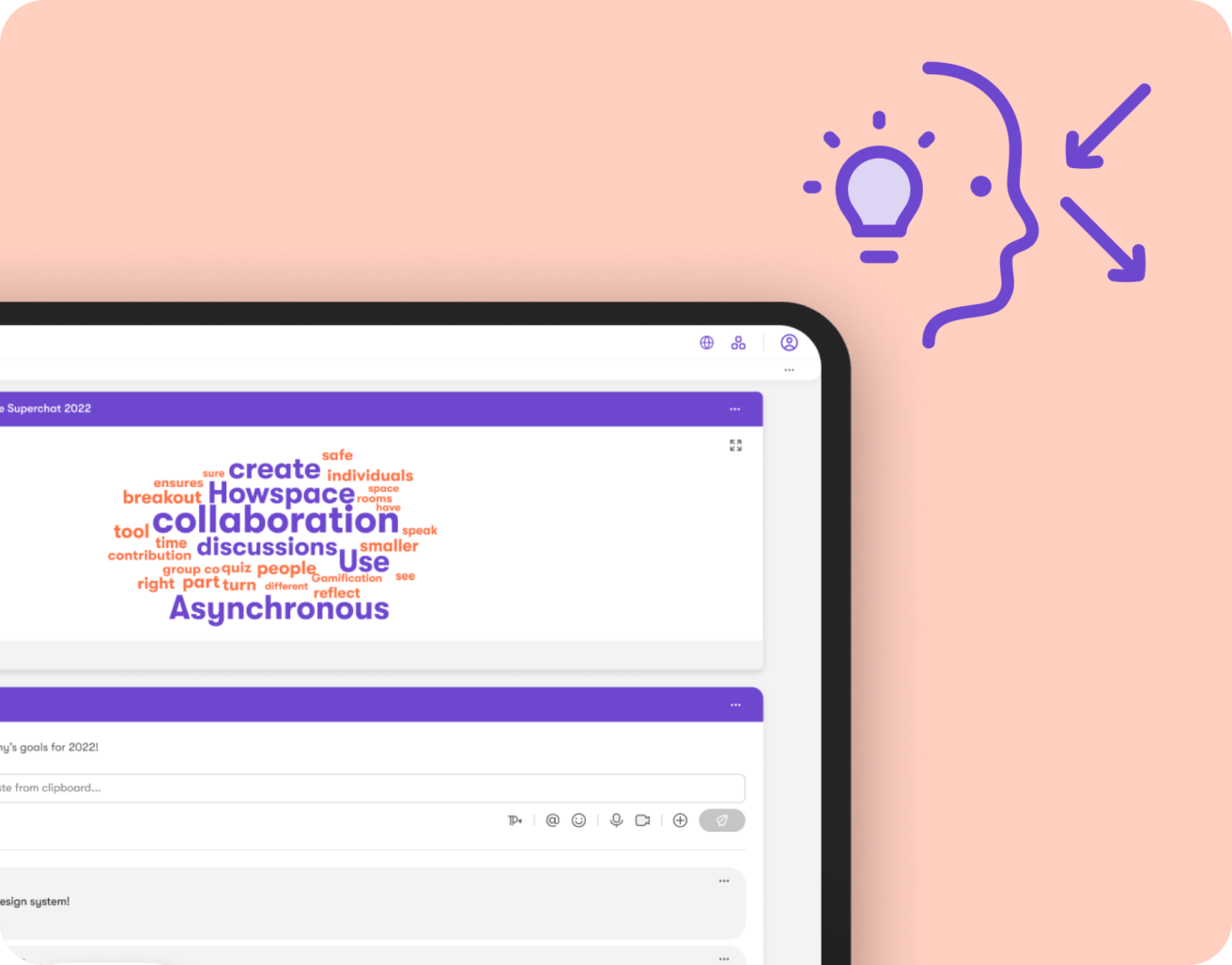 Organizational transformation
Design and execute all your transformation initiatives with one platform, including strategies, structures, processes, culture, and technologies.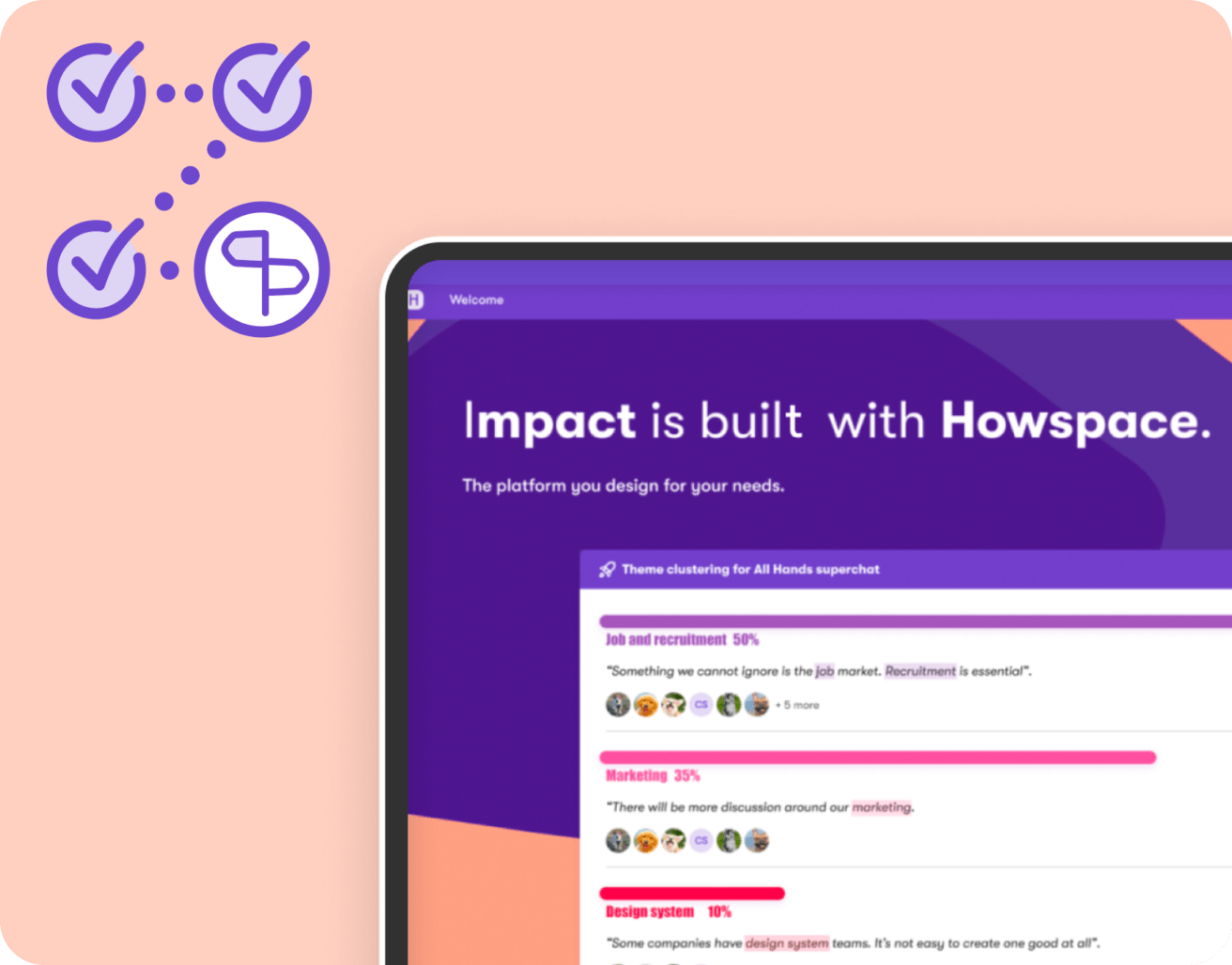 Learning & training programs
Create and facilitate transformative learning journeys that are collaborative and cross-organizational, effortlessly combining hybrid, synchronous, and asynchronous ways of learning.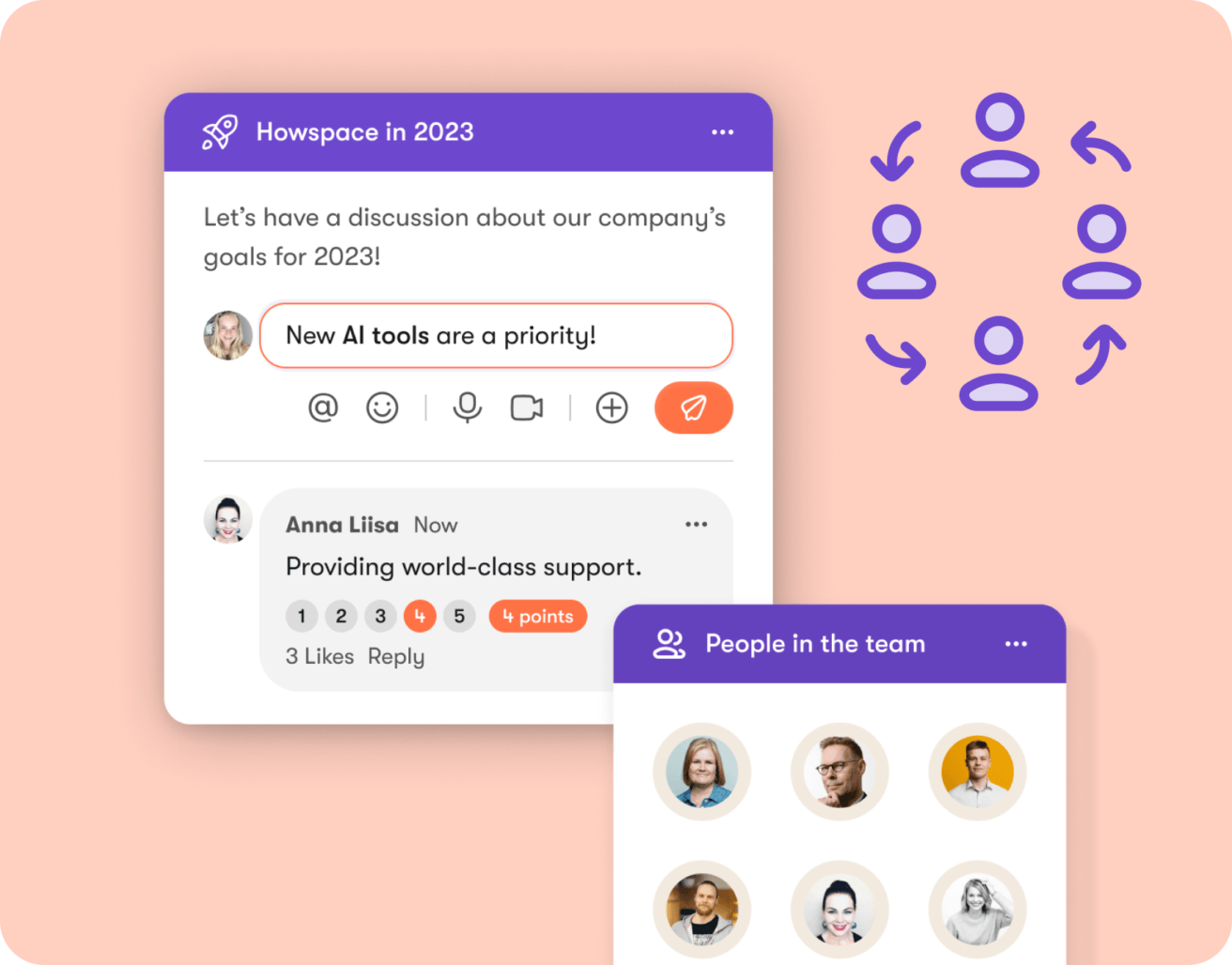 Community & network building
Build engaging and thriving organizations and communities that transform how individuals participate and share their voices.
For every organization looking to build lasting success
A diverse array of organizations spanning multiple sectors and industries use Howspace to enable large-scale and long-term organizational transformation.
Elements of a transformation process
Build transformative impact by involving everyone with continuous mini-interventions
Design
Customize your workspace to fit your specific transformation needs, the possibilities are endless!
Facilitate the transformation process from end-to-end in one easy-to-use space.
Involve a limitless amount of participants, regardless of time and place.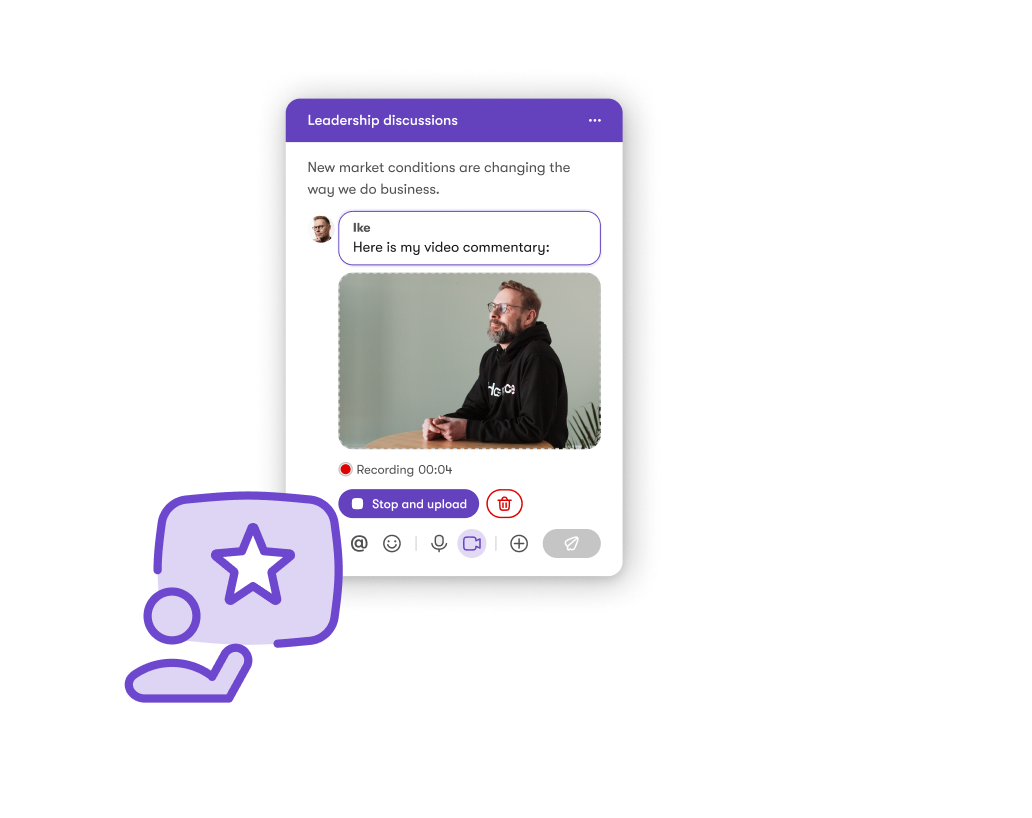 Gather insight
Create an environment for inclusive discussions and collective brainstorming with Super Chat, either open or completely anonymous.
Track the progress of participants' responses over time using Pulse.
View detailed activity data for workspace features and re-engage inactive participants with targeted emails.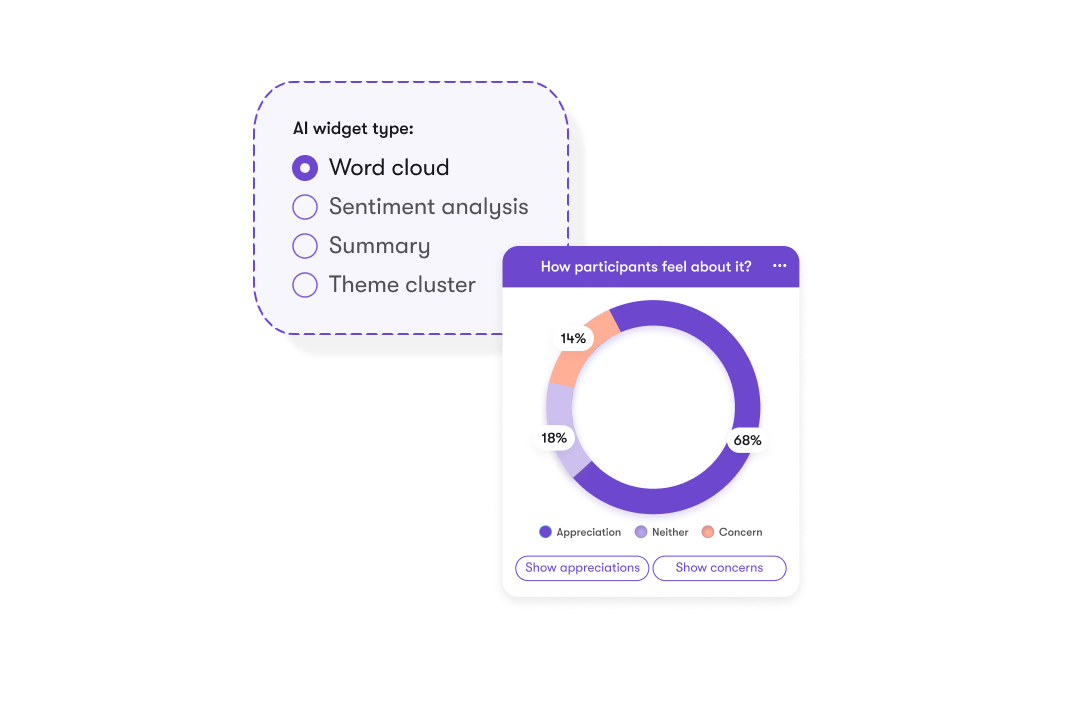 Analyze & Align with AI
Summarize the essence of any discussion with short AI Summaries and Word clouds.
Divide discussions into different themes and dive deeper into your chosen topics using AI Theme Clustering.
Use Sentiment Analysis to quickly get an idea of how participants feel about the issues that come up in discussions.
Break down language barriers by accommodating multiple languages in one space, at the same time—and where everyone can understand it all!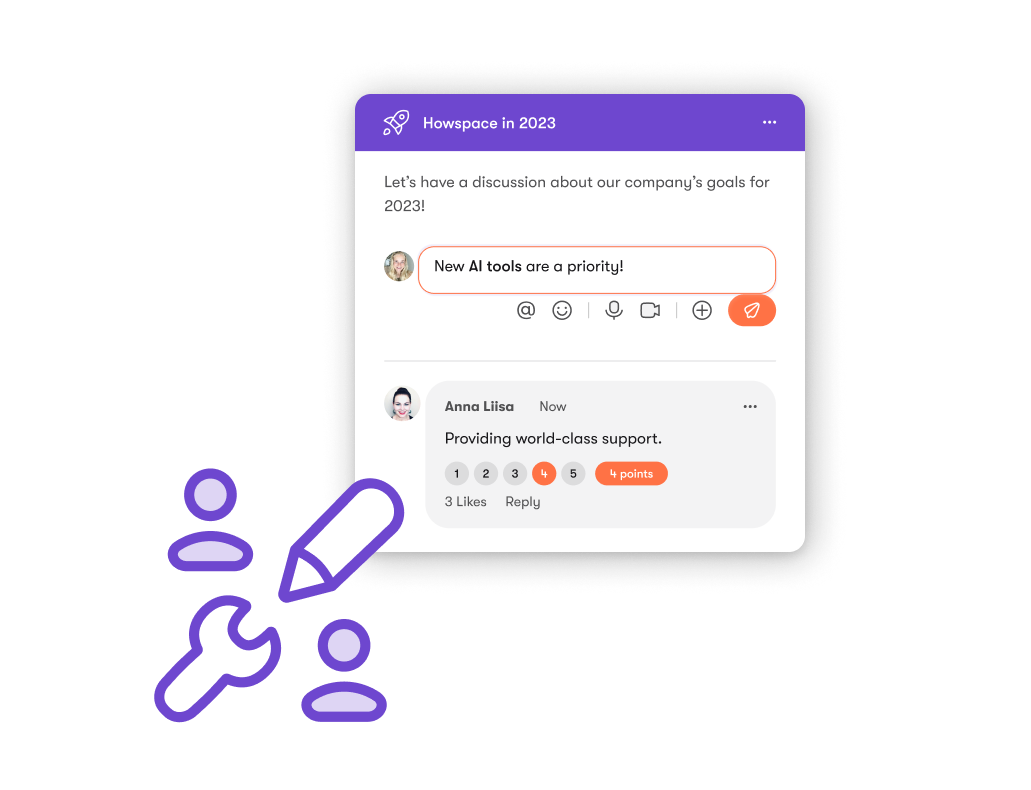 Co-create
Invite people to workshops, meetings, and roundtable discussions – virtual, hybrid, or in-person.
For virtual or hybrid gatherings, use the built-in Live Widget or easily sync Howspace with MS Teams.
Build a shared understanding with movable sticky notes and reflect all together on the next steps.
Make decisions with everyone's input in mind, using AI analysis.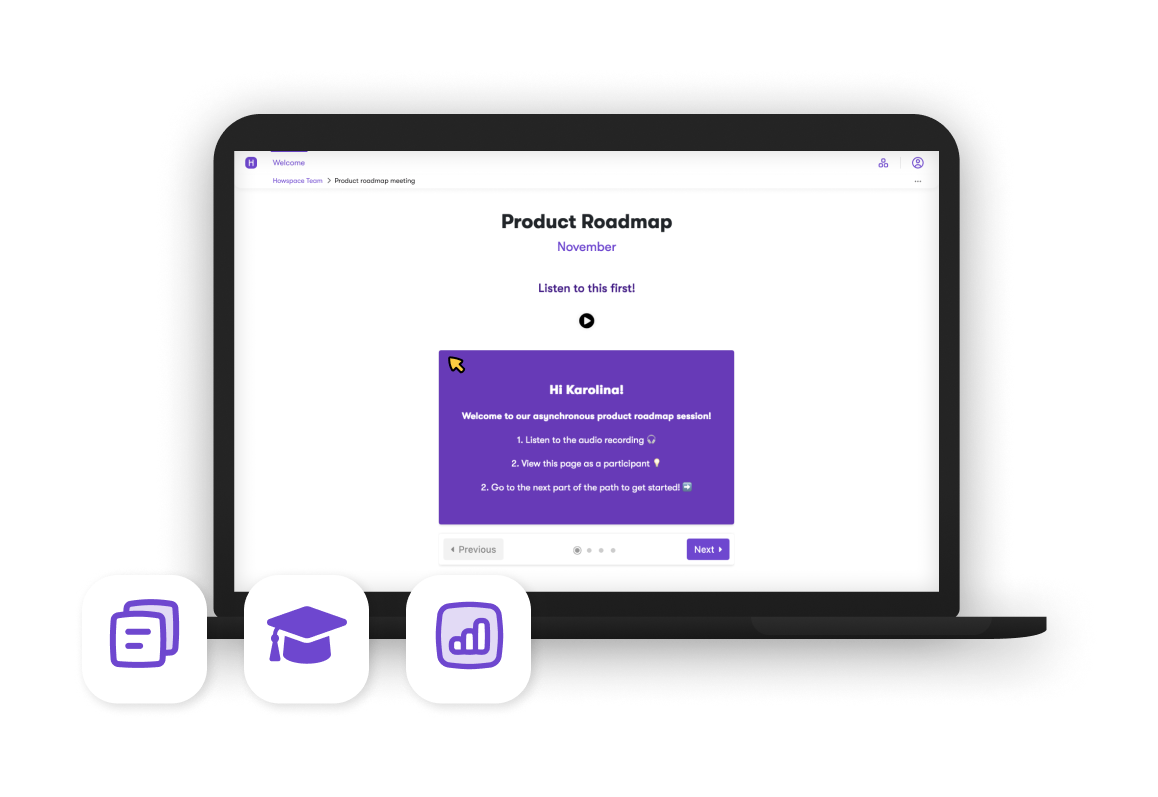 Learn
Support continuous and collaborative learning at every stage with reflective practices.
Invite people to reflect and share feedback with Pulse, Polls, and Super Chat.
Reinforce learnings, reflect on failures, and optimize based on the group discussions.
Ready-made templates to kick-start your transformation journey
View all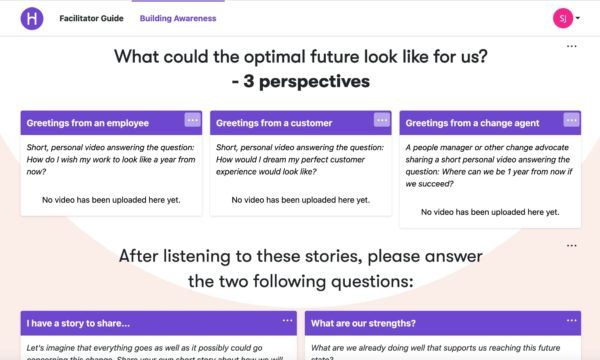 ADKAR: Awareness Stage
This is a template to execute the first stage of The ADKAR® Model of change in your organization: The Awareness stage.
Try the template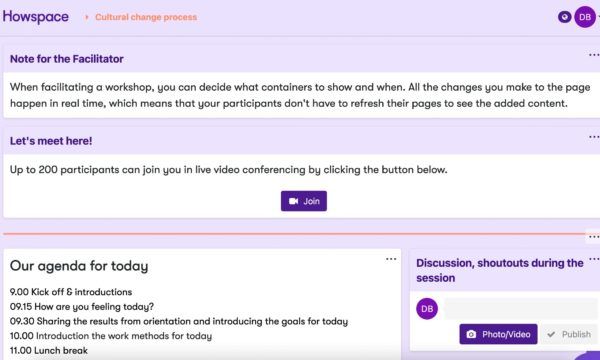 Leading a Change Process
Begin the process of creating cultural change in organizations with synchronous workshops, asynchronous integrations, AI sense making, and more.
Try the template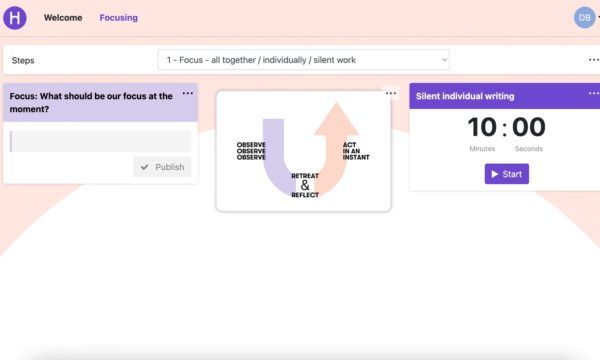 Prioritization for Orgs
Collaborate on company-wide initiatives and change in this facilitator-led workshop that uses AI to highlight the importance of prioritization and focus.
Try the template
View all
Customer stories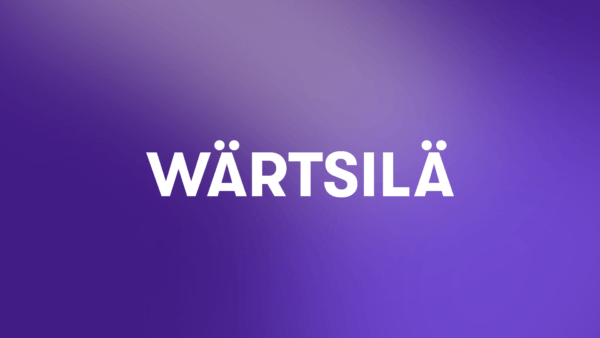 Employee engagement: Wärtsilä Energy involved all levels in strategy work
Wärtsilä energy decided to change their strategy – and how to plan it – by consulting the organization in order to adapt to the changing industry.
View the story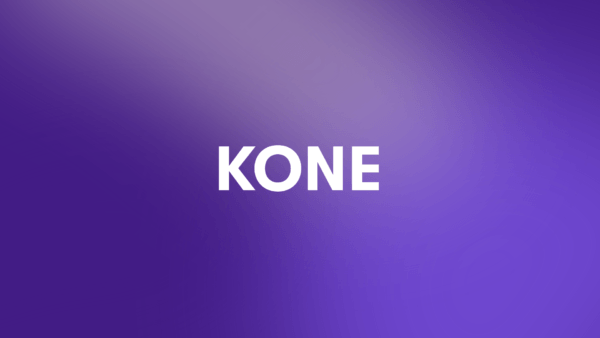 Powered by the people: Elevator company KONE renewed its values with all 60,000 employees
KONE Corporation is a pioneer in building a community culture. Howspace supported KONE on its journey to develop the company culture and renew its values.
View the story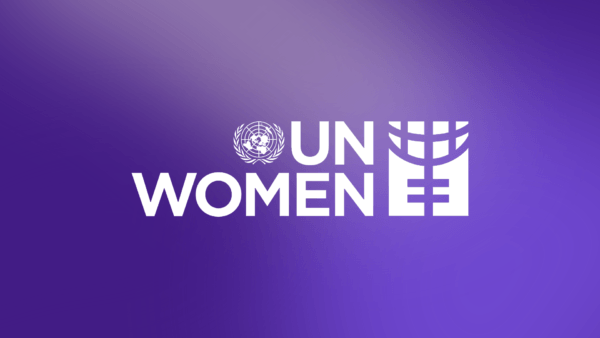 UN Women gives diverse voices a seat at the table through an AI-powered online platform
UN Women brought diverse voices to the table through the Generation Equality Forum Public Conversation platform—held on Howspace.
View the story
What our customers say

"Now I know what I want to do when I grow up! A world-class strategic planning facilitator, using real-time artificial intelligence in online workshops. This is not science fiction; this is already possible – I saw it in Howspace."
Piritta Van Der Beek
CEO, Grape People Finland

"Howspace is the ultimate digital enablement of great facilitation. You can hold meaningful dialogue at a scale that was never possible. Howspace is how I keep continuity without the pain of other tools where the conversation gets lost and people feel like their contributions to the dialogue don't matter. In Howspace, we are able to keep things alive even when virtual and asynchronous!"
Michael Leckie
Founding partner, LLC, Silverback partners

"Howspace creates an environment that feels safe, as the platform can be adjusted to the customer's brand. This inspires people to share thoughts and ideas and facilitate change mutually."
Lisandro Morón,
Senior Manager, Implement Consulting Group