How you engage your people matters
Explore the product overview below or start exploring hands on now
Facilitate the journey effortlessly as you go
Easily build an environment to your own specifications allowing you to involve the right individuals at the right time. Experience the flexibility to make real-time adjustments, so your organization can effectively navigate on-going change.
Connect and align people throughout the change
With our Journey Widget, you can visualize the whole journey and its progress transparently. Create relevant pages for different phases, give access rights for different groups, and maintain engagement through targeted email invitations and reminders, to keep your people up-to-date and ensure success.
Increase engagement and involvement in transformation
Invite people in relevant discussions using our Super Chat widget, and rate, evaluate, and sort ideas with Poll and Pulse widgets. Seamlessly include video meetings into the journey with the Live Widget or facilitate asynchronous interactions. Provide versatile ways to participate, building connections to the company's purpose and reducing resistance to change.
Leverage AI to make more informed decisions faster
Analyze and interpret large amounts of dialogue and information in real-time with the unique combination of Super Chat and AI. Hear more diverse voices utilizing the translations and transcriptions features to allow everyone to contribute in the language and format most convenient for them. Connect human insights with AI analysis to help the organization make informed decisions faster and in a more structured and inclusive manner.
Make transformation stick with continuous learning
Create a noiseless space by using Path mode and bring the participant's focus to one section at a time. Build customized Assignments and Exams to support learning. Track and evaluate the progress of each individual with Activity Collection and Evaluation, to ensure continuous learning at every phase of the journey.
Impact of Howspace in transformation
Save Time Through Asynchronous Collaboration
Lower labor and travel costs, efficient working hours.
Improve Transformation Effectiveness
Cost savings through shorter project completion times, fewer errors, operational efficiency.
Enhance Project Visibility & Transparency
Prevent costly mistakes and delays through better decision-making and increased consensus & alignment.
Get started with Howspace for free
*No credit card required
For 1-20 users
3 workspaces
Limited feature set
Ready-to-use templates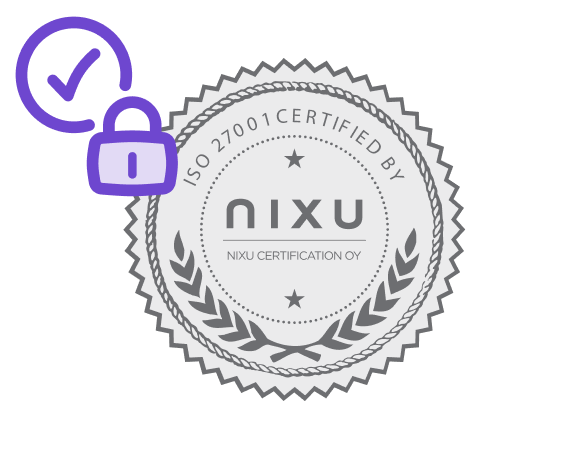 Security
Security is important to you – and us.

We are always up to date with all applicable laws and regulations, including the General Data Protection Regulation (GDPR).

Howspace is ISO 27001:2013 Certified, this covers all business processes of the company in development, provision, and management of the Howspace online collaboration platform. You can dig deeper in the full security overview.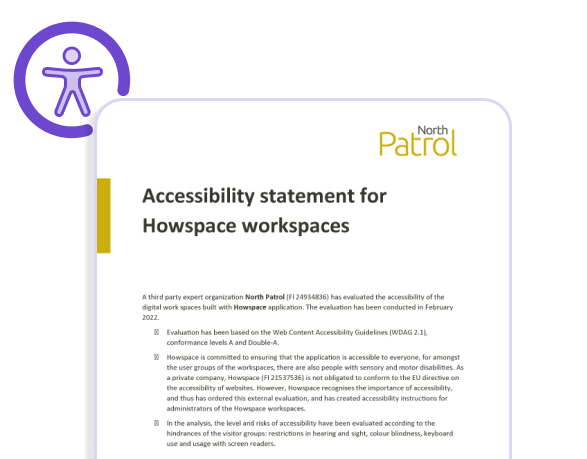 Accessibility
Designed to be accessible & inclusive.
Howspace is committed to ensuring that the application is accessible to everyone, including users with sensory and motor disabilities. We test our accessibility continuously – more information can be found in the latest accessibility report.
Howspace also currently supports 9 operating languages: English, Finnish, Swedish, Dutch, French, Danish, German, Norwegian (Bokmål), and Spanish. Our AI features support several additional languages, and you can find the most up-to-date list of those here.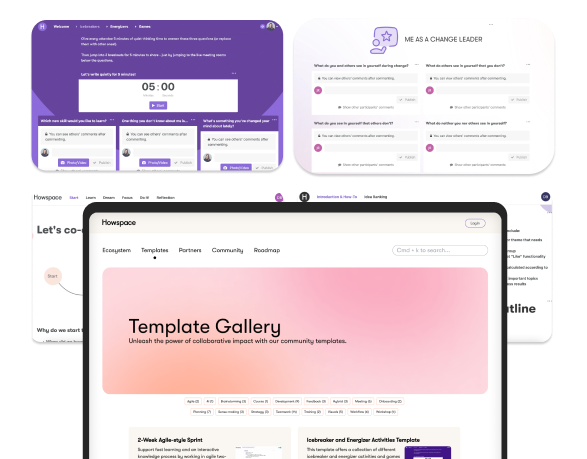 Templates
Scale and boost your work with templates.
Howspace is built to increase your efficiency as a facilitator: you can build tailored personal or company level templates for your recurring processes and iterate them when necessary. With advanced duplication features you never have to spend time doing the same manual work twice.

To get inspiration from some readily built templates created by the Howspace team, visit the Template Gallery.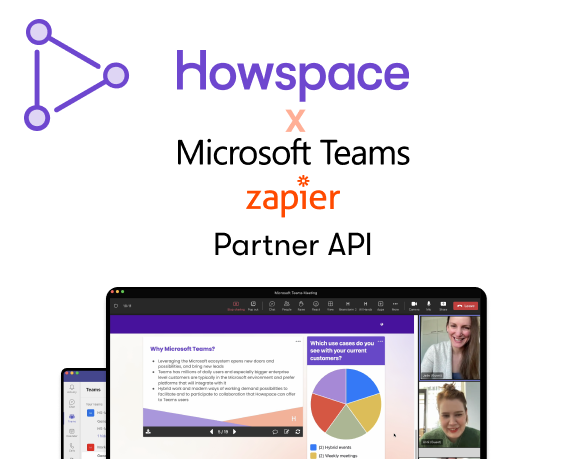 Integrations
Howspace is the hub for your transformation, connecting other tools to the whole journey.

You can embed your Google Sheets, Miro whiteboards, Calendly schedules, and more directly into your workspace.
Howspace has also a Partner API, which allows automated workspace creation, user management, and much more.

Integrates with:
MS Teams
Zapier
Partner API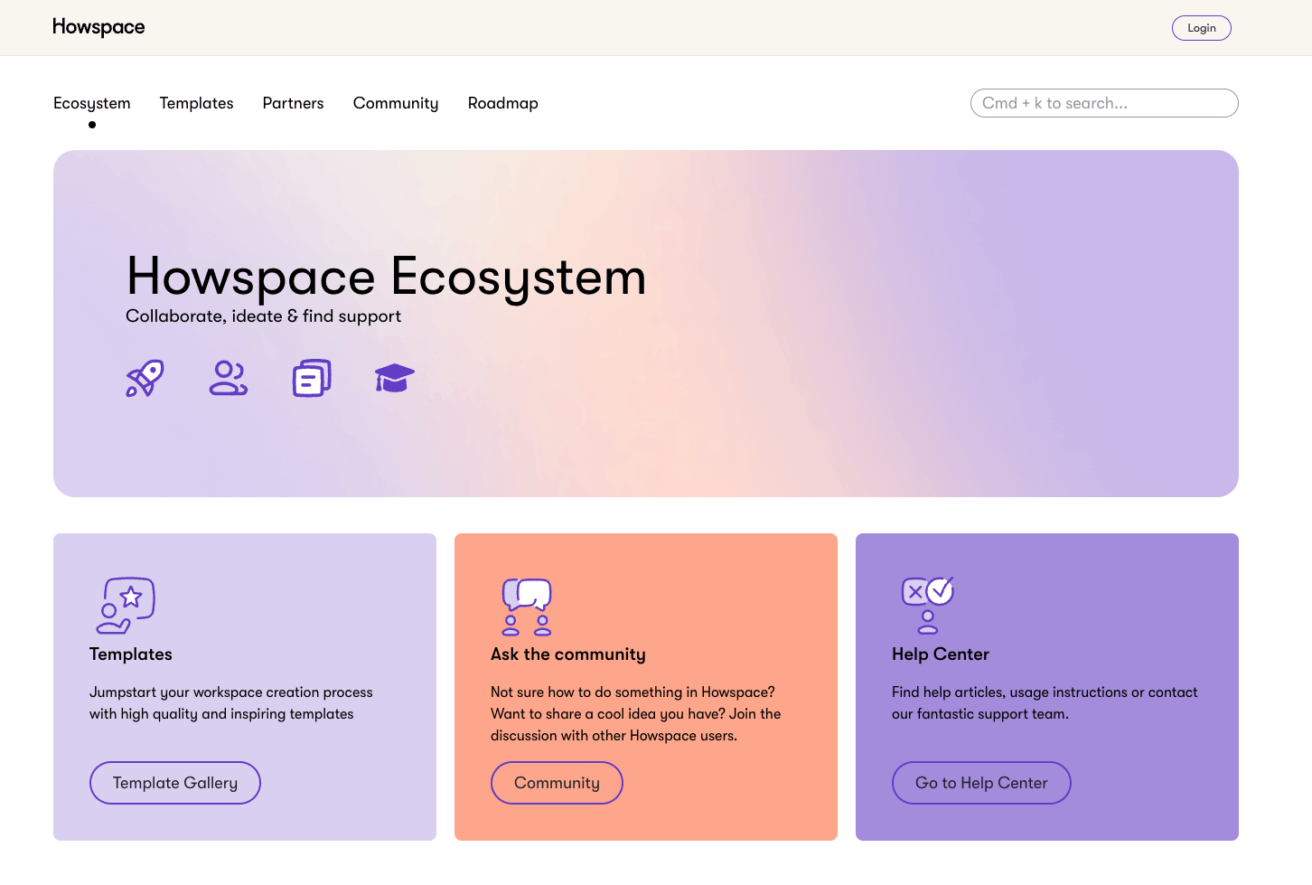 Ecosystem
Our platform is co-created with our users.
Collaborate, ideate and contribute to the Product Roadmap.

Join the Howspace ecosystem today!