Product Overview
Your solution, as you build it.

Howspace features
Succeed in transformation work by unlocking and leveraging collective brainpower with AI
Collaborate
Allow everyone to participate and work together in the same space, guided by a shared purpose.
Create an environment for powerful dialogue, brainstorming, and commenting using the versatile, interactive Super Chat.
Invite up to 200 participants to join live video meetings directly within your workspace.
Maintain participant engagement through targeted email invitations.
Build a workspace that supports both synchronous and asynchronous work.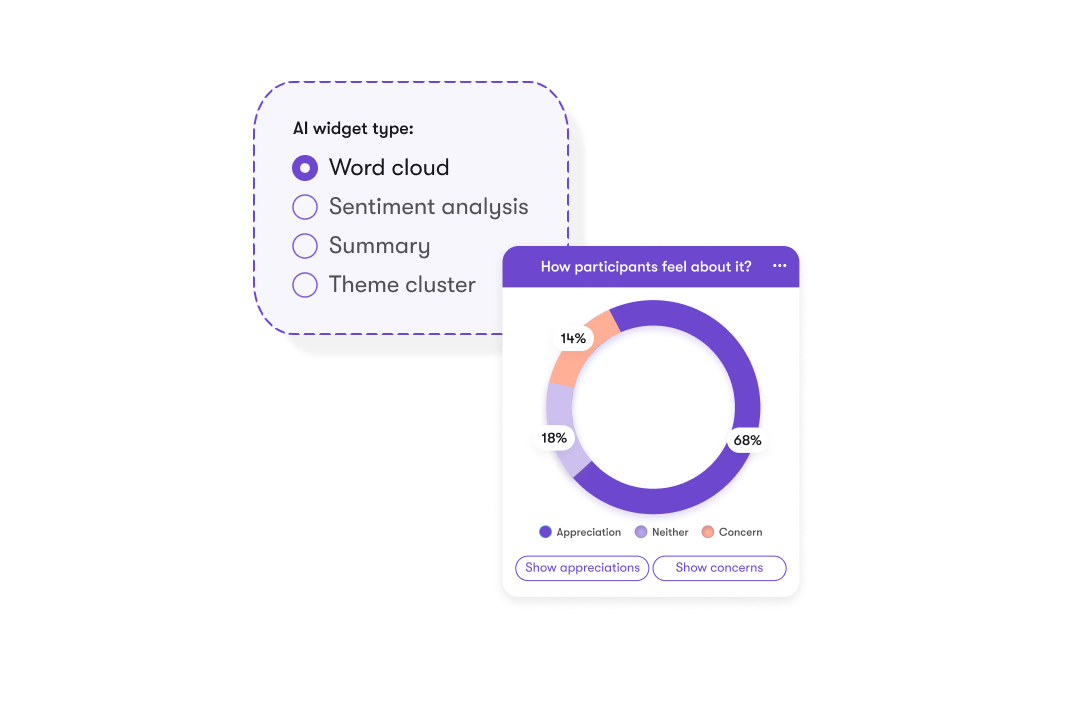 Analyze with AI
Summarize key points from the participants' ideas and broad discussions in real time for scalable sense-making.
Summarize the essence of any discussion with short AI Summaries and Word clouds.
Divide discussions into different themes and dive deeper into your chosen topics using AI Theme Clustering.
Use Sentiment Analysis to quickly get an idea of how participants feel about the issues that come up in discussions.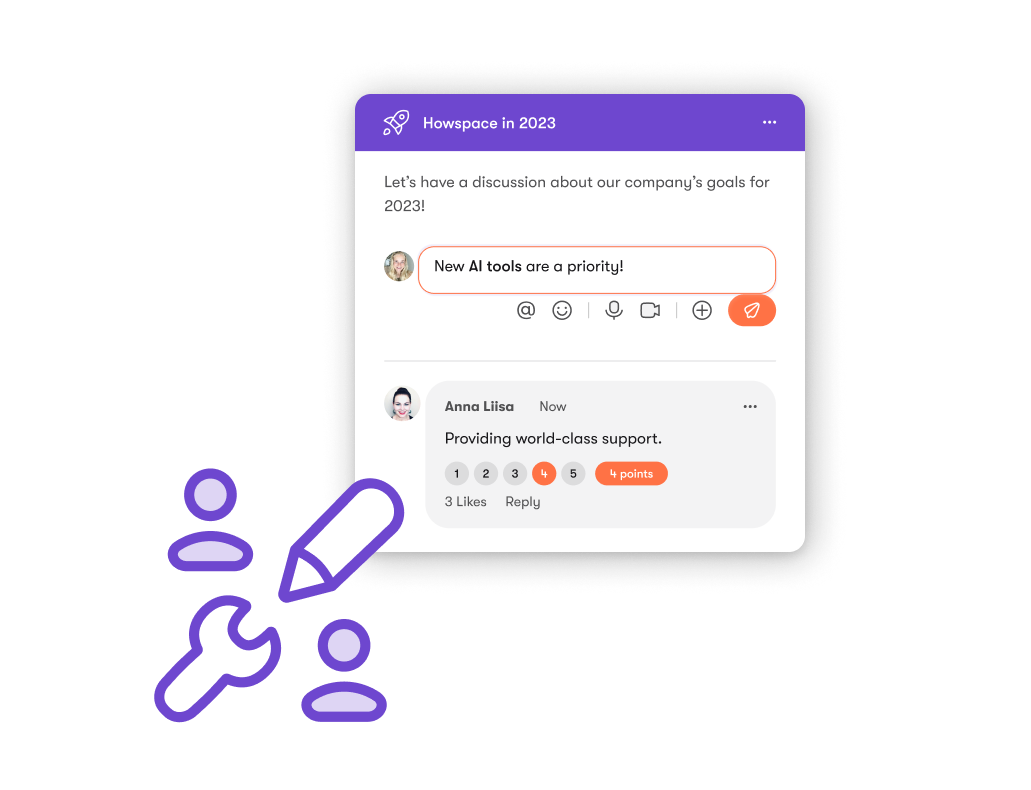 Co-create
Ensure everyone has the opportunity to contribute before, during, and after any process.
Invite all participants to take part in a discussion and analyze the results using AI Insights.
Allow individuals to comment individually or in teams.
Build a shared understanding through Super Chat's movable sticky notes and reflect all together on the next steps.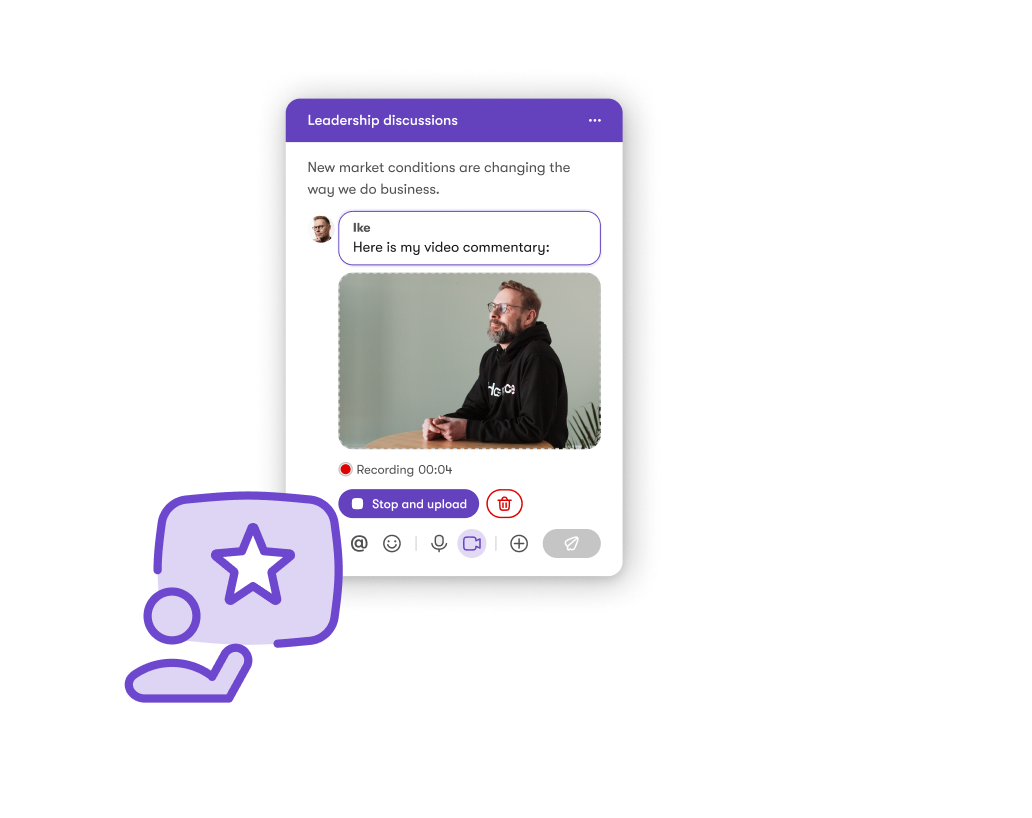 Lead Change
Create an environment of proactive and continuous change where everyone can participate.
Guide all stakeholders through the early stages of change with pre-work inside the workspace.
Facilitate dialogue between a limitless amount of participants, regardless of time and location, with Super Chat.
Gather discussions, ideas, and solutions in one easy-to-find place.
View detailed activity data for workspace features and re-engage inactive participants with targeted emails.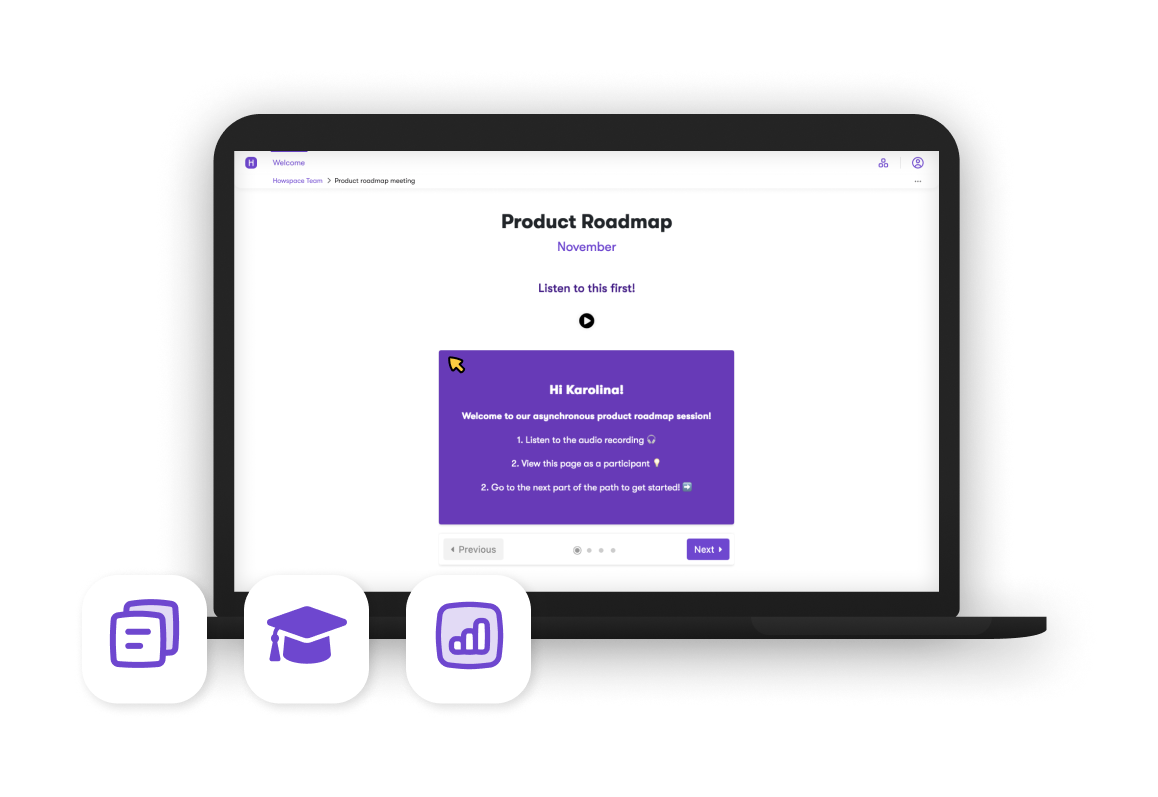 Learn
Support continuous learning at every stage with reflective practices that center collaboration and teamwork.
Create a noiseless space by using Path mode and bring the participant's focus to one section at a time.
Use Super Chat settings to choose when participants can see each other's comments and/or encourage them to review and comment on others' responses.
Build customized Assignments and Exams to support learning.
Track and evaluate the progress of each individual with Activity Collection and Evaluation.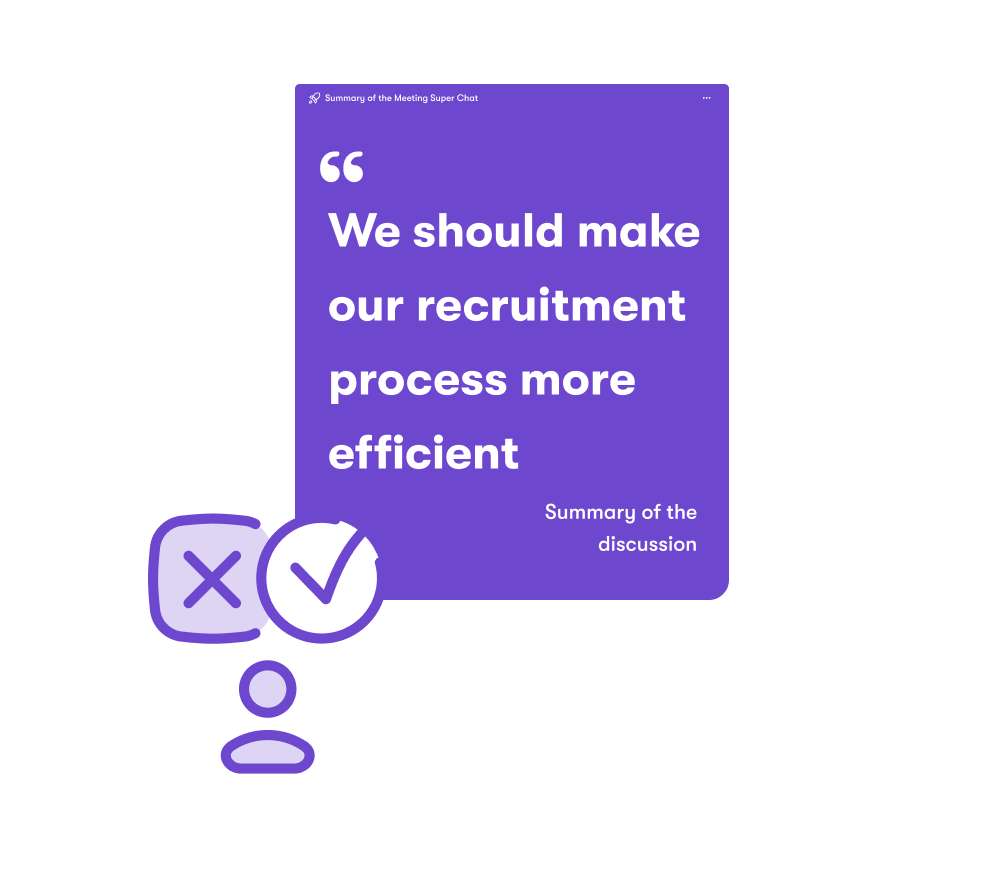 Make Decisions
Involve everyone in the decision-making process and ensure every voice is heard.
Gather feedback through Polls and make decisions with everyone's input in mind.
After a brainstorming session or feedback round, invite all participants to give points or divide the new ideas into categories.
Leverage Howspace AI to visualize everyone's contributions in Word Clouds, Theme Clusters, Summaries, and Sentiment Analyses.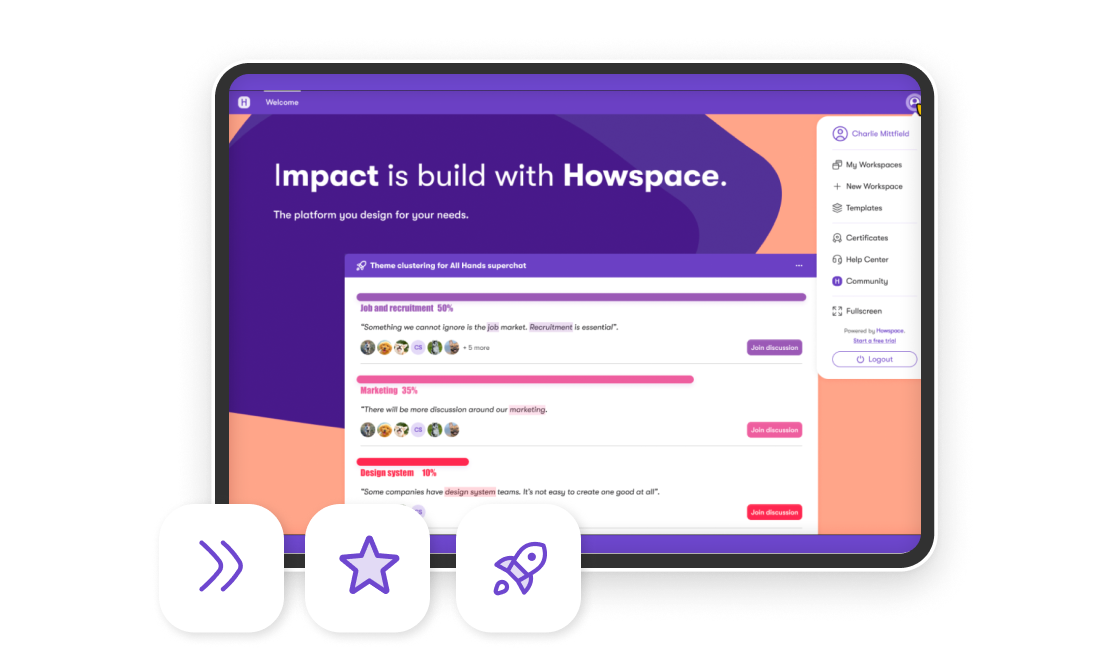 Drive Impact
Align around a common purpose and lead the change you want to see in the world.
Use Super Chat and Poll to create interventions and spaces for reflection that help people adopt new ideas, concepts, and opportunities for growth into their daily lives.
Track the progress of participants' responses over time using Pulse.
Facilitate participants towards clear conclusions and follow-up actions using the Steps feature.
Go beyond ordinary workflows
Templates
Howspace Templates allow you to jumpstart your workspace creation process with high quality and inspiring templates built by other Howspace users coming from a variety of use cases!
Build your own, or discover your next big idea by browsing the curated Template Gallery, filled with best practices and inspirational content.

Integrations
Working with other tools? No problem! You can embed your Google Sheets, Miro whiteboards, Calendly schedules, and more directly into your workspace.
Howspace has also a Partner API, which allows automated workspace creation, user management, and much more.
Read more about our two most popular integrations:
Ecosystem & roadmap
Howspace is co-created with you.
Visit the new Howspace Ecosystem to:
Explore our product roadmap and submit your own ideas.
Ask the community for support and advice and share your own experiences with other community members.
Find the perfect partner to help you grow with Howspace.
See Howspace in action
Facilitate transformation processes that make sense for you and your team, no matter who's online or in the office
Trusted by
Customer stories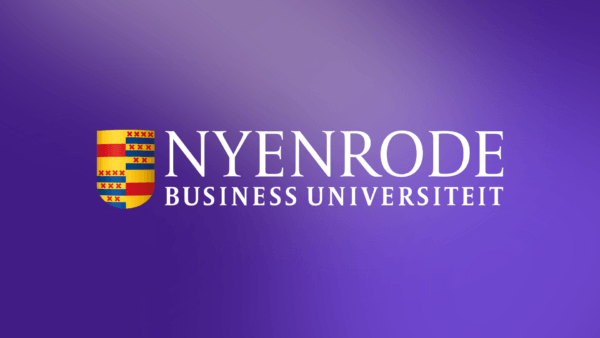 The new era of education: how Nyenrode University created an online learning environment
Howspace helped Nyenrode University build a foundation for blended classes to make education more effective and enabled them to create an engaging online learning environment.
View the story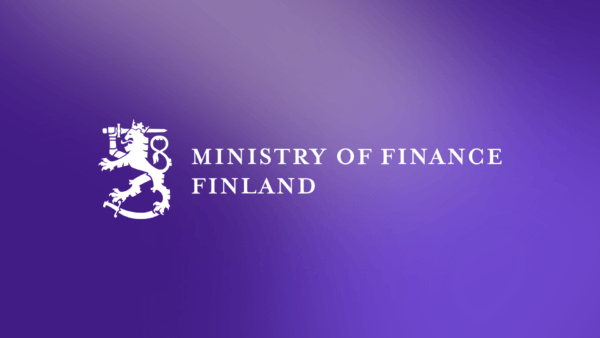 How the transition to remote work transformed development initiatives in Finland's Ministry of Finance
Ministry of Finance Finland needed a platform to help them transition from in-person work to a hybrid model. Howspace made the ministry's collaboration more equal and enabled everyone's voice to be heard.
View the story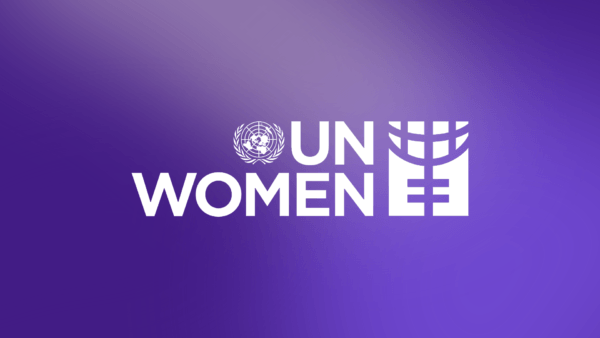 UN Women gives diverse voices a seat at the table through an AI-powered online platform
UN Women brought diverse voices to the table through the Generation Equality Forum Public Conversation platform—held on Howspace.
View the story
What our customers say

"Now I know what I want to do when I grow up! A world-class strategic planning facilitator, using real-time artificial intelligence in online workshops. This is not science fiction; this is already possible – I saw it in Howspace."
Piritta Van Der Beek
CEO, Grape People Finland

"Howspace is the ultimate digital enablement of great facilitation. You can hold meaningful dialogue at a scale that was never possible. Howspace is how I keep continuity without the pain of other tools where the conversation gets lost and people feel like their contributions to the dialogue don't matter. In Howspace, we are able to keep things alive even when virtual and asynchronous!"
Michael Leckie
Founding partner, LLC, Silverback partners

"Howspace creates an environment that feels safe, as the platform can be adjusted to the customer's brand. This inspires people to share thoughts and ideas and facilitate change mutually."
Lisandro Morón,
Senior Manager, Implement Consulting Group
Frequently asked questions
Sign up for Howspace for free and access your first workspace immediately. If you need a little more inspiration, you can visit our Templates Gallery and borrow best practices from other Howspace users!
Want a more personalized onboarding experience or product demo? Contact us and we'll be happy to help.
A third-party expert organization evaluated the accessibility of Howspace workspaces in October 2020. Both technical solutions and all the content added in the workspace have been taken into account. Have a look at the full evaluation.
Howspace currently supports 9 operating languages: English, Finnish, Swedish, Dutch, French, Danish, German, Norwegian (Bokmål), and Spanish. Our AI features support several additional languages, and you can find the most up-to-date list of those here.
Absolutely, we are always up to date with all applicable laws and regulations, including the General Data Protection Regulation (GDPR).
Howspace is also ISO 27001:2013 Certified, this covers all business processes of the company in development, provision, and management of the Howspace online collaboration platform.
All our hosting providers are ISO/IEC 27001:2013 compliant, the globally recognized information security standards for Information Security Management Systems (ISMS).
We value your security and store all Howspace workspaces in secure data centers on dedicated servers. For more details, check out our privacy policy and security overview.
Howspace is built for facilitator-led collaboration and processes that both inspire change in daily work and encourage long-term shifts in thinking about how we work. It's all about centering dialogue and collaboration.
Many of our customers use Howspace side-by-side with productivity tools like Microsoft Teams, Zoom, and Slack to increase impact and participation and give a voice to everyone. Check out our Microsoft Teams integration to see how you can bring Howspace directly into your Teams environment!
Absolutely! All colors, logos, and backgrounds in Howspace are easily adjustable without any coding, which makes internal branding just another part of the process, no additional fuss necessary. Additionally, our templates are also fully customizable to fit your brand's visuals.
Howspace administrators get access to an admin interface with stats on user activity, participation rates, and more. These analytics can also be downloaded for use outside of the workspace environment. We've also created widgets such as Activity Collector and Exams to facilitate progress tracking when it comes to completing certain tasks or modules—this is particularly effective for facilitators of training and learning programs!