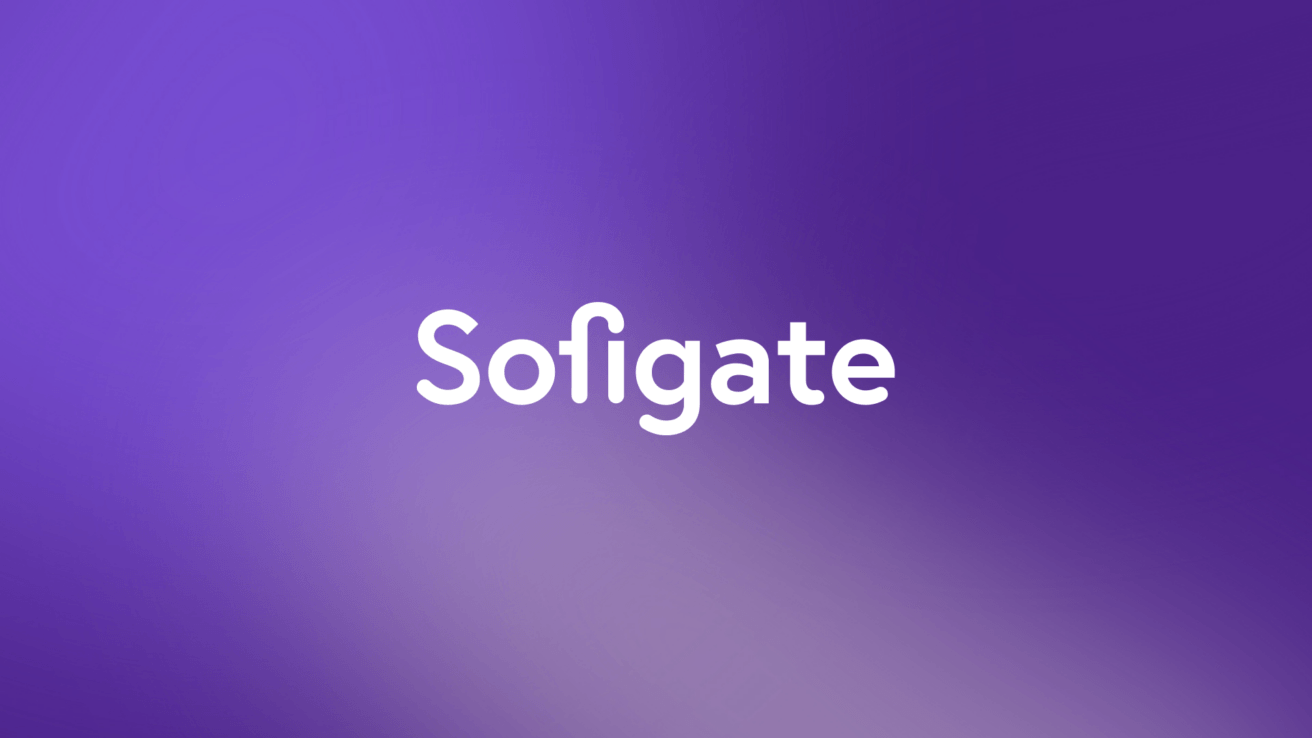 Leading transformation requires involvement and continuous change capability building
Challenge
Sofigate is the leading business technology consultancy in the Nordics, helping its clients plan, build, and implement technology solutions that support the whole organization as well as lead transformation projects. One of Sofigate's priorities is to provide individuals with the capabilities to lead change themselves rather than being merely subject to it.
To support effective involvement, Sofigate needed technology that would also enhance people's ability to navigate change throughout the transformation journey.
Solution
Sofigate had previously used their own in-house tool for facilitating change but ended up replacing it with Howspace to have an easy-to-use, ever-evolving platform supported by artificial intelligence. Sofigate first piloted Howspace in an internal training and, after a successful pilot, integrated the platform into their client work as well. With Howspace, Sofigate is able to support its clients to involve a greater number of people in the change process and navigate long-term transformation journeys successfully.
Results
The change supports business objectives
With Howspace, Sofigate has been able to support its clients in facilitating transformation, improving people's change capabilities, and fostering the development of communities that support change. Sofigate's clients have found that Howspace has helped them to understand the objectives of the change, establish a unified vision for it, and ultimately achieve their business goals.
Significant savings in time and other resources
Howspace has made organizing international workshops more efficient. The results have been impressive, and organizers save time when they are able to reuse templates that are proven effective. The analytics provided by the platform made it easy to monitor participant engagement, enabling workshop facilitators to provide individual-level support for participation.
High activity and strong commitment to change
Activity on Howspace is exceptionally high, consistently above 70%, and individuals demonstrate a stronger commitment to being part of the change. Moreover, the platform's versatile features and various engagement methods contribute to an inspiring work environment.
Sofigate is a pioneer in business technology leadership and an inspiring example of how involving people in transformation supports success. Sofigate's top priority is to support clients in a way that increases their own ability to lead transformation while also achieving their business objectives.
Sofigate helps companies and public organizations design, build, and implement technology solutions that support their business. These large-scale projects often span multiple years and require the extensive engagement of people at various stages of the transformation journey.
Sofigate's experts supporting human-centric design
Sofigate supports their clients in planning and leading the transformation journey, ensuring that individuals affected by the change are involved in various stages of the process. Throughout this journey, tools are deployed to enable the client's business leadership to comprehensively craft their desired future state. A central goal is always to enhance the client's own change capabilities.
"No one else can develop another person's work, which is why it's crucial for people to be involved from the very beginning."
"We help our clients build the transformation journey by ensuring that people are involved right from the start. We help shape the narrative and set shared objectives", Mia Nikula, Business Executive Platform Transformations at Sofigate, explains.
"We ensure that the client has access to all the necessary operating, guiding, and project models to be able to lead successful transformation. No one else can develop another person's work, which is why it's crucial for people to be involved from the very beginning," she continues.
Mia asserts: "We utilize Howspace in our client work, both in the planning phase and in change leadership. Howspace has helped us streamline change communication and engage people in various ways.".
With Howspace, Sofigate can efficiently facilitate an international group of participants through the planning phase of their transformation journey. Additionally, Howspace contributes to improving the client's capabilities and fostering communities that play a crucial role in the change process.
For example, Howspace has played a central role in the business transformation of a multinational organization with over 100,000 employees. The objective of this transformation has been to modernize both business practices and technologies. Moreover, this extensive change has involved implementing new ERP systems.
"The client's main challenge was to engage an international group in the planning of the transformation. Moreover, every participant was urged to embark on a learning journey to accelerate the development of the necessary capabilities for change leadership," Mia explains.
"Projects of this scale require substantial investments from organizations, and a key factor for success is establishing a unified vision of the future. What kind of change are we undertaking? What goals and expectations have been set? What does the future potentially look like from the perspectives of individuals, teams, and the organization as a whole? It is only after a shared understanding is established that individuals can be prepared to articulate their preferences and needs regarding services, processes, and systems."
During this specific project, Sofigate helped their client in designing and facilitating transformation sprints, ensuring that participants' experience with Howspace was seamless and that assigned tasks were easy to grasp. The client was impressed with the work done during the project and the results achieved together, leading them to extensively implement Howspace within their own organization.
In the future, Sofigate intends to continue leveraging Howspace and offer its clients more opportunities to drive effective and lasting change. The goal is to enhance clients' capabilities so that they recognize the benefits of using Howspace in change and transformation leadership and begin utilizing the platform in their own work.
---
Sofigate is a partner of Howspace. The partnership aims to develop shared business opportunities and accelerate growth by leveraging Howspace's inclusive AI-powered engagement platform.
Similar customer stories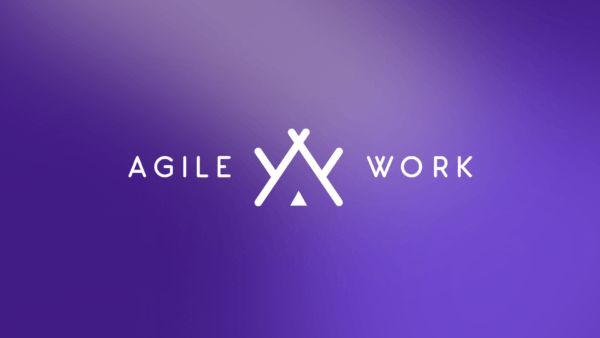 Agile Work: Modern workplace design is multifaceted, participative, and scalable
Agile Work's workplace projects, built with Howspace, brings everything together on a secure platform and is home to all project-related discussions.
View the story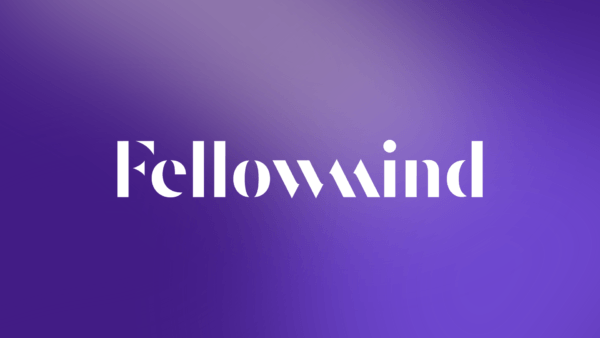 Microsoft partner Fellowmind creates an inclusive data strategy process with Howspace
Fellowmind, Europe's leading Microsoft partner, developed an inclusive, easily customizable data strategy process for their clients using the Howspace platform.
View the story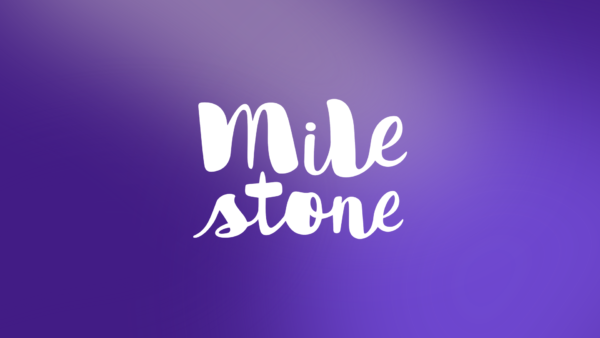 Milestone and Aktia on a journey of digital culture development
Milestone Coaching & Consulting and Aktia used Howspace to develop organizational culture and to digitize a major development process.
View the story
Templates used in similar cases
View all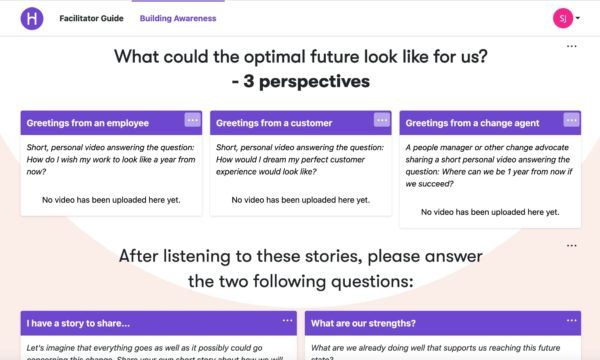 ADKAR: Awareness Stage
This is a template to execute the first stage of The ADKAR® Model of change in your organization: The Awareness stage.
Try the template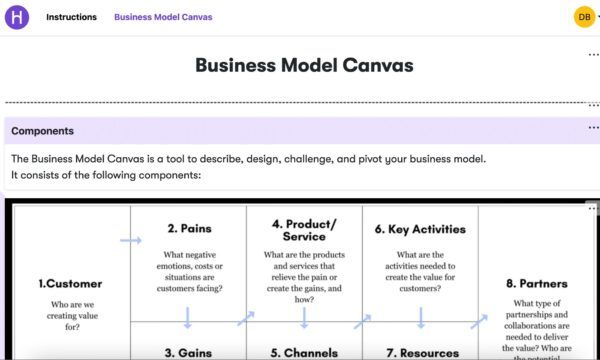 Business Model Canvas
The Business Model Canvas template helps you get your entire business quickly defined, explained, and visualized.
Try the template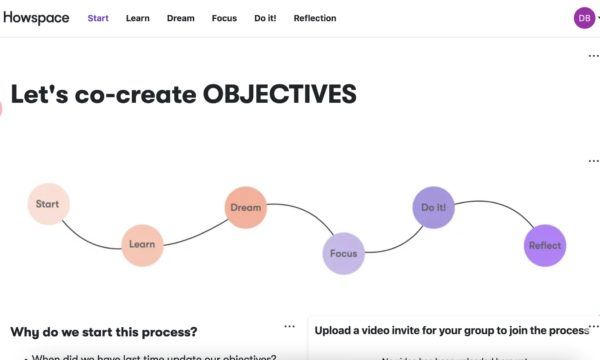 Co-creating 4D Objectives
This is a practical goal-setting template that utilizes an appreciative inquiry-based 4D-model in the context of a setting company or team-level objectives.
Try the template
View all