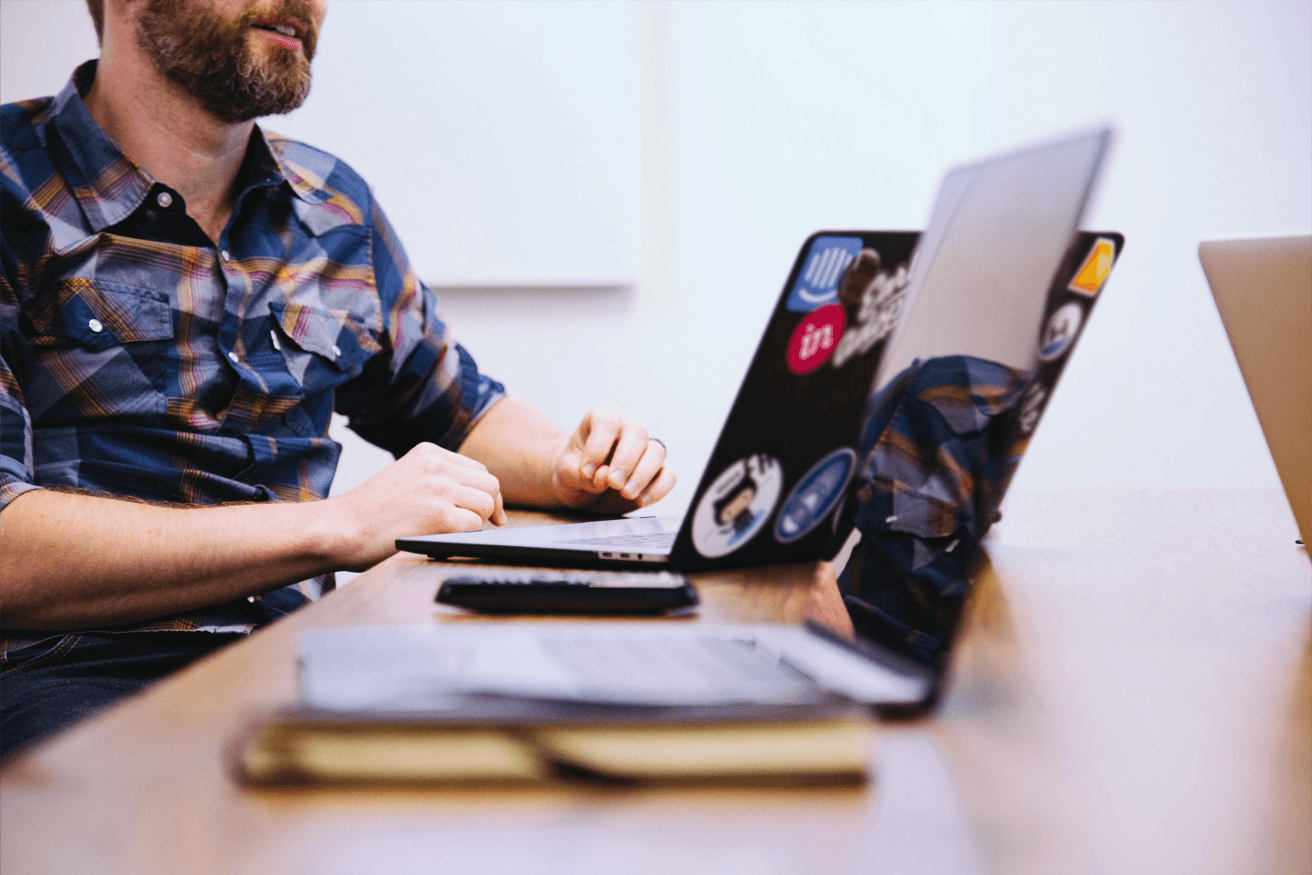 Employee training & development: Your guide for long-term success
In today's work environment, companies need to empower employees to keep up with industry changes and grow their skill sets. The pandemic spurred on the Great Resignation, leaving countless employees quitting their jobs and reassessing what's important to them.
When looking for new jobs, millennials and Gen Z (who now make up the majority of the workforce) especially prioritize opportunities for learning and development. They want real support from their employers—not just lip service.
How can you offer the training and development support that today's top talent expects? In this guide, we'll walk you through how to do just that. We'll discuss why employee training and development is so important, and outline the different types of training programs, learning initiatives, as well as tools, technologies, and methods.
What is employee training and development?
While companies need to prioritize both employee training and employee development, these aren't one and the same. Here's how they differ from each other:
The goals of employee development are open-ended, not focusing on any one specific role or position. It's a system rooted in the individual, and involves fine-tuning a single person's skills, helping them grow over time. Higher levels of job satisfaction and increased engagement are both perks of well-executed employee development. As a result of successful development initiatives, employees end up primed and ready for additional responsibilities and more prominent roles within the organization.
The purpose of employee training is to help team members perform better at their current job. When done correctly, training fills specific knowledge gaps and problem solving, upgrading the current position.
When employee training and development converge, the combination takes on its own definition. Employee training & development aims to strengthen employee performance in the present and over the long haul. Improvements are made through either an increase in skills and knowledge or a shift in attitude.
Why is employee training and development so important for organizations?
When it comes to choosing an organization to work for, learning and development opportunities are among the top priorities for millenial and Gen Z job seekers, according to a 2022 Deloitte report.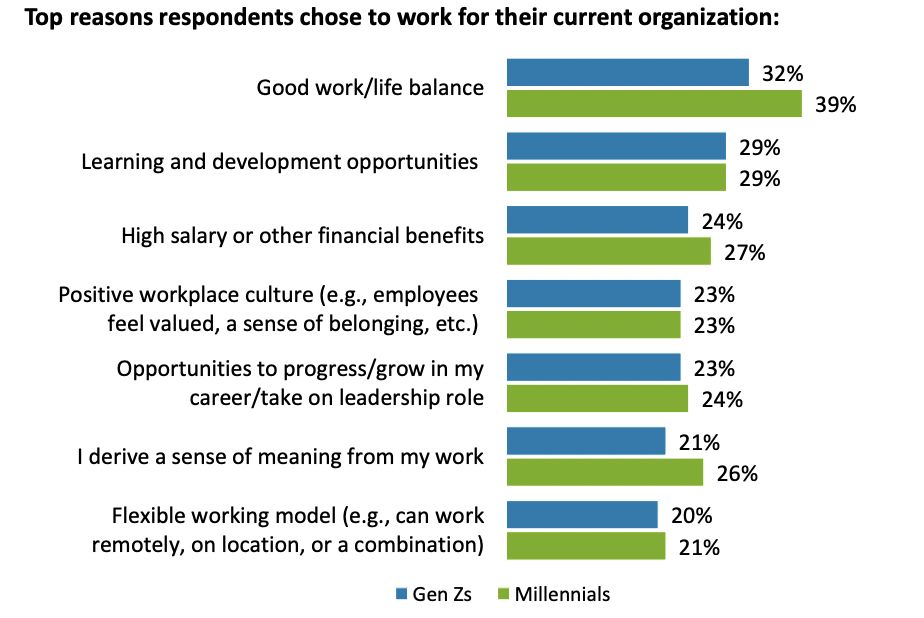 Image source: Deloitte
One reason learning and development is so important is because of evolving work demands and skill requirements. People want to work for employers that help them adapt to the changing workplace. For example, 37% of Gen Zs and 38% of millennials believe that the biggest workplace shift within the next 10 years will be the use of artificial intelligence (AI) and other technologies to fully automate jobs or job functions, according to the same Deloitte study.
It's safe to say the best available talent will seek out organizations with top employee development and training programs. When your company is filled with high-performing employees and teams, you're setting yourself for success now and for exponential growth in the future.
How to build successful training & development programs
To be successful, your employee training and development initiatives must be specific to your company's culture and operational nuances, and aligned to your current strategy and future needs.
Your development and training programs should also seamlessly mesh with your everyday activities, applying directly to big-picture objectives and performance metrics. Plus, development and training needs to be measurable.
Each team and their members should decide the skill gaps that require attention. Company leaders shouldn't dictate this part of the process as the teams themselves know best where improvements are needed.
To make training & development a strong part of your company culture, keep these points in mind:
People typically learn by doing. Training and development function best when directly related to work. For example, consider encouraging team members to take on new projects that help them learn on the go.
There's no training and development without learning. And learning is an inherently social process. As such, collaboration amongst team members tends to bolster growth and improve skills.
Companies need to put their employees in a perpetual state of training and development. Teams and individuals will then be constantly evolving and growing simply by doing their jobs.
Also, ensure that you're focusing on training and development for the skills most valuable to your company. To that point, prioritize the following elements:
Productivity levels: Quality training leads to improved productivity, which then opens up growth opportunities within the organization. Additionally, employee confidence levels go through the roof when trained effectively, making them more productive and encouraging them to strive for more.
Motivation: Training and development are highly successful when focused on a greater purpose or mission to keep top of mind. That way, on those days when energy levels are low, that greater sense of purpose will give team members the boost they need to keep pushing forward.
Decision-making: All employees must be able to make decisions. They need to assess situations, examine possible solutions, and weigh the pros and cons of potential choices. Employees who make wise decisions will be integral to the future of any company.
Different types of training and development programs
Next, we'll dive into a few different types of training and development programs to help you decide which would work best for your needs.
Experiential training
This type of training happens on the job, typically entailing 70% of the knowledge that an employee retains.
Experiential training works best when combined with collaborative learning tools that help employees reflect with their colleagues. You can also incorporate succession planning and other more formal processes to make on-the-job lessons more structured.
In-person training
This type of training occurs in the same physical space. It's best suited for short-term objectives and practical workplace applications. Typically, it would happen in a workshop setting and applies more to a "skills upgrade" approach than it does big-picture development.
Virtual training
Virtual training is any session run on an online platform, usually using a video conferencing tool.
Here are some critical elements of running a successful virtual training program:
Keep live sessions concise. If they run too long, team members will disengage.
Continue to shift the energy of the training every three to five minutes.
Combine writing and talking so that all types of learning can be applied.
Ensure there are practical, on-the-job materials to make the training more useful.
Blended and hybrid training
Strictly virtual and in-person training have limitations on their own. In today's work environment, you can blend in-person interactions and virtual approaches to give employees the flexibility they need to flourish.
Blended learning is by far the preferred learning method, according to a 2021 Howspace hybrid work report.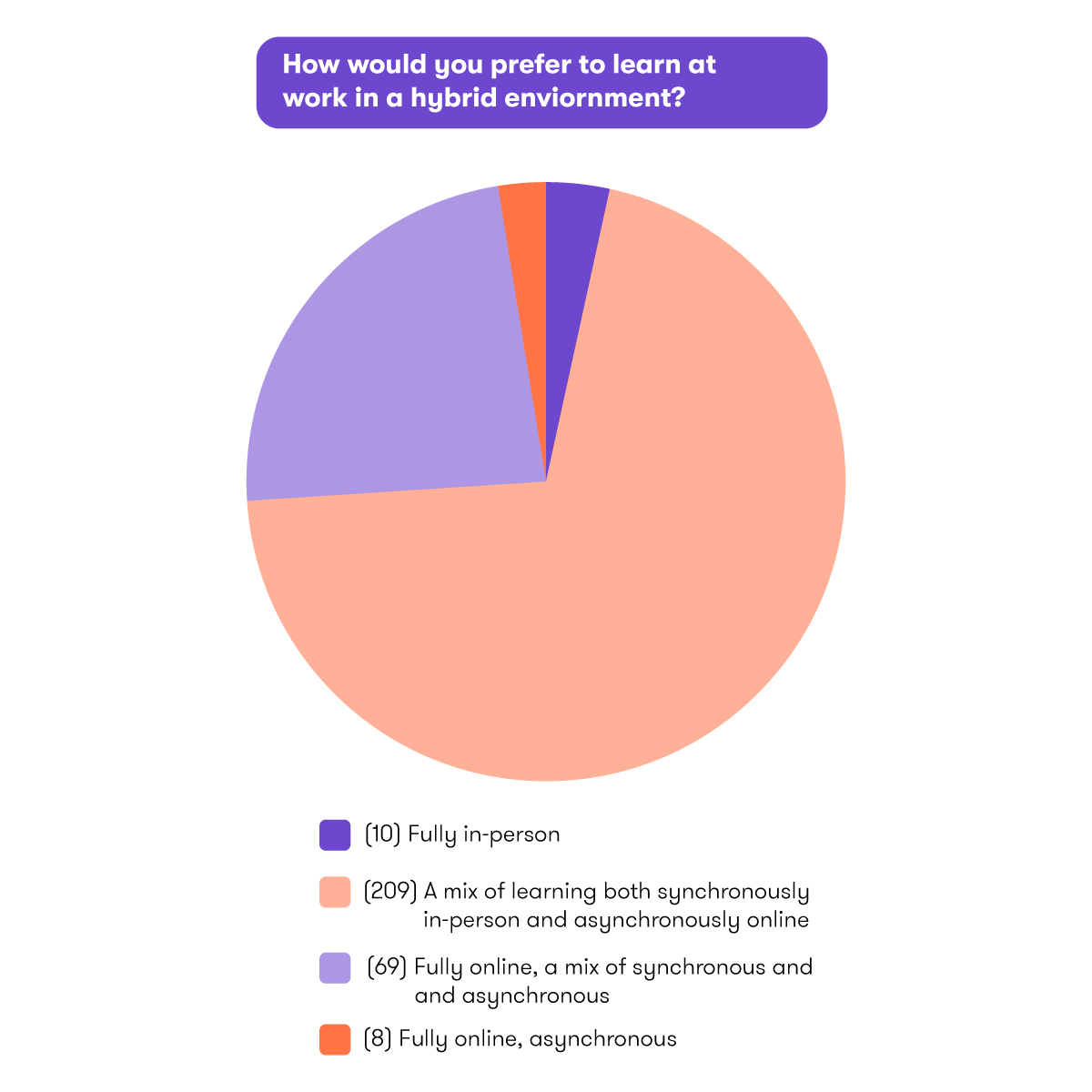 To clarify the difference between blended and hybrid learning: In a blended learning environment, participants are all in the same location for face-to-face activities. In a hybrid learning environment, facilitators use digital tools to support synchronous interaction between in-person and remote participants.
Keep in mind that hybrid learning doesn't only involve supporting groups working simultaneously face-to-face and online. It also involves supporting asynchronous ways of working and learning, meaning the parts of the process that people can do on their own time. In today's hybrid work environment, we need to actively create times and places for learning that best suits individuals.
The cost of staff training and development
When tallying up the cost of staff training and development, you need to consider the tools used (online and otherwise), time allocated, and amount of planning needed. For a more concrete number, reports from American Express claim that one employee's annual training budget should be 1% to 5% of their yearly salary.
It's important to view training and development as a strategic investment, not an expense that can be cut in financially difficult situations. When you work with learning and development teams as strategic partners, you'll likely see a big return on investment.
Employee training tools and technologies
Here are the main online training tools and technologies you can consider for your programs:
E-learning platforms
E-learning platforms allow you to deliver ready-made learning content to an unlimited audience. E-learning can be done both synchronously and asynchronously, and most e-learning platforms favor static content delivery over collaborative features.
E-learning platforms work well for international organizations offering individual training and developing people in different time zones. Most platforms can be localized to specific languages, and they're often scalable, suitable for 1 or 1,000 employees at once.
AI tools
AI-powered tools allow training and development facilitators to digest enormous quantities of dialogue between colleagues, and keep important conversations going between participants.
These tools work best when they're part of an online learning platform. For example, Howspace's different AI features include real-time word clouds, theme clustering, sentiment analysis, and summaries of the group members' discussions. AI tools make it easy to visualize key themes and concepts, and they act as great starting points for deeper analysis and discussions. Such tools also help trainers understand how employees have applied what they've learned in their everyday work.
Collaborative learning platforms
Collaborative learning platforms help you make everyone an active participant and encourage a culture of continuous learning.
For example, Howspace is a collaborative learning platform that empowers organizations to bring their people together to learn and reflect from each other. You can build personalized learning journeys and create different user groups, assignments, quizzes, polls, and much more.
Prioritizing employee training and development means prioritizing the present and future of your company
When you train your employees, you help them become better performers immediately. Then, with development, you're mapping out someone's future, so they can progressively add more value to the organization through promotions and improved performance.
These aren't systems you can piece together on the fly. They require careful planning, thought, resources, and budgeting. What's more, training and development programs need to grow alongside your company and its team members, offering scalability and flexibility.
Still, you can easily get started by running small training or learning initiatives, which could have a huge impact and effect on the employee experience and their everyday work. When employees know the purpose of the training or development program and it's easy to get started, they'll appreciate the opportunity.
---
Want to dive deeper into organizational learning? Get your free copy of our ebook: 8 ways to boost engagement in virtual organizational learning.
You might be interested in these as well
View all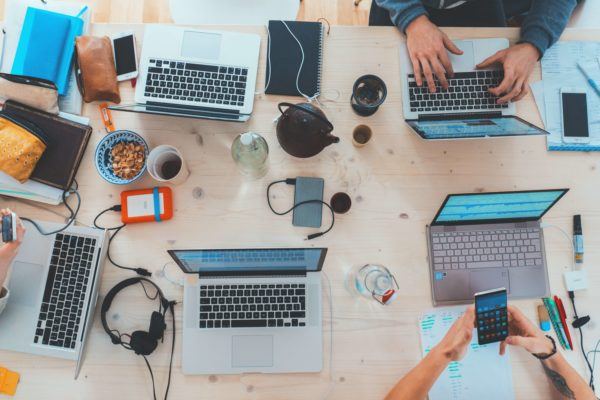 E-learning vs. blended learning — definitions, differences & use cases
The terms e-learning and blended learning are often used interchangeably, which is hardly a problem in casual conversation. However, since […]
Read more
View all