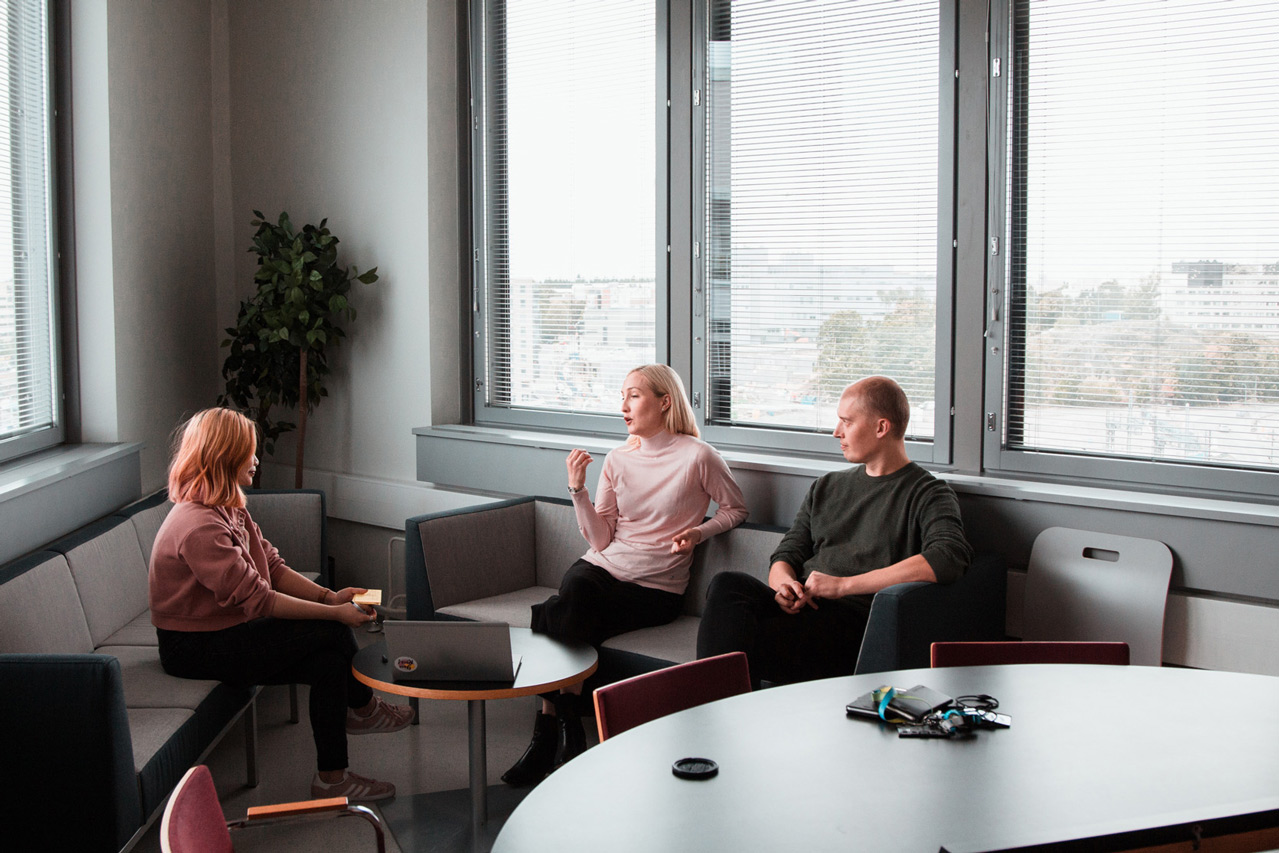 The pandemic has forever changed training: What does the hybrid learning model look like?
When the pandemic hit, most learning & development (L&D) professionals had to make a sharp pivot in the way they delivered training, going completely virtual. Now over a year later, it's clear the pandemic has brought about long-term changes: many organizations are rethinking their training programs, and remote work isn't going away. 
The question on many L&D professionals' minds is: What does the future of training look like?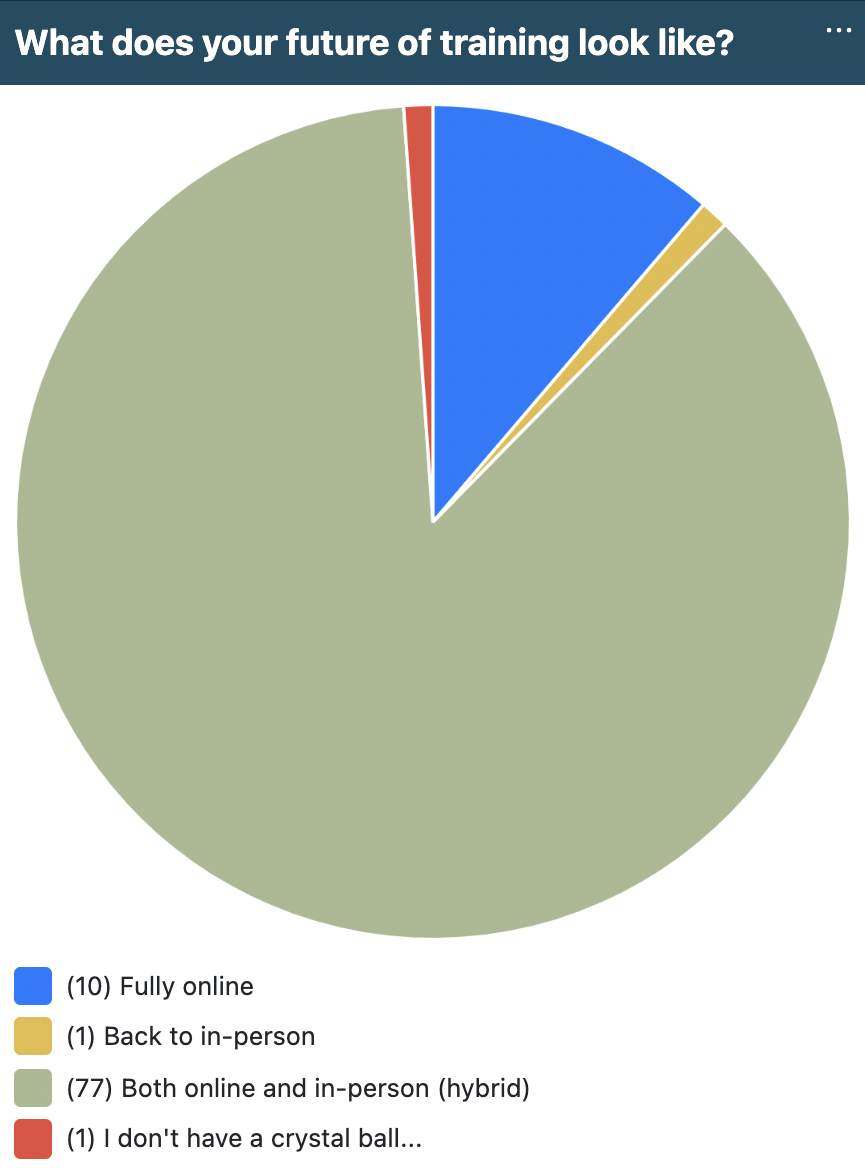 As seen in this poll from a recent Howspace webinar, the majority of L&D professionals plan on using a hybrid learning model to deliver training. But that begs the question: What does the hybrid learning model look like in practice? How can you successfully integrate both in-person and online elements? And how can you ensure all participants have an equally engaging and rewarding experience? 
We dig into the answers and share some practical strategies for running a successful hybrid learning program. 
What is hybrid learning?
First, let's start with a definition. Hybrid learning is a learning method where some participants are physically present in a shared space, while others join virtually at the same time. Hybrid learning is not a new practice. But many organizations shifted from in-person to virtual training at the start of COVID-19 and are now wondering how to facilitate hybrid workshops and events for the first time. 
What's the difference between hybrid and blended learning?
The terms hybrid learning and blended learning are sometimes used interchangeably. But are they one and the same? 
Not quite. Blended learning is a method that combines online and in-person elements, along with some self-directed learning. The specifics depend on the learning context, but generally all participants attend in-person training sessions and also do work asynchronously online in their own time. Micro-learning—where content is delivered in easily-digestible, bite-sized chunks—is a key component of blended learning. 
A blended learning program can include in-person training sessions, online learning materials and assignments, and regular peer-to-peer discussion, which can all take place within a social learning platform. 
Like blended learning, hybrid learning combines online and in-person teaching methods. Both methods incorporate synchronous and asynchronous learning. But the main difference between the two is that facilitators in hybrid sessions might be teaching remote and in-person learners at the same time, whereas blended learning in-class sessions include all participants (in the same physical location) and use digital tools to support their learning. 
No matter which methods you use, aim to find the right balance and don't limit yourself with set ratios or equal splits. Instead, consider your training objectives and the value you're bringing to learners. 
When does it make sense to use a hybrid learning model?
There's no denying the hybrid model is daunting—it's a more challenging approach compared to fully in-person or fully online sessions. But that doesn't mean we shouldn't be prepared for this way of working that's become increasingly relevant since COVID-19. 
The pandemic has taken in-person meetings off the table for the past year, but as regulations change, it's becoming possible to meet in small groups again. Still, many companies have taken a "remote by default" approach. And since we've gotten used to working remotely, many people expect multiple options for training programs. 
So when does it make sense to go with hybrid learning?
When planning your training sessions, consider:
Costs: What's the budget for the training program?
Travelling distance: Are you expecting participants to travel? If so, from how far? 
For example, if most of your corporate training participants are in the same city, planning a hybrid learning program won't take anything away from those who decide to join in person. And you won't feel the need to squeeze your training into one long day to maximize the time of people travelling from far. At the same time, you'll give everyone the flexibility and freedom to choose how to join. It's a win-win. 
On the other hand, if participants are scattered around the world and it's either impossible to meet in person or it doesn't make financial sense to fly everyone in, planning a fully virtual session might be your best bet. 
Fully in-person training sessions might be the right choice if your main objective is team building and fostering relationships between colleagues, or if you're organizing sensitive crisis management training. 
To sum it up: Why not take the hybrid learning approach if you can? If some participants are able and willing to join in person and you have the budget and means to make that work, then go for it. 
Whether your session is fully in-person, virtual, or a mix of both, integrating asynchronous elements and working on a social learning platform that helps you adopt a collaborative culture of continuous learning will help improve the results of your learning program. 
Now let's consider what strategies you can adopt to facilitate successful hybrid training sessions.
Strategies for a successful hybrid learning plan
When it comes to hybrid sessions, a common concern is that those joining virtually will feel like "second-class" participants. How can you make sure every voice is heard and provide an equally wonderful experience for all participants—regardless of their location? 
Think of the remote participants first 
Unfortunately, it's easy to forget about the online participants when those in-person tend to dominate the conversation. To ensure remote participants feel heard and involved, organize everything in such a way that they are top of mind. 
Put away the Sharpies and post-it notes, and plan all collaborative work like brainstorming, answering questions, and submitting tasks to be done digitally—whether people are in the classroom or joining remotely. All participants can use their phones or laptops and work within the same online platform. 
Besides the live sessions, planning ongoing asynchronous activities that are integrated into participants' day-to-day work is crucial for the learning to stick. By using one centralized platform for collaboration, you connect all participants and allow them to learn from each other. 
It takes two: Pair up with another facilitator 
Especially when facilitating large groups in a hybrid learning environment, it's a good idea to share the responsibility. 
One facilitator can take the lead with the in-person participants, and another can focus on the remote participants. This way, both learning groups will receive the needed guidance and get timely answers to their questions. And it won't feel like double the work for one facilitator trying to engage all participants while simultaneously dealing with any technical problems that arise. 
Having two facilitators is not meant to divide in-person and remote groups, but rather ensure they have a shared learning experience and feel equally supported. 
Rethink face-to-face learning methods 
There's no doubt shifting from in-person to virtual training was a huge challenge for organizations at the start of the pandemic—and many are still facing this challenge today. Some L&D professionals had to learn the hard way that trying to replicate the face-to-face environment doesn't quite work. For virtual and hybrid learning, a whole new mindset is required. 
Don't be afraid to let go of content that worked for exclusively in-person sessions, but that doesn't serve learners in a hybrid environment. For example, you might have previously run three-day training programs to maximize the time of those travelling to be there. But can you rethink that model? 
Putting the learner experience first, you might choose to take a blended and hybrid approach, spacing out your training program over time so you can make a bigger impact on learning outcomes and create post-session sustainability.
Facilitate separate in-person & virtual break-out groups 
Since group work is key to engage people, you don't want to drop it in the hybrid environment. For synchronous break-out sessions, having separate groups for remote and in-person participants will make things a lot easier. When doing so, make sure that all participants record their work in the same online platform. That way, neither group will miss out on each other's learnings. 
Of course, if there are specific reasons you don't want to do this, you can mix the groups and have remote participants join in via video call. However, you'll want to be sure you have the right equipment—including screens and microphones—so that remote participants can be heard and also properly hear what those in-person are discussing. 
Bring it all together with the right tools 
If you're thinking about trying the hybrid approach only using technology like Zoom or Microsoft Teams, chances are you'll have a hard time. While video conferencing tools are needed, they're not enough to enable ongoing and transparent collaboration between all participants. 
Why not get started with Howspace for free and see how you can empower all participants to collaborate in a noiseless space? 
---
If you want more tips for boosting engagement in a virtual learning environment, check out our ebook that covers 8 learning trends that are revolutionizing the way people learn at work.
You might be interested in these as well
View all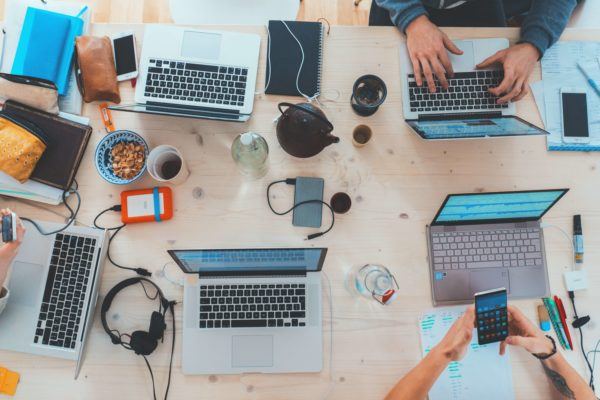 E-learning vs. blended learning — definitions, differences & use cases
The terms e-learning and blended learning are often used interchangeably, which is hardly a problem in casual conversation. However, since […]
Read more
View all