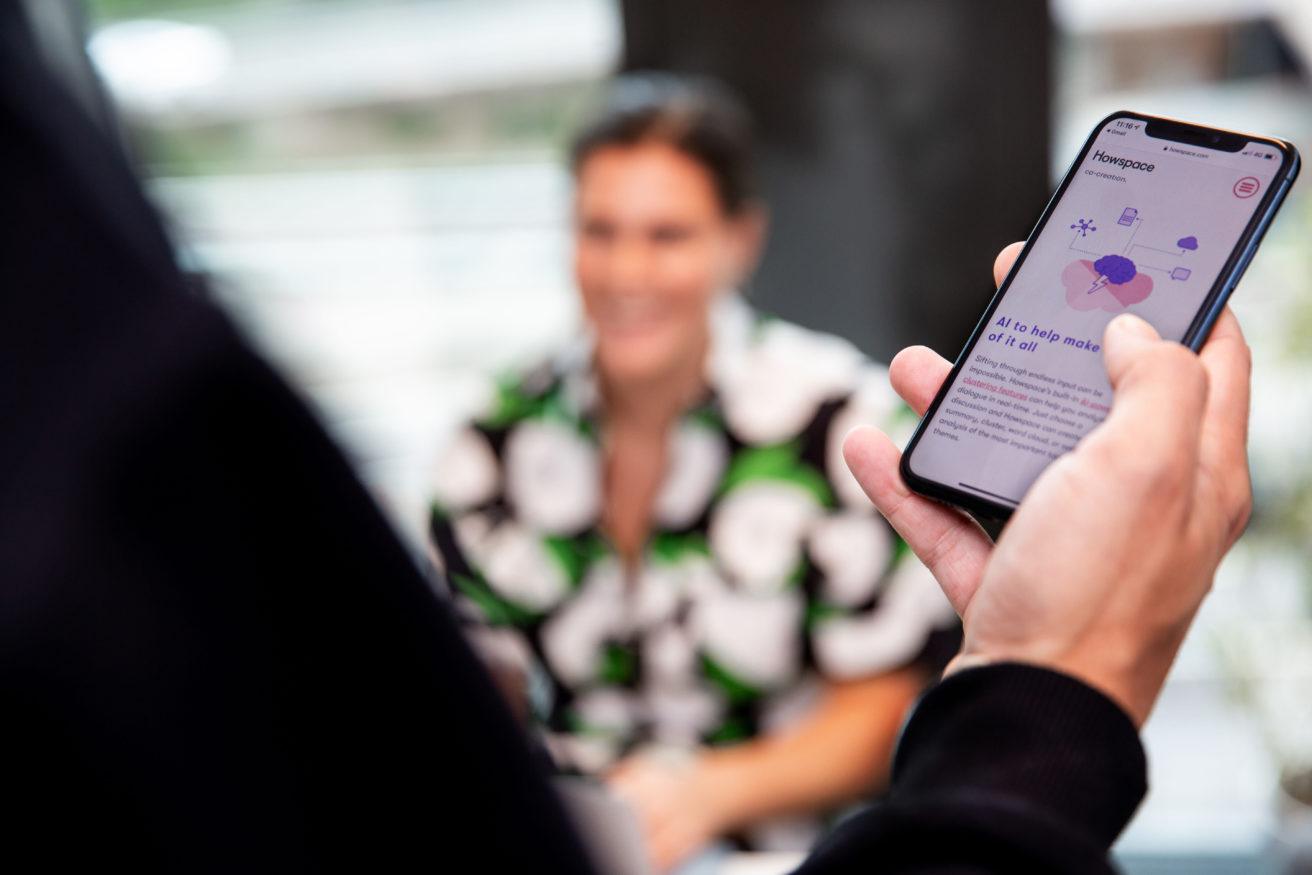 10 Ways Howspace Uses Howspace
In the SaaS world, we frequently hear the term "eating your own dog food" thrown around, but rarely do we get a chance to learn about how companies truly do their work behind the scenes.
Howspace isn't unlike any other company out there. We have a big, constantly growing organization where our professionals are spread around the world, making it difficult to collaborate effectively. Making sure they all feel heard is just as important as giving them a crucial part to play in the trajectory of Howspace—but at the same time, we don't want to and actually can't increase the amount of synchronous time together. However, we still want to maximize the impact we get from collaboration, and that's why we use Howspace.
Here are 10 Ways that those of us at Howspace have utilized the platform to make our workflows more efficient and to connect better with our colleagues and projects:
1. Run sprint plans with our marketing team.
One popular way to support fast learning and an interactive knowledge process is following the agile model. Internally, we use Howspace to take advantage of creativity and work in two-week sprints. Every Monday, the marketing team gathers together to discuss goals for the two weeks, tasks to be completed, and any blockers that might have come up.
As we go through our tasks, marketeers come back to their sprint plans and update everyone on progress and if they need any help. At the end of the sprint, we meet synchronously to the results of our work and how we want to plan for the next two weeks!
Implement a sprint structure with your teams on Howspace today by using this handy Sprint Planning Template!
2. Create information transparency across the company.
We at Howspace have a policy of information transparency, and we make efforts to make sure everyone has access to what they need to know as they need to know it! This value has manifested itself in the "We" workspace, where everything from the quarter's company OKRs to the archive of company campfires to a collection of links to other company workspaces can be found. Think of it as a bulletin board to be checked whenever you have time or interest. Meeting notes are always available in the workspace for the ones unable to attend meetings or forums.
In addition, every month, we host a town-hall style meeting in the "We" workspace to bring up the biggest developments from different teams. New sales process? Interesting customer story? Cool marketing campaign gaining traction? This is the place to tell us everything!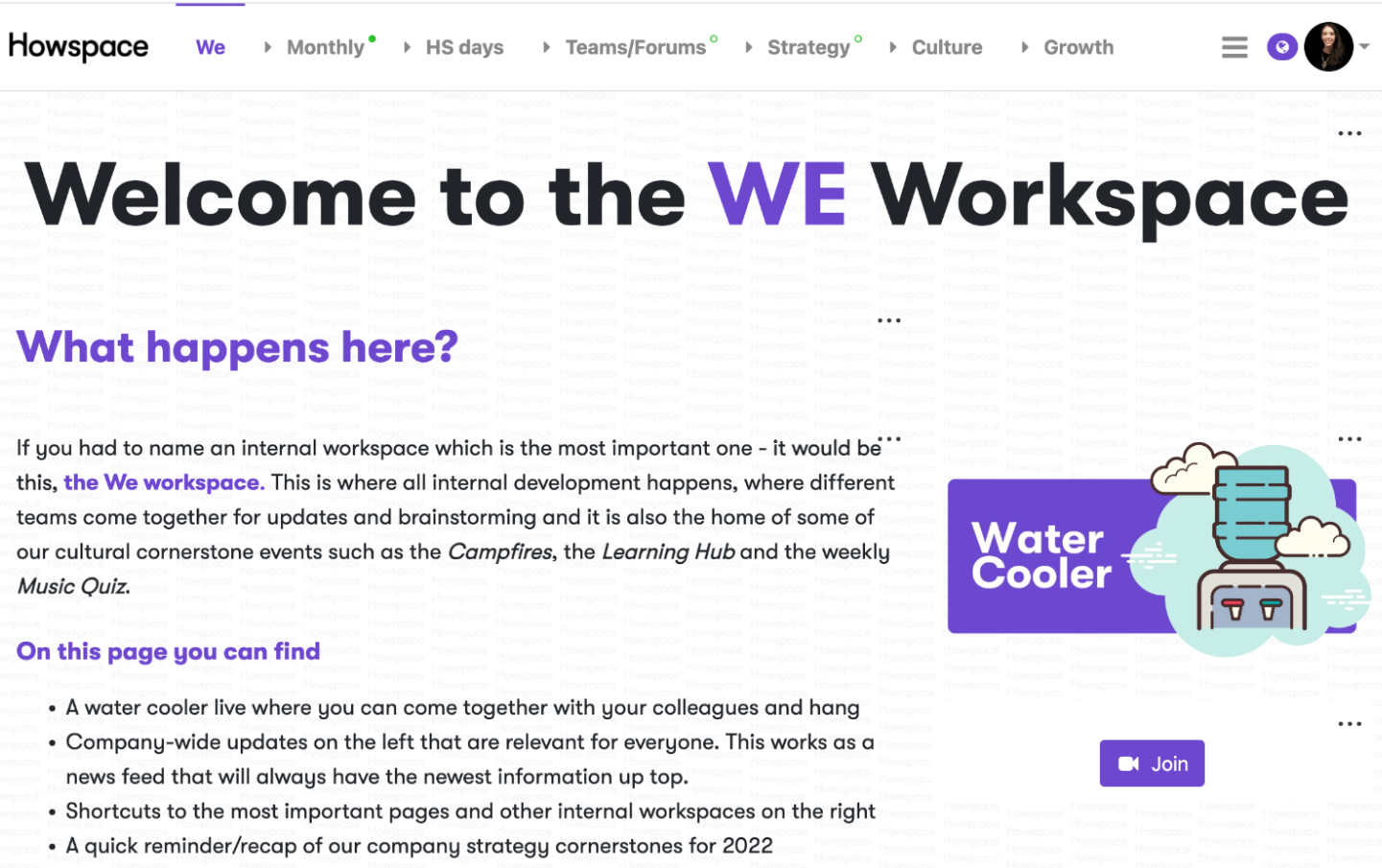 3. Decentralize decision-making for company-wide strategy planning.
Typically, introducing new concepts and narrative scenarios for a company to tackle requires a lot of synchronous meeting time, which can be pretty taxing to both organize and attend. When we started working on Howspace's new core positioning, we quickly realized that our greatest asset in getting it right were the many minds and ideas of our employees, and we had just the platform to both introduce a number of scenarios and to gather everyone's input at the same time. Everyone had a chance to review the scenarios at their own pace, contribute their thoughts, and see what other perspectives were popping up.
This is an approach called Sociocracy 3.0, where we invite everyone to participate in change, rather than leaving it to a select group of managers or leaders. From there, our marketing team moved forward with building out a new strategic narrative based on the entire company's participation.
4. Onboard customers to our product by using our product.
Making sure customers have a positive first experience with Howspace is critical to their success as facilitators and community members on the platform. We designed a workspace that introduces newbies to the Howspace ways of working, our design principles, various features and functions, and a few best practices on how to get started with building!
We also make a point of providing resources like impact stories, help center articles, and a chat service to get in contact with support if new customers ever need more information to have their best Howspace experience. It's simple and direct so that customers can get started right away.
5. Play with new features and brainstorm their applications.
Whenever a new feature comes up or an existing feature is updated, the last thing our CSMs and Sales Representatives want is to be caught without an answer about how it can be used to create value for a customer! That's why we designed a "play space" for ourselves to learn more about features without the pressure of marketing or selling them.
Every two weeks, members of any team can get together to explore how something like our Booking widget has been updated and why those changes are productive for customers. We exchange use cases, best practices we've seen in our own conversations, and clever hacks our customers have told us about as they make the platform work for them. Sometimes we even find some bugs to squash!
Looking for some more information on a particular feature in Howspace? Check out our Help Center for guidance!
6. Engage and develop your customer community.
Help centers are great for talking about the nitty-gritty tutorials needed to use a feature, but they don't help a customer or user learn best practices or creative use cases that could help them in their daily work. Our Howspace Community is a workspace dedicated to customers who want to get the most out of Howspace by sharing experiences with each other and mining the heaps of experience our various Customer Success Managers have to offer.
We host topic-specific webinars and in-depth product demos, as well as showcase our Howspace Academies, courses designed and facilitated by our HS specialists to take customers from newbies to experts. Community also hosts an extensive library of feature how-tos, making it the best place to augment your knowledge of Howspace's widgets and functionalities.
Are you a Howspace customer? Check out the upcoming Community webinars and events here!
7. Build a learning program for our customers.
Howspace customers come from a variety of different backgrounds, but something they all had in common is the need for a digital platform to engage participants in learning journeys. We believe that the best experiences with Howspace start with a great facilitator, and so we set out to build a course that would sharpen customer skills when it comes to building great facilitator-led workspaces.
Introduction to Digital Facilitation is a free, asynchronous three-week training program designed to develop skills in digital facilitation and help participants feel more confident in everyday work life as a facilitator. In one year, we've run the Introduction to Digital Facilitation course for over 2000 participants in English and Finnish, and we're excited to begin offering the course in German!
Interested in improving your digital facilitation skills? Sign up for the course yourself today!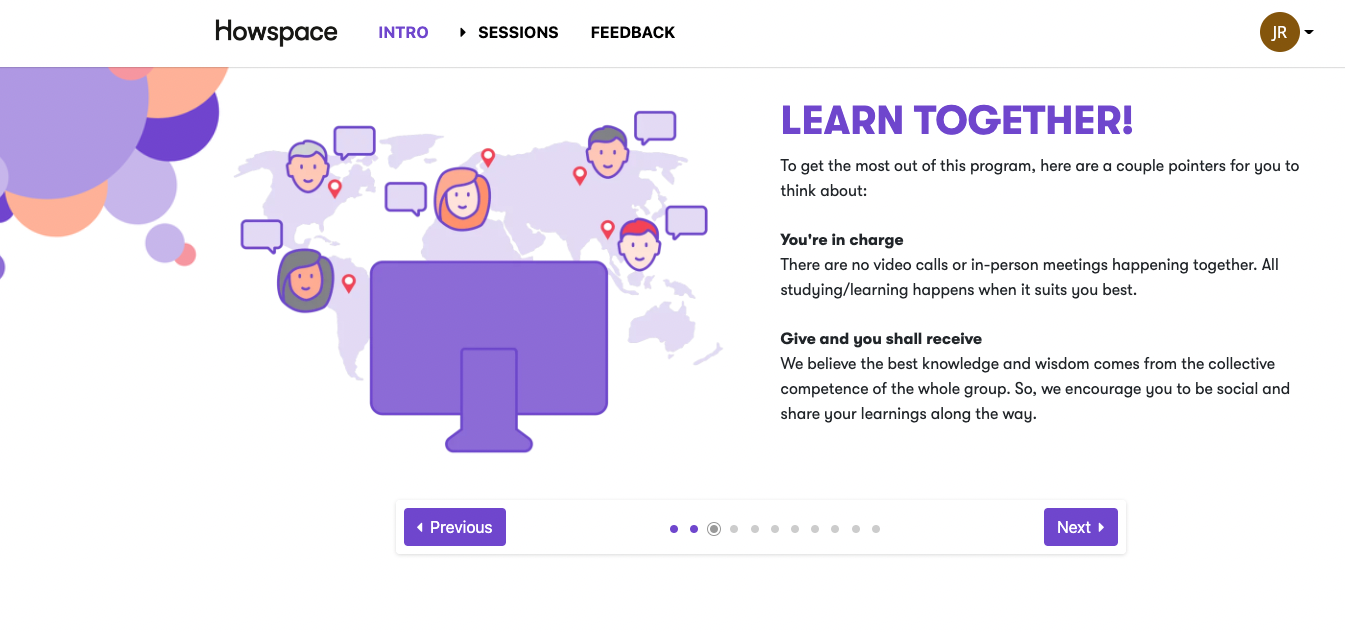 8. Inform the entire company of upcoming product developments.
In order to keep everyone on the same page when it comes to new product features and planned releases, we invite the whole company to participate in the monthly Product Roadmap meetings within our "We" workspace. Here, we explain upcoming features and the problems they solve for customers, as well as invite employees to vote on which customer requests should take priority for the development team to tackle next. Everyone who wasn't able to join can go back to watch the recording and volunteer their thoughts. By separating our Product Roadmaps from a more general meeting, we're able to help each other focus on what's ahead for the platform without any distractions.
9. Gather employees together for hackathons.
Sometimes the best way to advance an idea is to bring everyone together with the goal of producing a lot of content in a short period of time. The hackathon model of ideation originated in the cryptography space, but it's since been taken into every aspect of business, and we happily utilize hackathons to come up with awesome material showcasing the ways Howspace can make an impact for our customers. Our hackathons always take place on the Howspace platform, making it easy for every employee to join, no matter where they are, and contribute their ideas.
We've tackled everything from our product onboarding process to tutorial videos for YouTube to internal communication in the hackathon format, and after the day of work is done, we always have a workspace to return to when iterating on those initial concepts.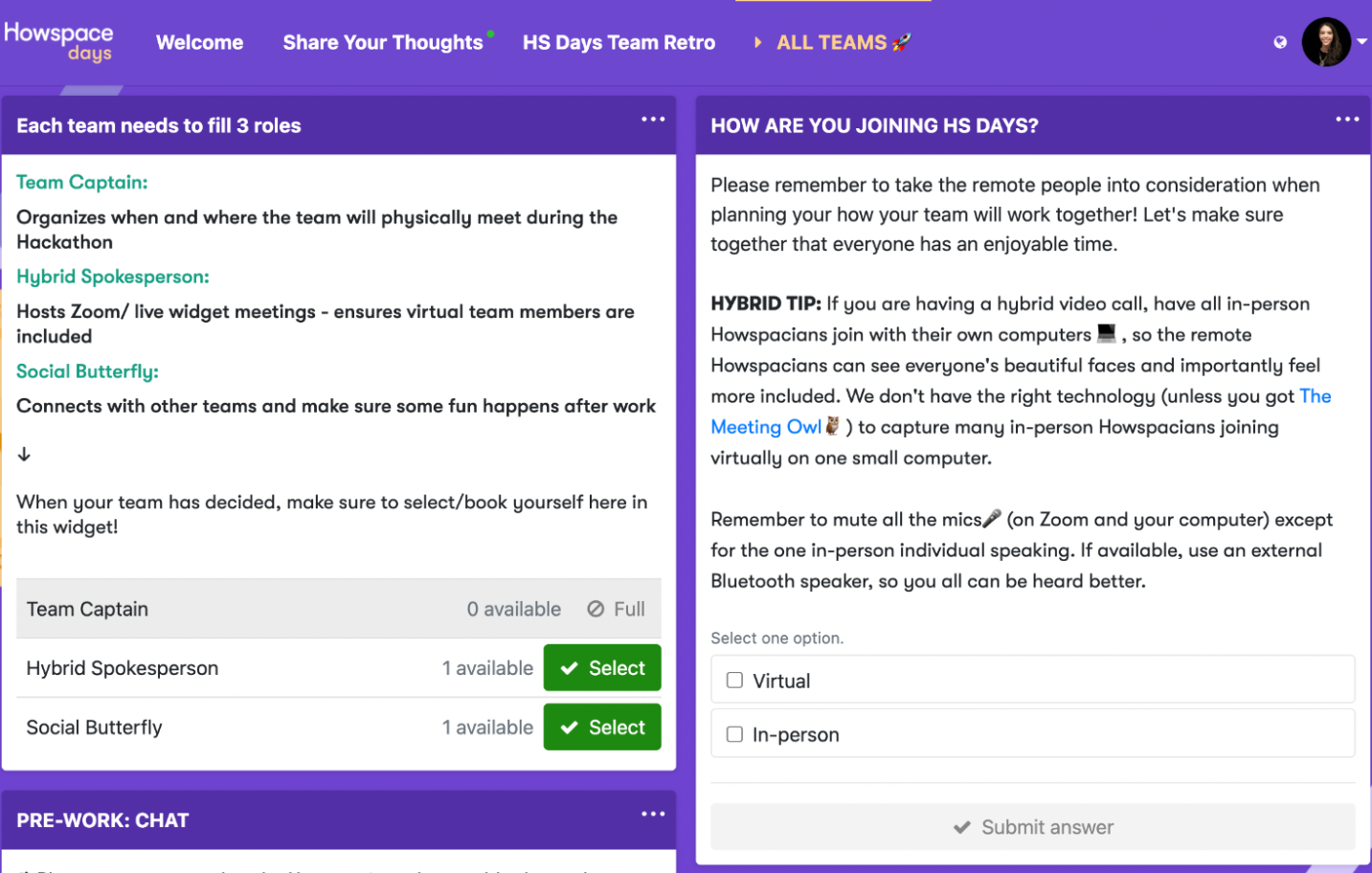 10. Facilitate rapid employee onboarding into the Howspace product and culture.
We really believe in getting new hires started with Howspace straight away, and that means ensuring they use it to learn it. Every employee is taken through a guided tour of the product through a specially-built learning journey that gives them the context of how Howspace works, what our primary use cases are, and the guiding principles behind why we've designed the platform the way we have! This process takes place asynchronously, allowing them to absorb Howspace in their own time whilst meeting their new teammates synchronously in their onboarding meetings, either in person or via video conferencing.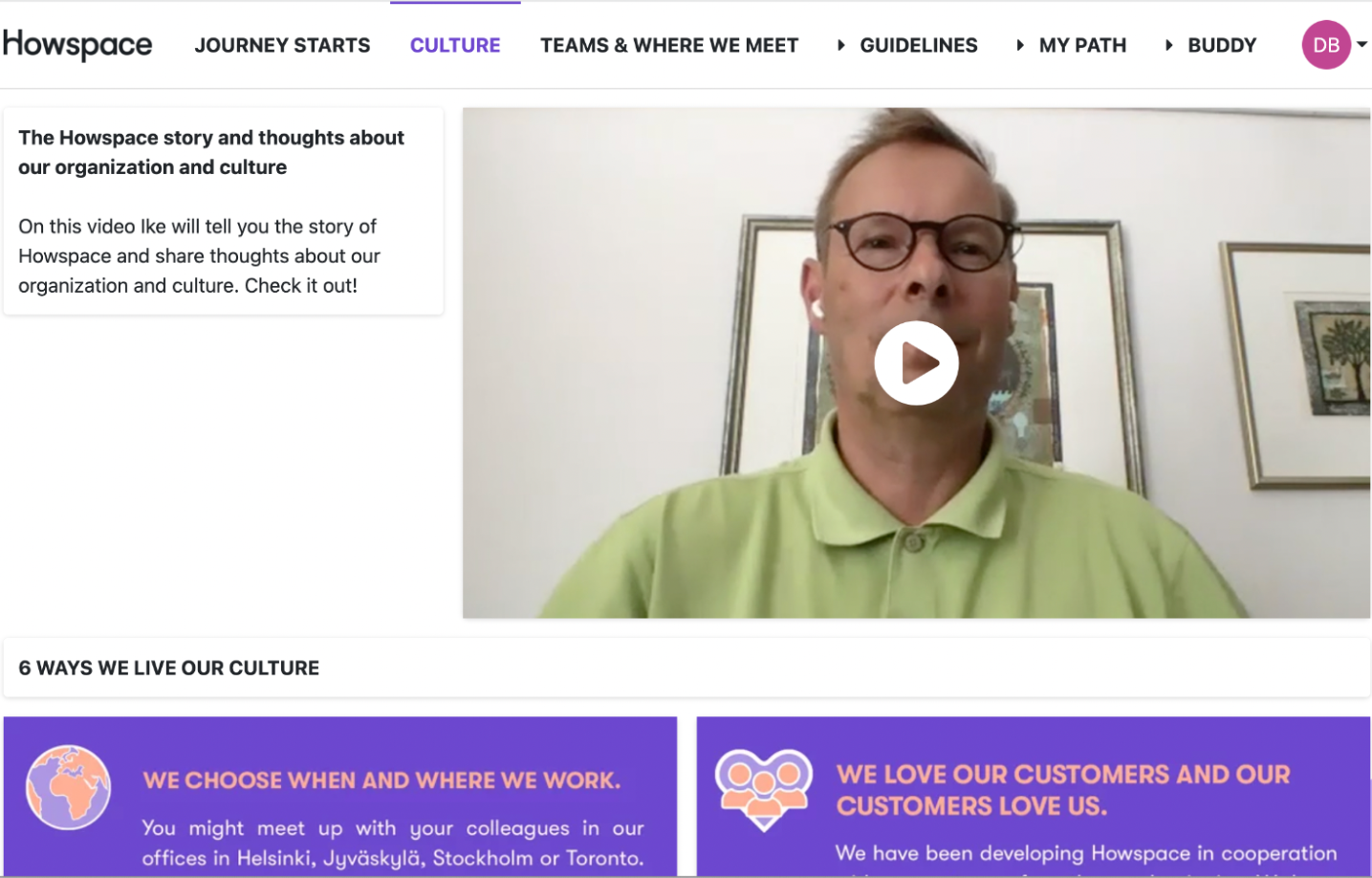 ---
And that's just the start!
Howspacians utilize Howspace in a variety of ways as we go about our daily work, each unique in approach and use case. Creating workspaces, joining trainings, and even just playing around with settings for our own education, we're always using Howspace to learn more about Howspace together.
---
Want to build your own workspace to create a sprint plan or a learning course? You can sign up now to access Howspace for free!
You might be interested in these as well
View all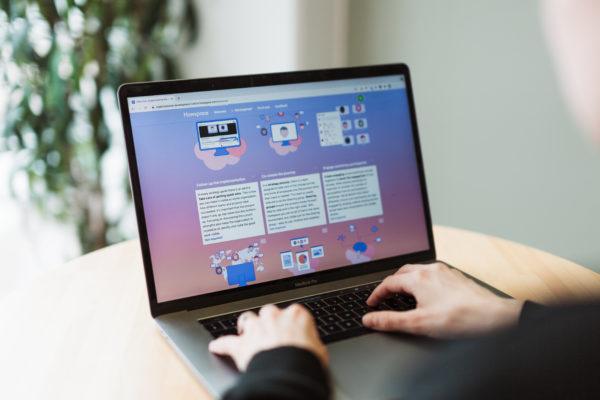 The future of learning: How to design learning experiences for the hybrid world
It's no secret: work as we know it has changed for good. COVID-19, the Great Resignation, and the rise of […]
Read more
View all