6 experts share their top tips for facilitating learning experiences
Not too long ago, factory workers and other blue-collar employees represented a large majority of the working population in North America and Europe. Back then, a company's financial performance was dictated by the economic efficiency of their operations. Cheap, manual labor and partial automation were synonymous to success.
Fast forward to 2019, where most of our GDP comes from professional services. In other words, services produced by a highly specialized and highly educated workforce. In an economy like this, it's no wonder that professional development has become the true north of successful organizations.
To fully understand the newest trends in learning at work, we turned to six renowned learning and development experts for some answers:
So without further ado, here's what our expert panel had to say.
1. What are currently the biggest trends in learning?
Glenda
"I have been watching trends in the learning industry for the last forty years, so I've seen many trends come and go. Some have stayed and gotten stronger recently, so they seem most important for the future: Efficiency, relevance, flexibility.
Given the high-pressure workplace of today. No one has time to waste on learning that does not fit their busy schedules, so learning must be broken into short segments that can be accessed when and where they are needed. Efficiency is a key factor in learning.
Learners need to know that what they are learning will make a difference in their performance. They don't have time to bridge from general information into their own contexts. Effective learning must be useful immediately for learners and their teams. Relevance is a key factor in learning.
Uncertainty is the only certainty today. No one knows when and how their next challenges will emerge. Learning systems have to be designed to adapt to the needs of the learner, even when those needs change in unpredictable ways. Flexibility is a key factor in learning."
Greg
"Customization/personalization — provide me learning opportunities the way I best learn when I best learn."
Michael
"There is a lot of talking about a "learning culture" going around. I think it is the right conversation but that there might be a lack of necessary definition.
For me, the simplest way to say it is do an organization's people wake up asking themselves, "what did I know yesterday that might not be true today?" We need to value seeking over executing. I would not abandon execution, far from it. But I would say that execution that is not constantly under the scrutiny of "are we still solving the same problem we began with?" has a much greater chance of becoming a great solution to the wrong problem.
Another important aspect is valuing learning over knowing. This is very difficult as most of the people in leadership roles in our organizations came from a world where what they knew gave them the legitimacy for their role. I won't repeat myself here but this brief LinkedIn piece explores this a bit."
Sue
"One of the biggest trends that we are experiencing in learning is using Leaders as Teachers. Equipping leaders with the skills to learn and cascade the content/learning to their teams allows for optimal relevance and understanding"
Drew
"Self-directed, blended learning models."
Rik
"I am not sure about the current trends, but I hope that the next big trends are driven by evidence of improved outcomes. If we don't measure outcomes, we can't expect to improve them. This measurement can be hard, and is often skipped. But as professionals, we need to tackle this issue — improved measurements would be a great new trend."
2. What are the key elements of a successful learning experience?
Sue
"Learning has to be relevant, practical and fun! This combination keeps the training engaging and participants feel it was a valuable use of their time."
Rik
"I still feel that the gold standard of collaboration is to meet in-person and make extensive use of analog, tactile props such as Canvases, Sticky Notes, Flip Charts and Sharpies. But no matter how trainings are conducted, extending the learners period of engagement is key to success."
Glenda
"When learning is successful, learners increase their confidence, hope, and joy in the work they do. They return to work with new skills, outlooks, and relationships they developed. And, perhaps most important, they are inspired and prepared to continue learning and adapting as new challenges arise. Any learning experience that contributes to these patterns will successful in the long-term and in the short-term."
Michael
"Very little theory, practice immediately (in as real a way as possible), debrief thoroughly, debrief the debrief."
Greg
"A combination of each of use and access with an ability to deepen that learning through connection with others (either live, via video or chat)."
3. Can technology support the learning experience? If yes, how?
Drew
"It is central — video teaching, case histories, video reflection, blogs, articles, best practice transfer, tests etc. This is not about how technology can support, it has to be about designing technology into learning systems and content delivery all the time."
Sue
"Technology creates an engaging experience for the entire participant journey. It also allows for relevant data to be captured and provides alternative opportunities for collaboration for the learners."
Drew
"Sometimes we have the luxury of conducting training face-to-face, with the entire cohort together for the better part of a week. But even then, we want a mechanism to extend the engagement period both before and after that week. Our expectation is that this will improve the overall impact of the experience and this is one great place where technology can help."
Michael
"I think this is just emerging and hello Howspace as on of those emergent platforms! My concern is that technology has mostly just tried to replicate what is done analog by doing it cheaper and "at scale", which usually means videos instead of live, and this does not actually change the learning design paradigm.
I am also skeptical, however, about complete learning solutions being promoted by software companies. I think technology is giving us some great tools and we have to get better and understanding and using them. The days of buying technology solutions we don't really understand are waning. A/R, V/R and other tech will certainly play big roles, as will AI, etc. But we should know enough to experiment with these things and see how the can best integrate into good, solid design."
Glenda
"Well designed tech-supported learning give access to new information, shared dialogue, practice, and feedback to complete the learning cycle. Such responsive technology can be the greatest support to meet the trends and emerging needs of the learning process. It makes information and dialogue available when and where the learner has a need, so it is efficient. It makes it possible for the learner to tap into whatever is most relevant to them, whenever and however it is most useful.
And, technology can provide the learner with the tools they need to respond to future challenges that may be complex and unpredictable. Technology can also build the community foundation for individual and collective learning that stretch way into the future."
Greg
"Uniquely being able to put multiple platforms of connection and learning in one place."
4. How can you ensure that newly learned skills are put into practice?
Drew
"Coaching and mentoring reviews after 'teaching' to scaffold learning."
Sue
"Retention and application of the content only happens when you have a reinforcement strategy in place. Reminders of the key messages, activities to practice and apply, and providing managers the support they need to follow up are critical."
Michael
"Have a business reason to practice them. Have people practice them in the training, not role play, so that they can see that the work in context."
Rik
"We are experimenting with Post-Study Trios. The idea is that after a training session of whatever type, learners can opt-in to stay connected with two others from the class. They hold each other accountable to experiment with some concepts from the session. They debrief with each other as they learn, sharing informal "continues and considers". We hope that Howspace will help our trios stay connected."
Glenda
"Practice and feedback are the only way to build adaptive capacity. We use technology to frame our professional development practice in terms of Adaptive Action Experiments, which are the essence of practice. Learners identify a relevant problem, one that has them stuck in real work. They practice observation, as they answer the first Adaptive Action question: What patterns create or sustain the sticky issue? They move into analysis and innovation as they ask the second Adaptive Action question: So what are options for shifting the pattern? They are moved to action when they ask Now what can I do right now to make a difference? Finally, they report on outcomes and explore the next Adaptive Action cycle.
Howspace supports all four of these learning-in-action steps by framing the questions, supporting dialogue among learners, documenting findings, and providing space for feedback and support. Because the technology captures evidence of action and change as it happens, it helps individuals and teams reflect on their progress and learn more about how they learn over time."
---
Psst! If you'd like to accelerate your organization's learning and development capabilities, start with Howspace for free today.
You might be interested in these as well
View all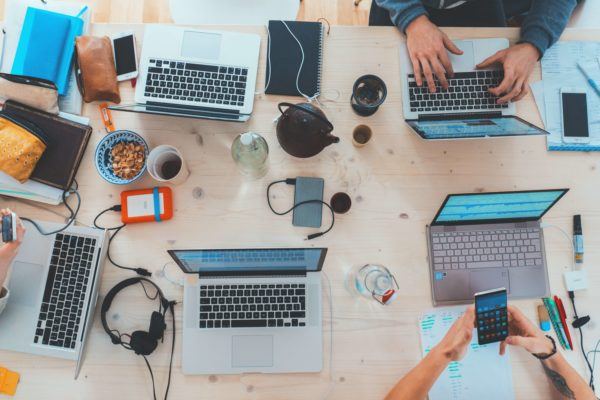 E-learning vs. blended learning — definitions, differences & use cases
The terms e-learning and blended learning are often used interchangeably, which is hardly a problem in casual conversation. However, since […]
Read more
View all