The future of work after COVID-19: The hybrid work model
There is no one-size-fits-all approach to the new world of work. Some employees love working from home—swapping a one-hour commute for a morning jog and enjoying more family time. Others are happiest at an office or co-working space full-time, with plenty of social interaction throughout the day. Many want the best of both worlds and the flexibility to choose when and where they work.
How we work best varies dramatically according to our personal preferences.
That's where the hybrid work model comes in—combining office and remote work. Some companies have been working in a hybrid environment well before COVID-19, but many others are struggling to iron out all the particulars with this model. How do you nail the balance between remote and in-office work? How do you encourage collaboration and engagement within teams no matter where individuals are located? And how do you sustain inclusion for all employees?
Just as organizations across the globe went fully remote at the start of the pandemic, many organizations now need to build a successful hybrid work model—or risk losing their employees.
What exactly is a hybrid work model?
A hybrid work model allows some employees to work from home while others work on-site. It's about adapting work to how teams operate best and creating experiences that are as inclusive and reach as many people as possible.
Hybrid work is not just a physical location issue—it's important to discuss both place and time. The hybrid work model is represented in the anywhere, anytime quadrant below.
When considering the future of work, location shouldn't be leaders' main focus. Rather than focusing on in-person versus remote, what we really should be focusing on is how we can keep our people engaged and productive in different environments. Companies that find new ways to engage their employees and customers are more likely to keep and attract new talent and meet and even exceed their customers' expectations.
Many leaders are out of touch with their employees
The push for going back to the office is largely being driven from the top. Yet employees overwhelmingly expect flexible options.
At Howspace, we recently conducted a survey to better understand people's views and plans around hybrid work. The survey sample was 303 team leaders, consultants, and employees across a range of industries and organization types and sizes in 31 countries. According to the survey results, flexibility was seen as the number one benefit of hybrid work.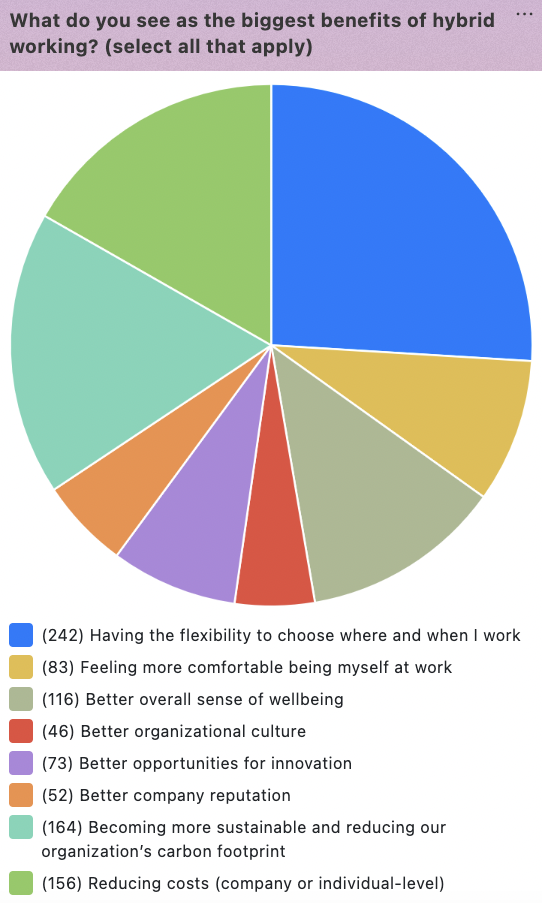 Rebecca Fry, Manager of People Enablement at AIG commented in our survey: "My physical health has never been better. I can manage my time in a way I have never been able to do before, my commute to work has given me three hours per day back into my life, and I use them to be more physically active and physically present with my family."
Our survey results also indicated that 20% of respondents who work as employees do not feel that leadership is taking action based on their feedback for how, where, and when they'd like to work.
While the majority of global workers struggled through pandemic work conditions and considered leaving their employers, most business leaders said they were "thriving," according to a Microsoft Corp. survey of global workers.
And we all saw what happened with the backlash against Apple's return-to-work policy. In a letter to Apple CEO Tim Cook, employees stated outright, "Over the last year, we often felt not just unheard but at times actively ignored. It feels like there is a disconnect between how the executive team thinks about remote / location-flexible work and the lived experiences of many of Apple's employees."
During COVID-19, many leaders questioned how to "control" employees working from home and make sure they are not "wasting company time." This concern points to a lack of trust and highlights a rigid way of doing remote work—that it must conform to the traditional 9 to 5. While managers might suspect their employees are lying on the couch watching Netflix or online shopping during work hours, the reality is usually the opposite.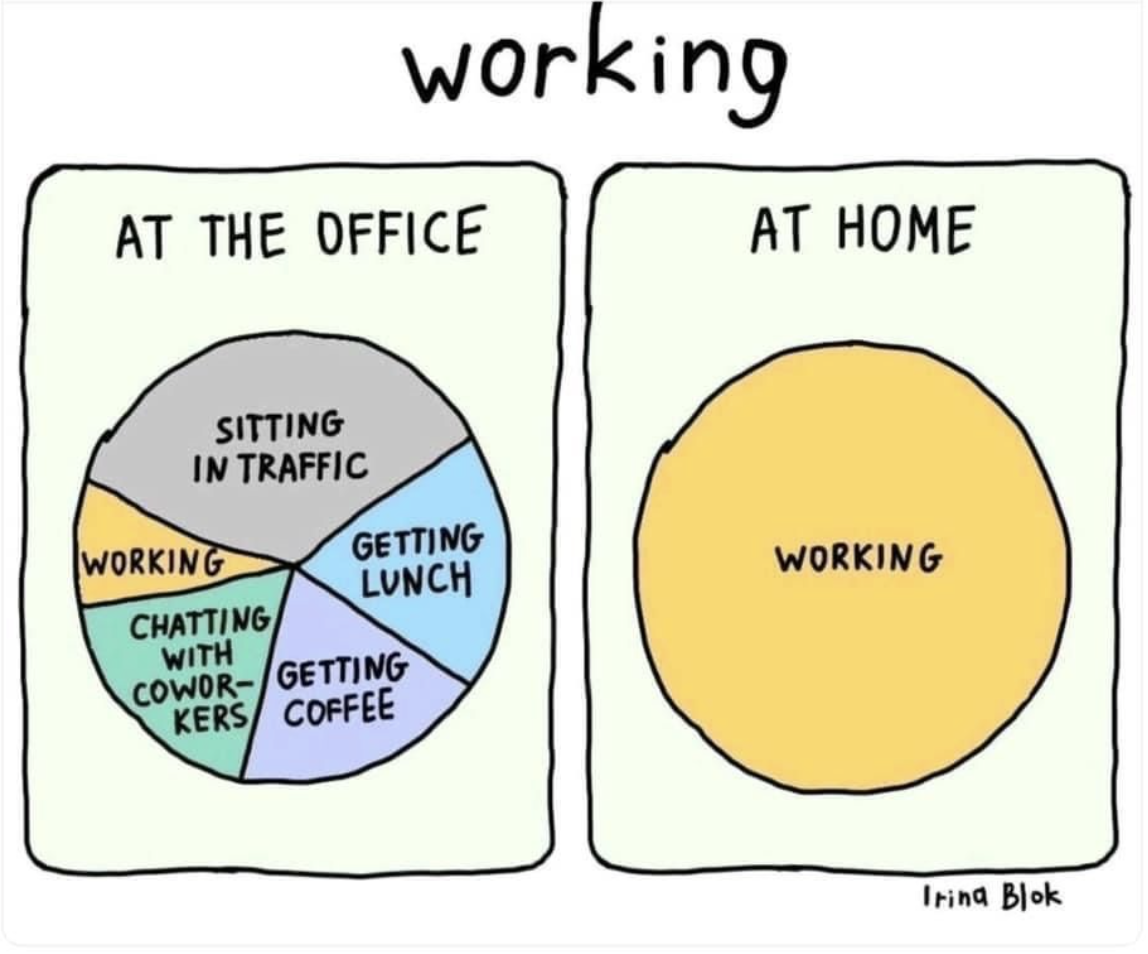 Image source
With so many people "rage quitting" their jobs, there's a lot at stake for leaders when it comes to implementing a hybrid work model. While many of us understand that hybrid work is inevitable, 68% of organizations have no plan or detailed vision in place for hybrid work, according to a study by McKinsey.
We will not go back to "normal"—hybrid work is here to stay
Even the term "remote work" now seems outdated. Matt Hancocks, Senior Director Analyst at Gartner says, "As enterprises normalize working from home, concepts like 'distributed workplace,' 'hybrid workforce,' 'flexible work' and 'work from anywhere' are much more apt for the current environment."
While some refer to "getting back to normal" post-Covid, the reality is that our work lives pre-pandemic weren't "normal." So instead of looking back, we can pause and begin to craft fluid organizational models that empower people to work in ways that best suit their wellbeing and productivity.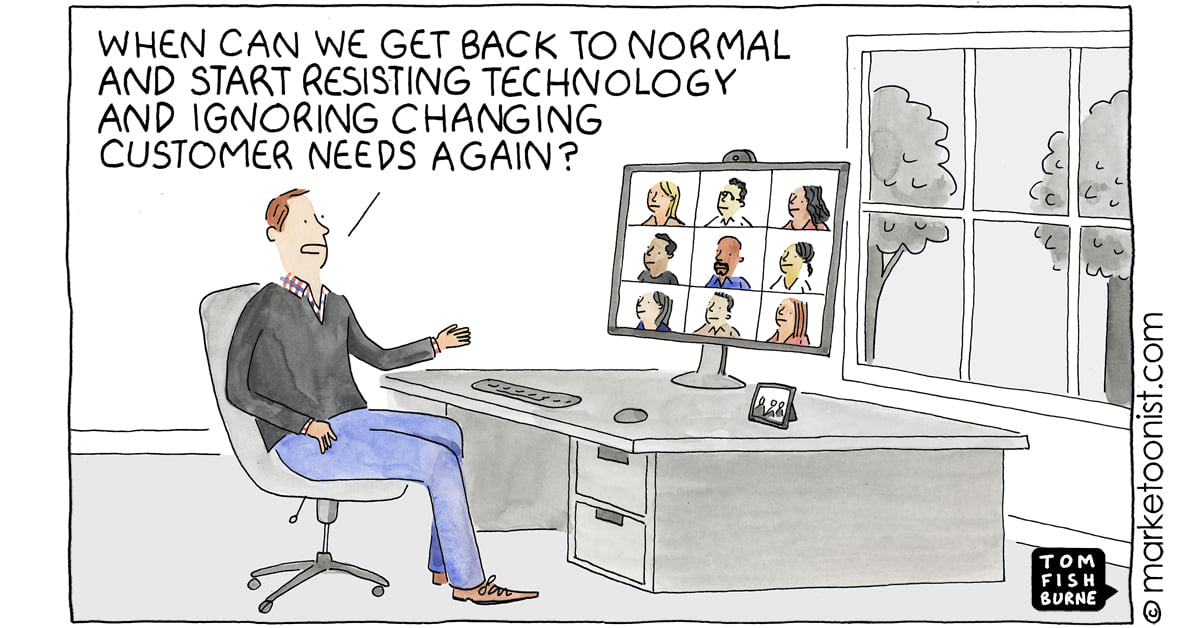 As Sonya Renee Taylor says, "We will not go back to normal. Normal never was. Our pre-corona existence was not normal other than we normalized greed, inequity, exhaustion, depletion, extraction, disconnection, confusion, rage, hoarding, hate and lack. We should not long to return, my friends. We are being given the opportunity to stitch a new garment. One that fits all of humanity and nature."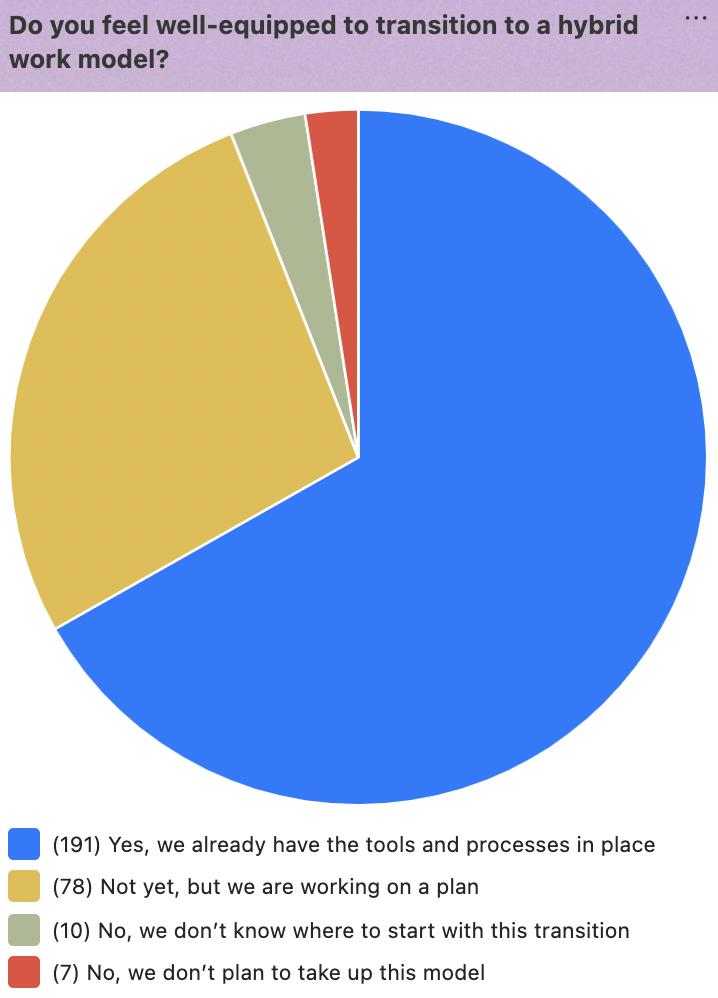 94% of our survey respondents feel well-equipped to transition to a hybrid work model, and 66% already have the tools and processes in place.
How well-equipped do you feel for the transition?
---
Want to know how organizations have prepared to make this transition? Download our Hybrid work model playbook for research-backed insights, tips, and strategies for succeeding with hybrid work.
You might be interested in these as well
View all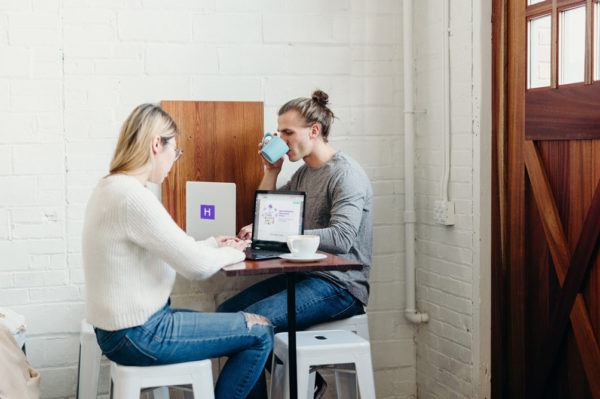 The best change management tools for successful organizational transformation
Embracing change within organizations can be challenging, as people naturally resist it. However, utilizing the right change management software can […]
Read more
View all