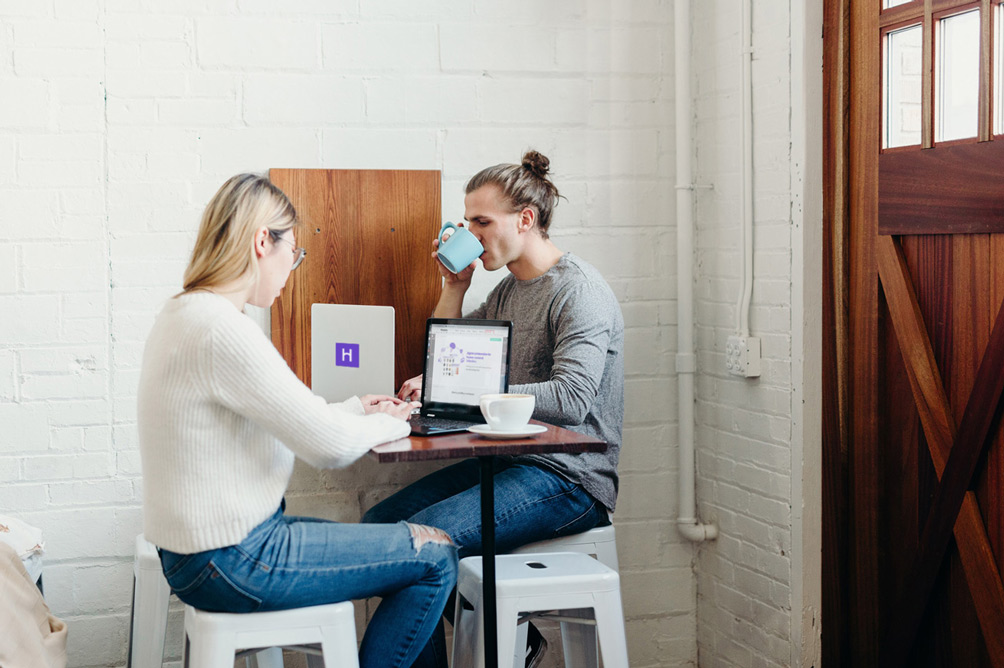 The top 11 change management software solutions to facilitate change
Change is inevitable but difficult. Humans are naturally resistant to change, which is why organizational change is so challenging for many companies. But using the right change management software will help.
Contrary to the term "change management," change shouldn't be managed top-down or externally to be successful. Instead, it should be facilitated and co-created. Engagement is key. Rather than having a ready-made plan from top management, you can create the change together within your workplace community.
The top organizational development (OD) consultants and practitioners use collaborative tools and technology to help create an environment of proactive and continuous change. But what change management software will work best for your organization?
To help you make a well-informed choice, we've rounded up the top change management software solutions.
Navigate this post:
What is change management software?
The main purpose of change management software is to help organizations successfully navigate technological, systemic, or personnel change. It's not the software itself that enables change—it's the dialogue between the people involved. We now have the ability to empower and extend our local change agent networks like we never have before.
Whether it's an employee engagement initiative or a transitional change due to a company merger, change management software should help make the change easier for everyone involved.
You can choose the right type of software according to what's changing in your organization. There is change management software for:
Employee or partner training and onboarding
New IT roll-outs and upgrades
New tools and processes
Change planning
Idea management
The software should help you collect feedback, collaborate with participants, structure training programs, and ultimately empower all participants to drive deep change.
What's involved in a successful change management process?
Traditionally, change management is seen as a process with a beginning, middle, and an end once the change has been "managed." But many organizations now see change management as a continuous development. What's involved in this type of process?
While the change management steps vary across different types of organizations and changes, these three steps are key:
Establish the current state and envision the future: Give people the bird's eye view of the current situation, and help them envision the desired state together.
Facilitate dialogue from different angles: Invite all stakeholders to share their feelings and opinions on various aspects of the change initiative.
Change management tools 
Howspace
We're putting our own platform at the top of this list because of course we think it's a great solution for co-creating change. Howspace is an organizational development platform that makes it possible for every person to get involved in moving change forward. Howspace differs from other change management tools because facilitators can guide the conversation and empower individuals to use the platform to drive deep change.
✅  Pros:
Facilitate dialogue and give a voice to all stakeholders
Involve a limitless amount of people from anywhere in the world
Make sense of large-scale dialogue with artificial intelligence
Facilitate both synchronous and asynchronous work
Easily customized according to your needs and visual brand
⛔️  Cons:
Howspace is for organizations that prioritize collaboration and co-creation. If the change in your organization will be made top-down, it probably isn't the platform for you.
Limited number of participants in built-in live video conferencing widget, but you can use the video conferencing tool of your choice side-by-side with Howspace for groups larger than 100.
The Change Compass 
The Change Compass is a digital tool that helps you drive transformation success and improve people experience during change.
✅  Pros:
Easy to use, no training needed for end users
Data analytics tools and heatmaps help to visualize the impacts of change on different parts of the organization
You don't need to download anything to run it
⛔️  Cons:
Some customers report frequent bugs with the tool
Complex UI
The Change Shop 
The Change Shop is a platform that offers team leaders a suite of six tools to make organizational change a competitive advantage.
✅  Pros:
Interactive dashboard allows you to explore real-time analytics
Real-time feedback to gauge employee engagement
Access to a change management case study library to get industry and change-specific ideas
⛔️  Cons:
Only email support available
The product only supports English
It's a lesser known software solution with few reviews
Cognician  
Cognician is a digital change management system that activates behavior change consistently within global teams.
✅  Pros:
A lot of thought has gone into the behavioral psychology of the platform
The team has a strong expertise in learning, neuroscience, and experience design, and offers great customer support
A virtual coach helps to engage people by giving opportunities to reflect and share insights from their learnings
⛔️  Cons:
Reporting features are simplistic and could be improved
End-users who are less tech-savvy might require some extra help with using the system
Digital adoption tools 
Whatfix
Whatfix is a digital adoption platform that offers employee onboarding support and ongoing training.
✅  Pros:
Real-time in-app help is ustomized to users' individual roles
Users can learn in the flow of work
Easy-to-create interactive walkthroughs, with no coding required
Built-in analytics
⛔️  Cons:
The admin interface can be confusing to navigate
Some more complex flows might require engineering support
Limitations in terms of colors and customizations
Newwired
Newwired is an enterprise digital adoption tool that allows companies to speed up user onboarding and training.
✅  Pros:
Easy to set up, no coding skills required
Built-in surveys and polls to track users' feedback and measure satisfaction
Friendly UI and interactive step-by-step guidance makes it easy to use
⛔️  Cons:
Technical support could be improved to assist with complaints in real-time
Limited customization opportunities
WalkMe
WalkMe is a digital adoption platform that helps organizations measure, drive, and act to maximize their digital transformation.
✅  Pros:
Management dashboards give full visibility into system usage and user productivity across the tech portfolio
WalkMe community where digital adoption professionals can meet and share their knowledge
The customer support team is quick to provide assistance
⛔️  Cons:
The robust platform can be a clunky to set up and time-consuming to learn
Limited reporting and insights available
Work management tools
Wrike
Wrike is a versatile work management platform that helps companies manage projects and ongoing work.
✅  Pros:
Integrations with other software
Detailed reports and analytics with visualizations and workflows
Includes features such as Kanban boards and Gantt charts
⛔️  Cons:
The interface isn't so intuitive, which makes it a bit confusing to get started
Limited customer support
ESM + Strategy
ESM is an all-in-one business strategy and performance management software built to bridge the gap between strategy and execution.
✅  Pros:
Excellent support during setup and responsiveness regarding inquiries
The software is designed to bring all aspects of a strategic plan to execution, whether from the financial perspective, the customer perspective, the process perspective, or the staff resources perspective
⛔️  Cons:
It can take some time for system administrators to become fluent with the software
The price might be high for some companies
Innovation management tools
IdeaScale
IdeaScale is an innovation management solution that links organizations to people with ideas.
✅  Pros:
Intuitive for both administrators and users
The company is passionate about helping organizations reach their innovation potential
Responsive support staff
⛔️  Cons:
A higher membership level is needed to access more features
More preconfigured templates would make things easier
The analytics functions could be more customizable
Viima 
Viima is an idea management software for turning customer, employee, and partner ideas into innovation.
✅  Pros:
Easy to use for both administrators and end-users
Mobile-friendly platform
Free for up to 50 users
⛔️  Cons:
Some features can't be customized
Reports for visualization of data can be enhanced
Look for change management tools that allow you to drive change through dialogue 
Communication is a must for successful organizational change initiatives. No matter what type of change management software you choose, be sure to listen to everyone involved and engage them throughout the whole process.
Many traditional change management tools have limitations in the context of longer-term change initiatives that involve a large group of people. Look for flexible and customizable tools that allow you to involve the whole organization in transparent co-creation and drive change through dialogue.
If you're not sure if Howspace is the change management tool for you, why not try it out? You can start a free 30-day trial for today—no credit card required.