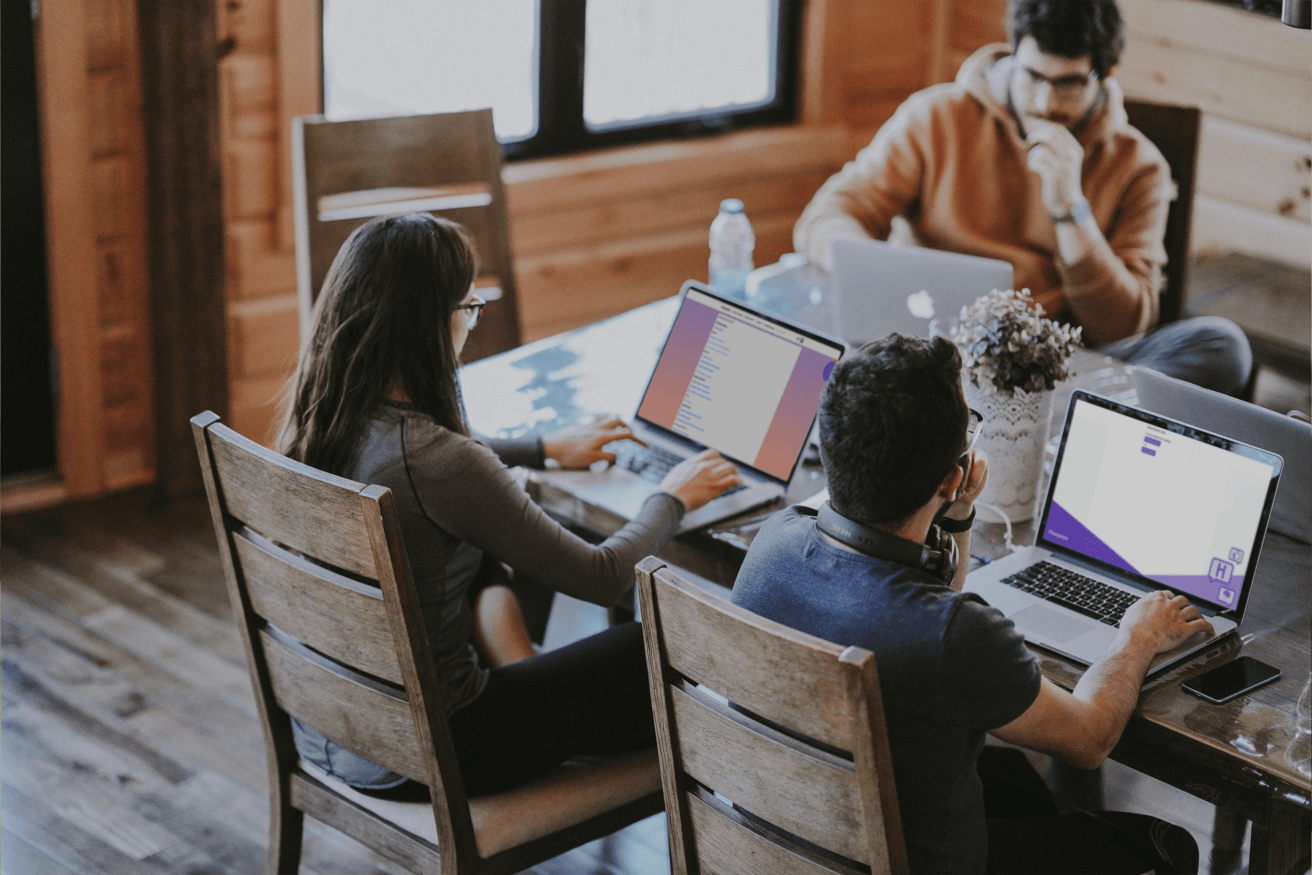 Changing organizational culture: The complete guide
If you've been considering how to change your organizational culture, you're not alone. In fact, research shows that a staggering 75%(!) of organizational transformation efforts fail to meet their desired outcomes. Given this high failure rate, it's crucial to approach changing organizational culture with a well-planned and carefully executed change management strategy.
There are various reasons why an organization may need to undergo a cultural shift, such as changes in leadership or a shift in the business model. However, successfully implementing the change can be a significant challenge. To ensure success, it's essential to align the goals and vision of the change with those of the employees and regularly seeks feedback from all stakeholders.
In this guide, we will explore proven methods for creating and implementing a change management strategy, specifically focused on changing organizational culture. We will also provide real-world examples of successful cultural shifts within organizations. To further facilitate the transformation process, we recommend utilizing an organizational change management (OCM) platform to streamline communication and collaboration among all involved parties.
---
💡 Grab our free template for leading a change process and get started with the cultural change process.
---
The problems with traditional organizational culture change
When it comes to implementing organizational culture change, the traditional top-down approach, where leadership dictates the change, often faces significant resistance. Employees may not see the value in the change and feel forced into adopting it, resulting in a half-hearted implementation that frequently fails. In fact, research confirms that top-down change management is one of the leading reasons why organizational culture change programs fail.
While change management tools are often viewed as a silver bullet for change, the reality is that the right tools alone cannot guarantee success. Instead, it's crucial to take a people-centered approach to changing organizational culture, which can increase the success rate by up to 58%. In comparison, top-down changes only see a 34% success rate.
With that, let's show you how to facilitate, rather than manage, organizational culture change by leveraging human-centric transformation. By adopting this approach, you can create a more inclusive and collaborative culture that inspires employees and drives organizational success.
6 incredibly effective tips for driving organizational culture change
Here's a quick rundown of our best tips for successfully changing organizational culture, followed by the details:
Invite the whole organization to be part of the cultural change process
Create a safe and trusting environment for people to share their thoughts and opinions
Ensure everyone feels heard
Help people find their own 'whys' for the change
Visualize your common dream about the future together
Make it clear how people can be involved throughout the change journey
1. Invite the whole organization to be part of the cultural change process
Successfully implementing organizational change boils down to two root ideas that science has proven time and again:
People want to be heard
Feelings drive behavior
For you, this means getting everyone's opinions and co-creating are cornerstones of organizational culture change.
In fact, a Great Place to Work study confirms organizations that co-create can expect 5.5 times higher revenue growth than those that adopt a less inclusive approach.
Co-creating not only satisfies employees' need to be heard but it brings an organization's collective intelligence to the table. This helps overcome individual blindspots as you harness everyone's knowledge, thoughts, and ideas.
Jason Little, Author, Speaker & Consultant at Lean Change Management sums up the takeaway well:
"As the change agent, your opinion doesn't matter! Detach from the outcome, put your status, ego, and opinion last in favor of putting the people affected by the change first."
2. Create a safe and trusting environment for people to share their thoughts and opinions
When it comes to successful organizational culture change, co-creation is a proven change management strategy that emphasizes collaboration and a trusting environment. One effective way to achieve this is by creating a dedicated organizational change management (OCM) channel in your digital workspace. By doing so, you can promote dialogue and engagement around the change.
However, to maximize the effectiveness of the OCM channel, it's crucial to encourage communication in different styles, including text, pictures, videos, and more, to cater to different employees' preferences. This helps to facilitate a more inclusive and collaborative dialogue around the organizational culture change.
To further increase psychological safety and encourage candid feedback, consider allowing anonymous comments in the OCM channel. This approach enables staff members who may feel insecure or uncomfortable sharing their opinions to do so without fear of retribution.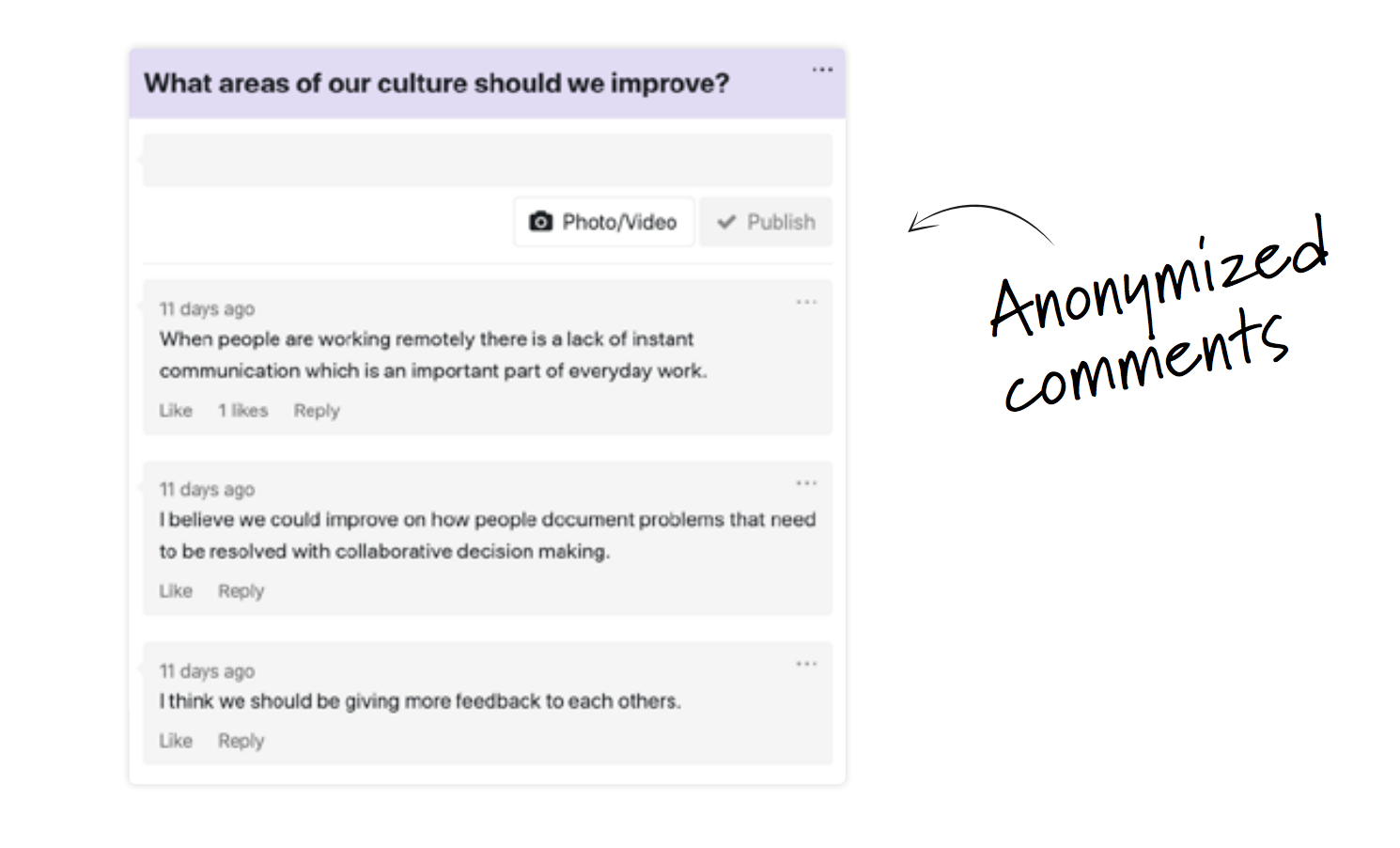 Fortunately, the change management platform Howspace, allows all this and more.
3. Ensure everyone feels heard
It's common for voices in higher management positions to be heard and even prioritized over front-line workers. This, however, beats the very idea of human-centered change.
Two main challenges come with human-centered change:
It can be difficult to ensure everyone's voice is heard—especially in large organizations.
Sifting through qualitative data from sourced feedback can be time-consuming. So change facilitators may end up showing bias toward top management opinions.
With a dedicated OCM channel, you can easily overcome the first challenge. Use it to source feedback by asking thoughtful questions and getting employees' opinions with polls.
For the second, use Howspace's AI feature to sift through and analyze qualitative feedback data within minutes. In fact, our customers estimate that this feature helps them save at least one day's workload.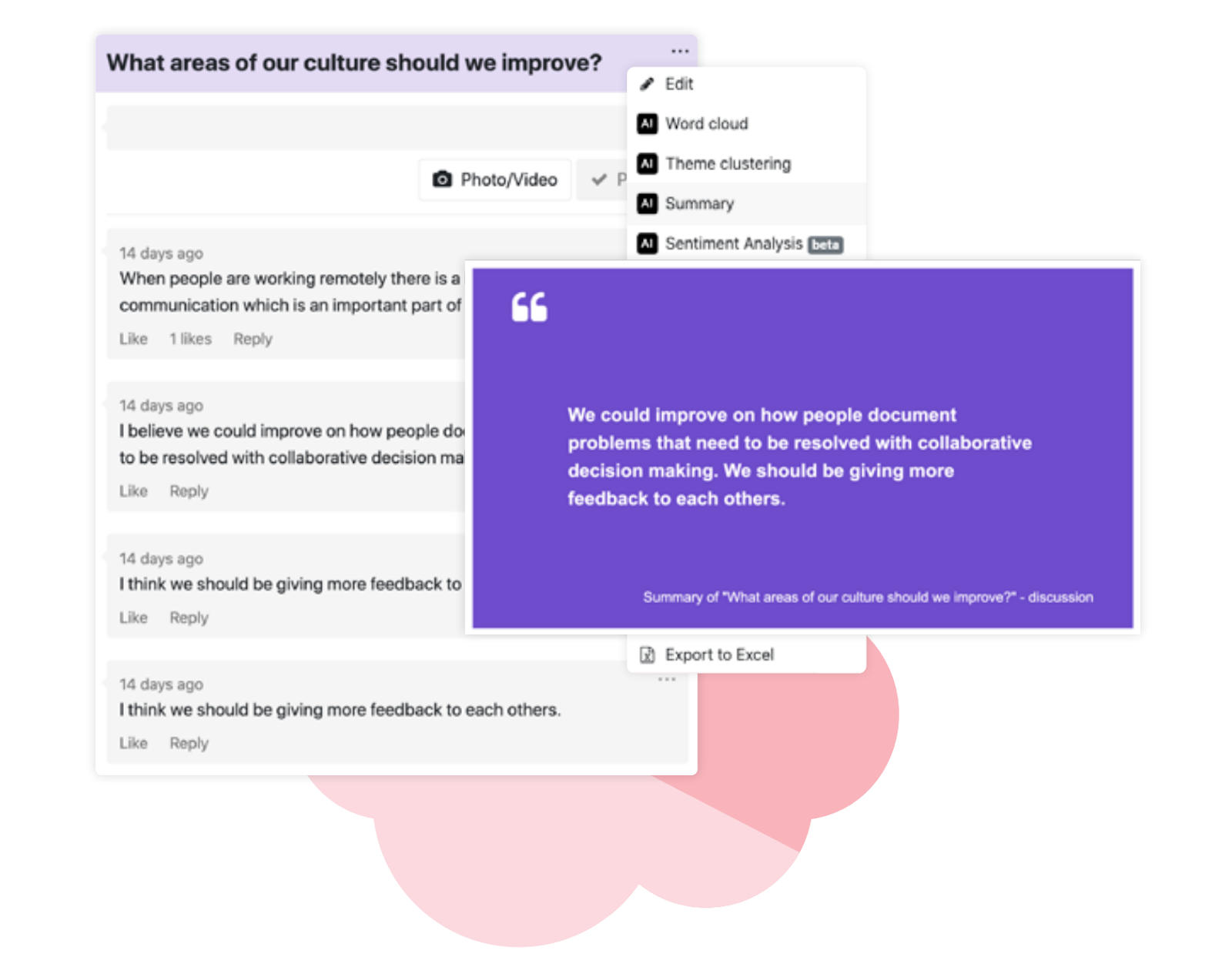 For example, the built-in clustering feature quickly analyzes feedback in real-time, helping draw conclusions from the discussions you host. Similarly, Howspace's AI can create word clouds to present common concepts and themes that emerge from the discussions. And with sentiment analysis, you can get a snapshot of the sentiment around the change ideas. All this helps you better listen to everyone's voice—not just the leader's.
4. Help people find their own 'whys' for the change
Before you dive deeper into facilitating organizational culture change, it's crucial you address the reason behind it. In fact, our CEO, Ilkka Mäkitalo, ranks this step among the top virtual change management strategies.
Your job? Help people understand why the change is needed and how it relates to them. Be sure to back your point with qualitative proof.
Pro tip: instead of sticking with one 'why,' look at the different outcomes that change will drive. Then, help people focus on the 'why' or the outcome that matters the most to them.
Helping employees see the personal benefit of the change increases their commitment to it. Not surprisingly, when people are invested in the change, they're 30% more likely to stick with it.
5. Visualize your common dream about the future together
Like the point above, this tip also helps employees better understand change and, therefore, better commit to it.
Admittedly, change feels uncomfortable—mostly because it's unknown. So instead of leaning into the abstract idea, communicate a clear idea of what's to come. Using visual cues such as graphs, videos, and pictures can help you visualize future dreams better.
Put another way:
"Make it human, friendly, fun, and exciting – turn change into a personal challenge not into something boring, imposed, or threatening. Basically, reframe the relationship with change from 'I have to' to 'I want to.'"

– Gustavo Razzetti, CEO & Founder of Liberationist – Change Leadership
6. Make it clear how people can be involved throughout the change journey
Implementing organizational culture change is a long journey, which can discourage participants. To motivate them, update them regularly. And be transparent about the processes, communication, decisions, and more.
For example, tell everyone they'd continue with their normal tasks but they'd be taking on assignments regularly. This way, you can nudge people in the direction of change without overwhelming them.
With an OCM channel, sharing updates becomes a breeze. You can also crowdsource questions that people have about the change. And, answer them both as an individual, and as a team by starting a discussion.
Collective answers from the team, in particular, encourage more constructive feedback and remove barriers in opinion sharing.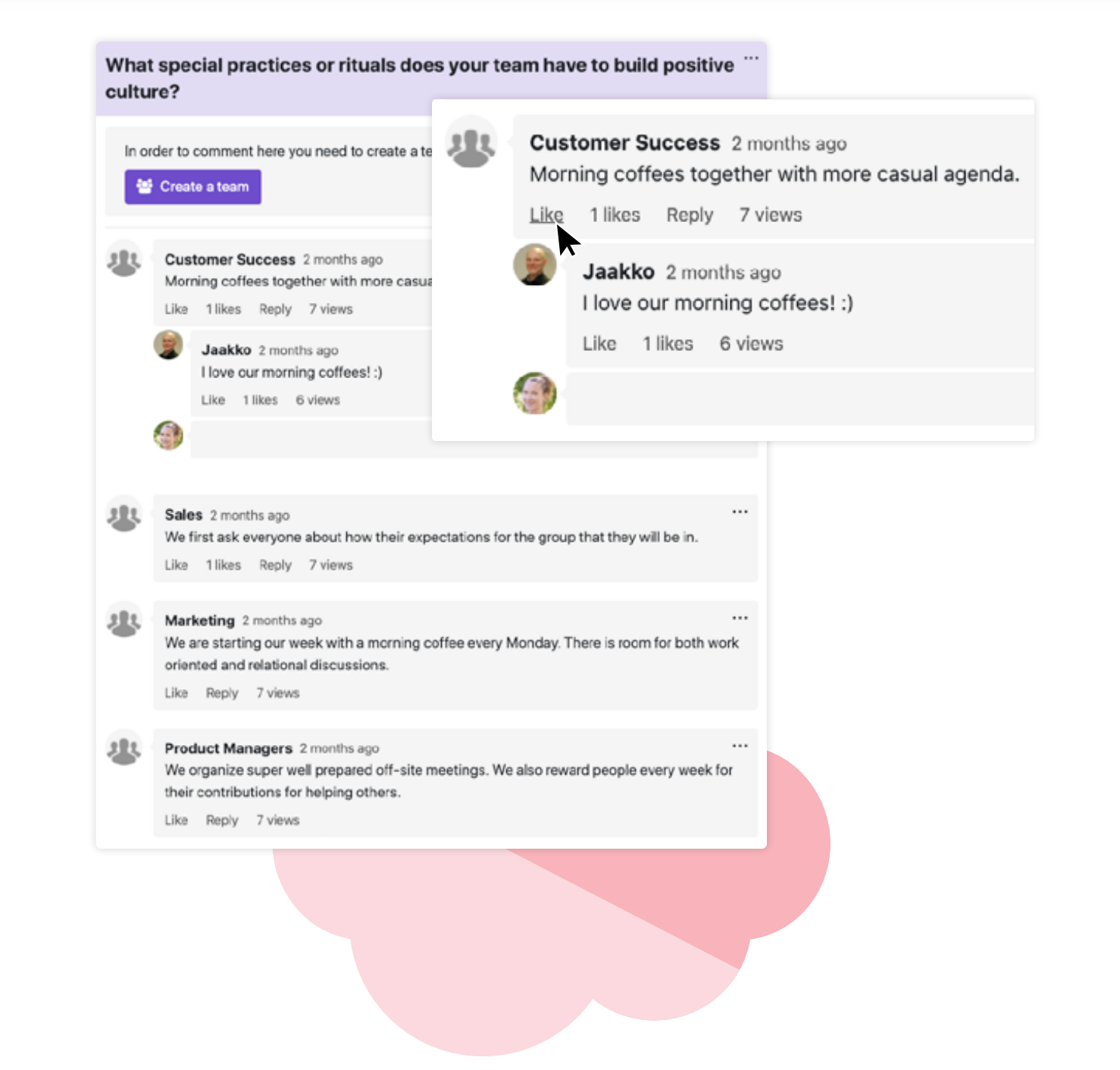 Examples of successful organizational culture change initiatives
Having a hard time initiating organizational change? We've got three examples of companies that implemented changes successfully to inspire you:
KONE Corporation identified new company values using a collaborative process
Companies typically dictate values to implement as part of their new culture. KONE Corporation, however, took a collaborative approach. They identified values to implement in their culture by sourcing employee experiences and dialogue.
Their Head of Culture Journey, Lotta Vuoristo explains:
"With the help of Howspace, we were able to engage people from all our geographic regions to take part. There were a lot of people involved in the discussions whom we have previously struggled to engage without travelling to where they are and working together face-to-face. Now, everyone was really enthusiastic and active."
Here's a deeper dive into KONE's organizational change story.
Aktia sourced employee opinions to create a culture focused on their strengths
The Finnish banking company, Aktia, realized they needed a stronger culture based on their strengths. So they created a group of their organization's senior management and rising talents to define the structure for the new culture.
From there, the company of 900 employees co-created further by sourcing opinions from managers from various geographical locations on how to start implementing the culture change.
Here's more about the inclusive approach they took and the platform they used.
Finnish Medical Association created its basic healthcare principles using AI to make sense of the qualitative feedback
Like the examples above, Finnish Medical Association (FMA) involved its members to create their healthcare principles.
But since sourcing suggestions is only one part of the problem, the company used Howspace's AI features to make sense of the feedback gathered from its 26,000 members.
Heikki Pärnänen, the Policy Director there shares, "Previously, healthcare guidelines were prepared by small groups of experts. Now we were able to simultaneously invite more than 20,000 doctors from different parts of Finland."
The interesting part? Not only was FMA able to bring all these folks together, but they collated lots of feedback.
In Pärnänen's words: "We were expecting to see lively chat discussions and lists of observations on the digital platform. Instead, we received more than 600 pages of text, including complete articles."
Of course, going through such a mass of text would've taken them ages. But AI saved the day by assisting them with reviewing the text. What's more:
"Artificial intelligence enabled us to quickly proceed to further processing. We prepared poll questions and selected 50 to 60 statements, ideas, and thoughts on which to base the new guidelines. The doctors were asked to vote to narrow this to some twenty topics for further discussion."
Learn more about the exact steps FMA took.
Start today with a change management platform that supports your change strategy
In summary, effective organizational transformation isn't possible without a change management platform that encourages co-creation, regular updates, and more.
Typically what happens, however, is that companies use a mismatch of tools. Instead of helping though, these tools end up creating silos among teams and individuals.
The solution? Howspace. It's the only change management platform that you'll need for:
Co-creating your organizational change plan
Being transparent about the journey and
Providing a space that facilitates dialogue among employees.
Not to forget, with its AI features, you can quickly and easily summarize, analyze, and understand all the qualitative data you gather.
---
Check out our template for leading a change process! This practical process template walks you through the whole process of involvement-based cultural change from communicating the need for change to integrating it into the day-to-day.
Already a Howspace-user? You can add the template to your account here.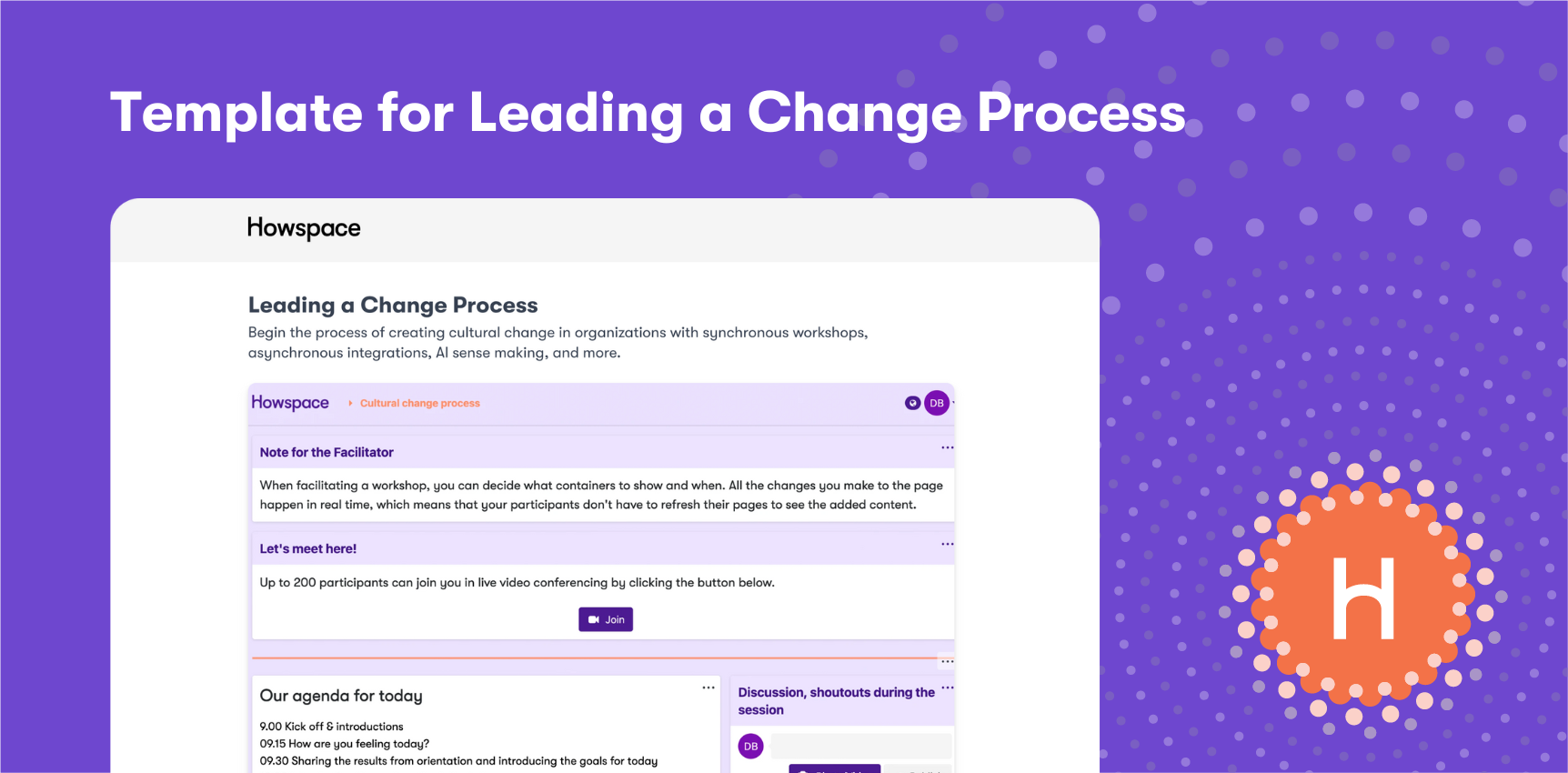 You might be interested in these as well
View all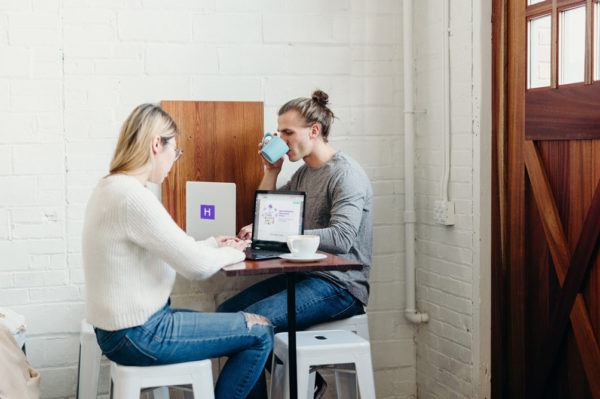 The best change management tools for successful organizational transformation
Embracing change within organizations can be challenging, as people naturally resist it. However, utilizing the right change management software can […]
Read more
View all