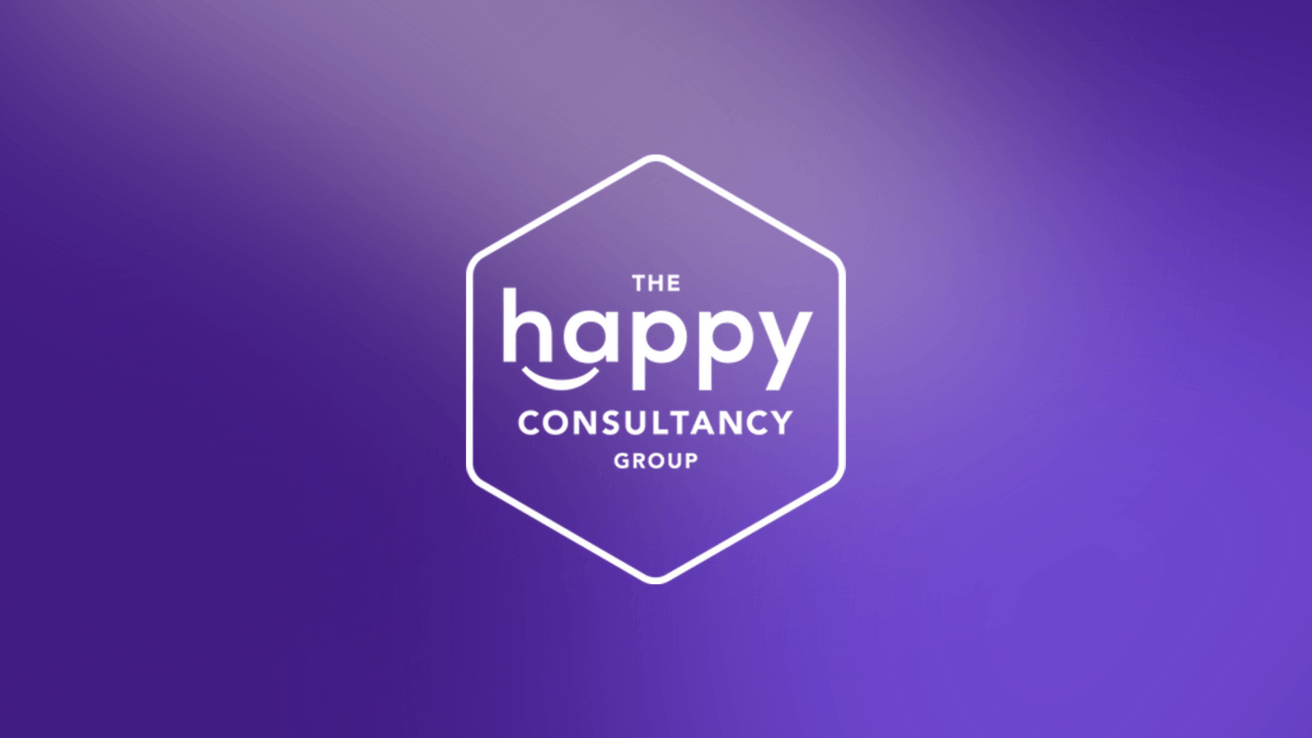 The Happy Learning Company
Taking learning beyond and above: Power of community and collaborative learning
Challenge
Due to the pandemic and distributed workforce, moving from traditional face-to-face learning programs toward a blended and virtual approach became critical when it comes to encouraging collaboration and social learning. Moreover, The Happy Learning Company needed to find a solution that would enable them to build creative, engaging, and visually appealing learning experiences for their clients. One specific case where they needed this type of solution was a sales transformation program that was organized virtually and had global participants.
Solution
After looking at various systems and solutions, The Happy Learning Company discovered Howspace allows them to design tailored learning experiences that also enable community building. The Howspace platform and its functionalities hit The Happy Learning Company's criteria for the client case – increasing collaboration, building a community, and improving engagement.
Results
Award-winning transformation program: Howspace enabled The Happy Learning Company to create a global sales transformation program that won the Learning Excellence Award. Moreover, the program participants created new use cases that generated significant revenue for the company.
Engaging and visually appealing learning experience: Howspace made it easy for The Happy Learning Company to build tailored, creative, and on-brand learning experiences that engaged participants in learning.
Empowering social learning and community: With Howspace, The Happy Learning Company was able to gather participants from around the world to share their expertise, learn from each other, and form a meaningful community around the program.
Before founding The Happy Learning Company, Helen Lawrence and Andy Fisher had reached a point in their careers where they could see their own unhappiness at work reflected by others. The founders set off to rediscover what it means to take joy in work and help inspire happier work environments around the world. Helen and Andy wanted to leverage their own experiences in the L&D world and create innovative, exciting, and fresh L&D solutions for companies of all shapes and sizes.

Since its early days, The Happy Learning Company has branched out to involve more consultancy services and bespoke transformation programs. In the past seven years, the team has worked with organizations around the globe, sparking transformation not just in their clients but also in themselves, and collected multiple awards.
From f2f learning to blended and empowering learning
The Happy Learning Company team had always been big fans of face-to-face learning; instead of traditional e-learning, they preferred a more blended and empowering approach. However, it became increasingly important for Helen and her team to find a mechanism to help keep online learners together and engaged during their programs. Ensuring learners felt connected with each other in a newly disconnected, digital format was essential, as social learning is one of the key factors to successfully applying new knowledge in the workplace.

"We hadn't found a system or a tool that can do all of that well, and most of our clients had very traditional LMSs that don't have that functionality. So the most you could ask for was a WhatsApp group between a cohort of learners, and that wasn't good enough," Helen elaborates.

The Happy Learning Company looked at various options, but none were dynamic or flexible enough. Many didn't feel on-brand for their company, either.

"We are quite quirky; we like the creative side of things. We need things to look branded, compelling, exciting, and interesting – things need to look so good that when people click themselves in, they actually want to go in, have a look around, and spend time there. Most of the systems we looked at just didn't have that; they looked too difficult and complicated."
Building tailored and beautiful experiences to engage participants
Helen found Howspace through a client recommendation and liked what she saw. What finally set off The Happy Learning Company's journey with Howspace was the global sales transformation program for a global integrated IT solutions provider that Helen and her team started working on at the time.

Due to the pandemic, the program was organized virtually for participants around the world. The cohort consisted of multiple teams of 20 learners who had to work with their assigned teams and collaborate across different groups. Therefore, one of the criteria for the tool was to keep learners together and build a community around them. Howspace seemed like the perfect solution.
"The course was very successful, and people loved it so much that even though the delivery element stopped, they've kept it on. So that is a big success for us at The Happy Learning Company but also for Howspace as a tool that made this happen."
What stood out about Howspace was the ease of use and the ability to create tailored, visually appealing, and branded programs.

"At first, we were worried we would have to pay a digital designer to take the content from our learning designers and put it into Howspace. But our Sr. Learning Designer wanted to play with the platform, and literally within an hour, she had built six incredibly branded pages of the program – it was so easy and intuitive, and that was a massive benefit," Helen describes.
Enabling collaboration and community
The Happy Learning Company's top goal for the sales transformation program was to build a global sales community of learners. The client was moving to a more consultative selling process, they needed to increase collaboration and collaborative intention within their community. Participants from all across the globe—Europe, the Middle East and China—had a diverse range of skill sets that needed to be shared amongst each other.

The Happy Learning Company wanted to boost collaboration in learning. Participants would learn from each other, feel supported, and have a community where they could ask questions and continue learning.
"The top priorities and goals in this project were collaboration and community – think locally, act globally. The biggest feedback from participants was being able to meet people they had never met before, work with them and have this support they didn't have before."
A private page was set up for the program facilitators so that they also had a place to collaborate and share ideas – and according to Helen, that was priceless.
Designed learning and collaboration
The Happy Learning Company team approaches their work as bespoke projects. Projects typically start with a high-level design that includes mapping the user experience and the learning journey. Then, the team considers how to integrate Howspace into the journey: what are the touch points, and how would the participants be engaged throughout and between the modules?

Then comes detailed design, where all modules and content are designed and built into Howspace. Modules are often built one at a time throughout the program, and something that Helen highlights about Howspace is that building can continue without interfering with what is already going on.

"Setting up page structure was so simple – it felt like a very natural add-on to our design process. We had around one month to develop each module, so the schedule was quite tight. If it was painful or challenging, I don't think we would have done it in time."
Taking learning beyond and above with Howspace
The sales transformation program ended up winning a Learning Excellence Award. To Helen, that speaks volumes about the impact of using Howspace:

"It is an excellent award and something we still talk about as one of our most innovative programs yet. We won that because of the films but also because of Howspace. As an example of a really innovative blended learning solution, I think Howspace played a key part in helping us achieve this award."Some of the tangible results of the program were new use cases created through a module challenge. One of these use cases has generated a significant amount of revenue for the company.
"If we didn't have that [social learning] mechanism, what would have happened is that they [participants] would've come to the modules, gone back to their busy work, back to modules, back to work, and they wouldn't have done those activities that generated huge ROI."
Participants gave their experience a 4.5/5 rating and 92% would recommend the program to a colleague. The number of views on the workspace has doubled since the program's completion, which means new people are visiting the platform to use its content on an ongoing basis. And finally, learners reported a strong sense of community, formed during the learning experience.

"It's not just that the participants had a great time learning, but they also formed a meaningful community and were quite sad when the program ended. If you look from the first module where participants sat silent and nervous to the end where they didn't even want to jump off the call – it's quite incredible, really."

"The power of community to me is one of the biggest benefits and selling points of Howspace," she concludes.

With people working from all around the world with different areas of expertise, it is vital to find solutions that enable collaboration, social learning, and a high level of engagement to achieve the greatest impact possible.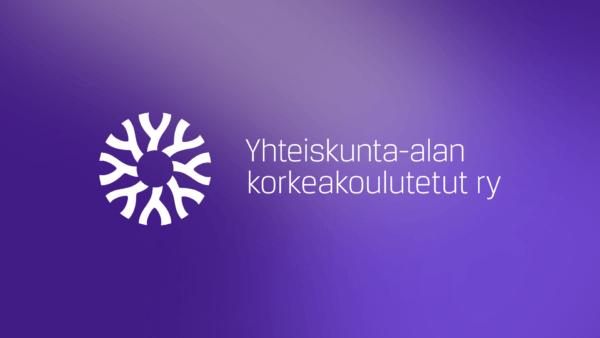 Finnish Social Science professionals connect and deepen the learning of AI with Howspace
Howspace's AI features provided good overall support for YKA's e-Learning program to deepen AI learning.
View the story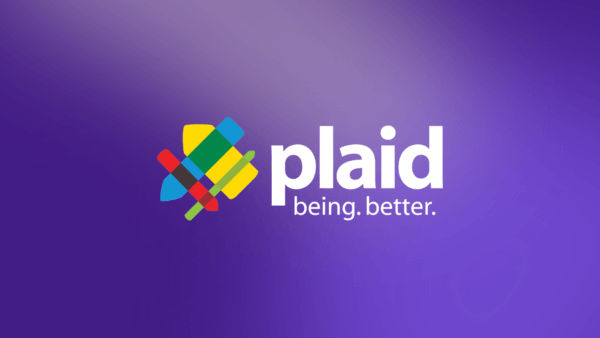 Making learning sticky & social: Plaid builds engagement and virtual experiences
The organizational training & development firm, Plaid, uses Howspace to make learning sticky and social, and to build engagement into virtual experiences.
View the story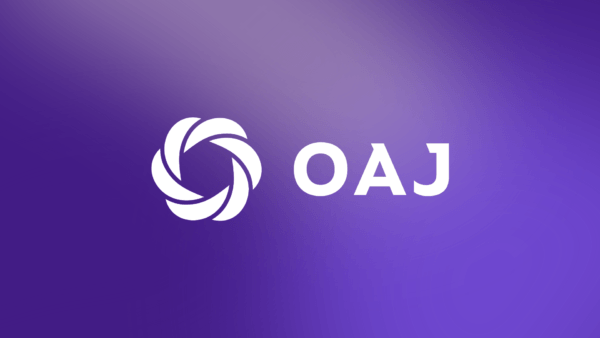 Trade union OAJ drives for greater inclusion and membership engagement
The Trade Union of Education in Finland invited all members to participate in building a new communication strategy for young professionals.
View the story
View all
Templates used in similar cases
View all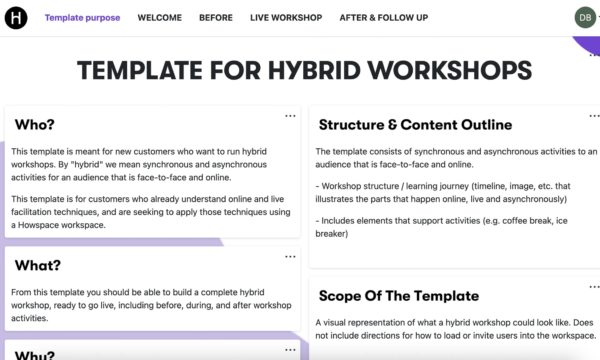 Design a Hybrid Workshop
With this template, you can build a complete hybrid workshop, ready to go live, including before, during and after workshop activities.
Try the template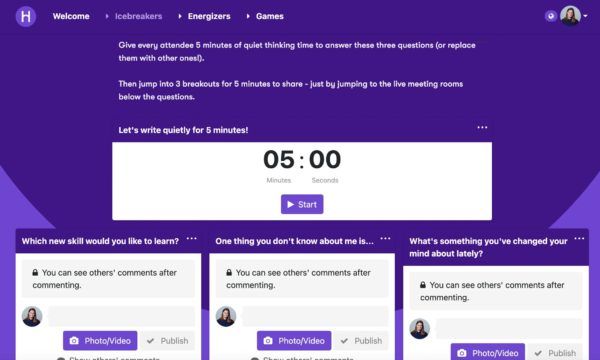 Icebreaker and Energizer Activities Template
This template offers a collection of different icebreaker and energizer activities and games to be used in virtual and hybrid meetings.
Try the template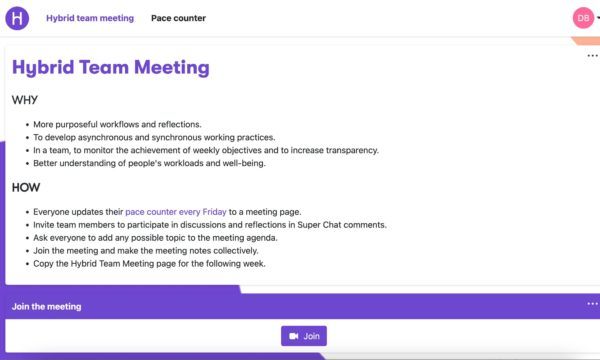 Hybrid Team Meetings
Develop more purposeful workflows and reflections that can be done asynchronously and synchronously for hybrid teams.
Try the template
View all