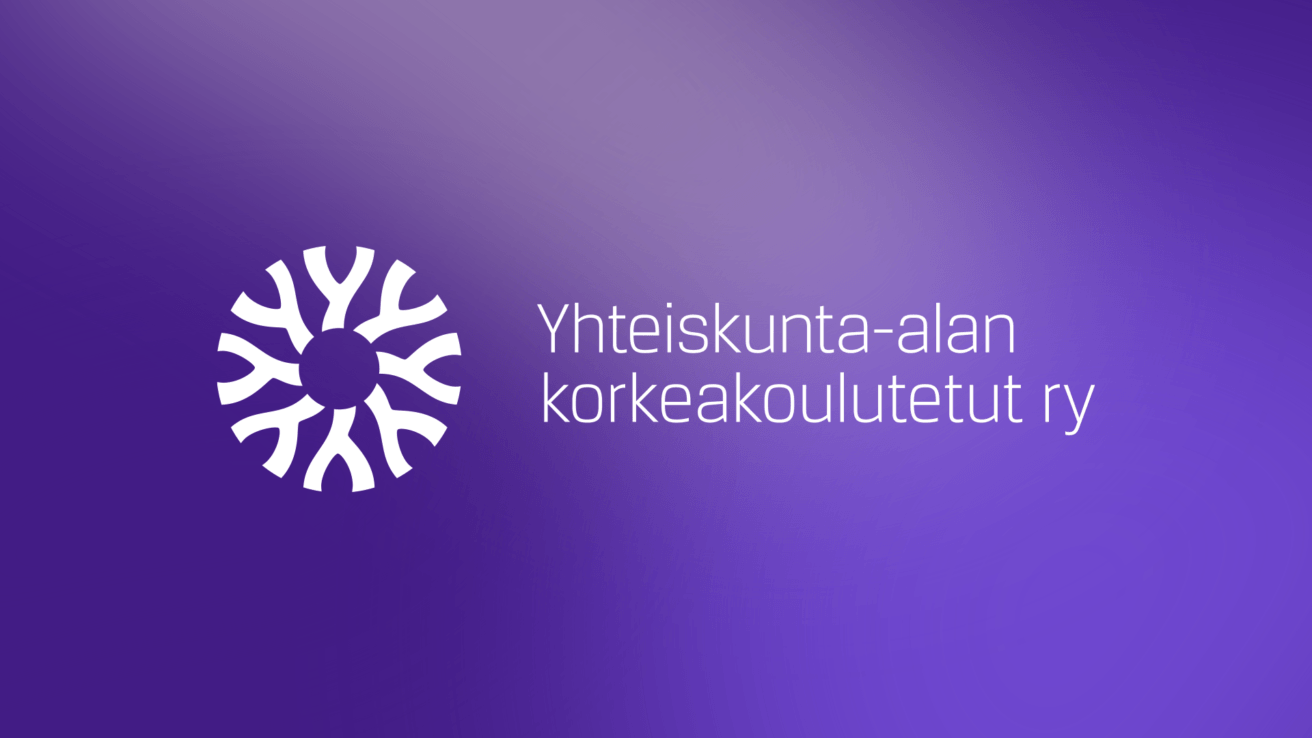 Social Science Professionals (YKA)
Finnish Social Science professionals connect and deepen the learning of AI with Howspace
Challenge
Social Science Professionals (Yhteiskunta-alan korkeakoulutetut ry or YKA for short), a Finnish labor market association, needed a platform to run an artificial intelligence course for its members.
Solution
The association partnered up with Gofore, The Association of Finnish Lawyers (Lakimiesliitto), Kunteko 2020 – Programme for Improving Working Life in Finnish Local Government), and the Digital and Population Data Services Agency (Digi- ja väestötietovirasto) to run its artificial intelligence course on Howspace.
Results
Better networking opportunities: With the help of Howspace, YKA was able to have its members discuss openly with participants both within and outside of the association.
High participation rates: Even during the last month of the course, almost 70% the total number of participants were involved in the Howspace work.
High enthusiasm among participants: Despite the fact that the course was online due to COVID-19, and carried out at the same time as all the other work, the participants did not lose their enthusiasm and they gained a deeper understanding of the subject matter.
AI know-how and its development have become hot topics in recent years. Yhteiskunta-alan korkeakoulutetut ry, or YKA for short (Social Science Professionals in English), has recognised that there is a special need among its memberships to be able to understand AI. The association's 12,000 members are employed to support the development of society – and its digitization – which constantly requires new capabilities. Indeed, YKA decided to start training its members for the AI world.
"In the beginning, we organized two workshop evenings for our members, which were real successes. The workshops were sold out at lightning speed, and the waiting lists were long. We received calls from all around the country, with many asking to join virtually. We wanted to scale the social impact and expand the entity into an online course," explains YKA's know-how services expert Heini Hult-Miekkavaara.
"We already had experience with Howspace in the use of career services and coaching packages. Therefore, we immediately stated that we could not implement an artificial intelligence course without Howspace."
The themes of AI training and related tasks were formulated based on what the participants were interested in and what was emphasized in the social debate: labour policy, education and teaching, municipal management and administration, and service design… the content was already taken into account in the content construction.
"A very special outcome was the result. We have received incredible feedback from participants. Our members have really learned from the best in Finland at the forefront of AI training."
Effectiveness of community learning
From the beginning, YKA has collaborated with Gofore in AI training. With the start of the new online training package, new partners also joined: Lakimiesliitto (The Association of Finnish Lawyers), Kunteko 2020 – Programme for Improving Working Life in Finnish Local Government) and Digi- ja väestötietovirasto (Digital and Population Data Services Agency).
240 enthusiastic social sector experts interested in this topic were enrolled as participants, and they met to discuss the theme six times. Each of the live webinars included experts' presentations, and personal experiences were discussed and shared. Between meetings, the participants did individual and group assignments.
"With the help of Howspace, we were able to have our members meet other participants within and without YKA. We were hoping to get people to become involved by keeping the threshold low and seeing what this collaboration might produce.
We were able to get the participants to stay on in the coaching, and we kept internal motivation, our own needs and resources very much to the fore. The tasks were reflective, and they immediately created a connection with one's daily life, operating environment, and work. Every time we also considered the social impact," Hult-Miekkavaara says.
"In Howspace," Hult-Miekkavaara continues, "we also provided the participants with AI functions, and so everyone was able to test in practice the way in which AI analysed the joint discussions. The platform's AI features provided good overall support."
Online participation requires trust and courage
In the aftermath of this AI training, Hult-Miekkavaara feels great satisfaction on account of the participant's commitment and mutual networking. There were a couple of hundred pairs of eyes online each time during the webinars, and some even made recordings for viewing afterwards.
"Howspace served its purpose perfectly. Online participation is demanding and requires courage, but the platform worked very well for us. Even during the last month, almost 70% of the total number of participants were involved in the Howspace work," Hult-Miekkavaara rejoices.
"Our goal was to make the training look like its users, and this has clearly contributed to our success. Given that the course was carried out at the same time as all the other work was transformed into virtual mode due to the Corona pandemic, we stayed on schedule, and the people did not lose their enthusiasm.
Although members of different levels of know-how took part in this coaching package, each participant was encouraged and coached via Howspace to learn more and also to share experiences with others.
We consciously wanted to support networking, and we kept the names of all participants visible in the discussions so that getting acquainted and peer learning were enabled."
Coaching and facilitation skills at the core of e-Learning
Hult-Miekkavaara says that the good planning and that the process was connected to the participants' daily work explained the sense of success. The rules of the game were set out meticulously at the start, and people were encouraged to participate constructively in working together.
"It was important for us that everyone would have the courage to join in the discussion openly and respect the experiences of others. Coaching and facilitation skills were really needed. Long coaching programs must be held so that support is directed at the development of people's thinking and the creation of an atmosphere of trust."
Hult-Miekkavaara sees the offering of new types of services and renewal as key challenges for the association's work. Members need to be offered new, phenomenon-based training packages that fit into their own context.
"Our members build social systems relevant to every citizen, and so it is wonderful that we can build up knowhow of current relevance. Aha moment experiences and tremendous enthusiasm were in the air throughout this coaching venture. People say that they now understand what AI means."
Empowering inclusive leadership with a game-changing virtual learning program
Learn how Howspace is powering this Fortune 500's enterprise leadership development programs
View the story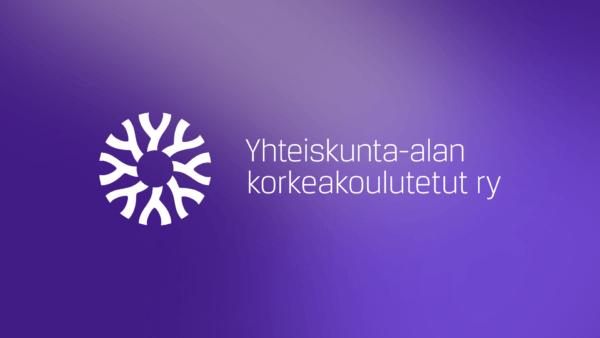 Finnish Social Science professionals connect and deepen the learning of AI with Howspace
Howspace's AI features provided good overall support for YKA's e-Learning program to deepen AI learning.
View the story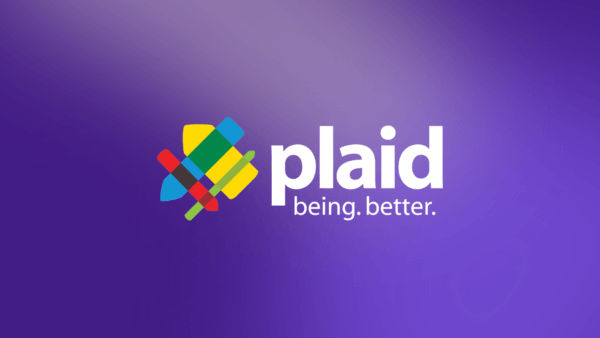 Making learning sticky & social: Plaid builds engagement and virtual experiences
The organizational training & development firm, Plaid, uses Howspace to make learning sticky and social, and to build engagement into virtual experiences.
View the story
View all
Templates used in similar cases
View all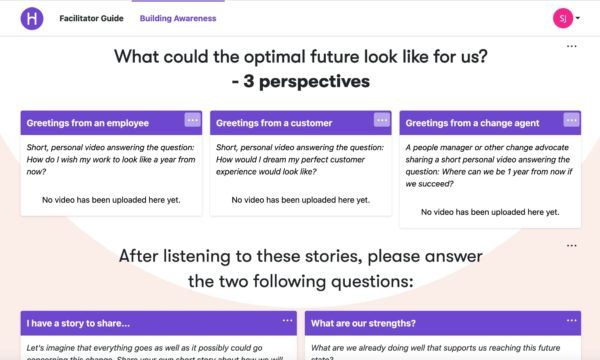 ADKAR: Awareness Stage
This is a template to execute the first stage of The ADKAR® Model of change in your organization: The Awareness stage.
Try the template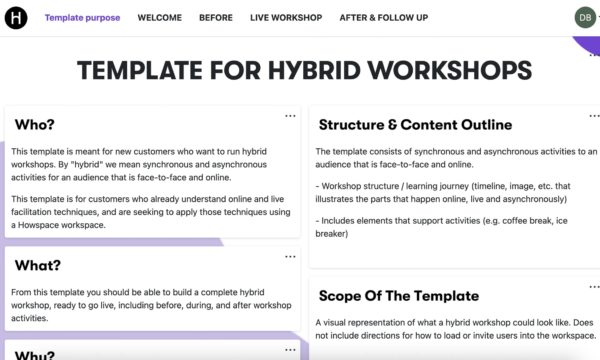 Design a Hybrid Workshop
With this template, you can build a complete hybrid workshop, ready to go live, including before, during and after workshop activities.
Try the template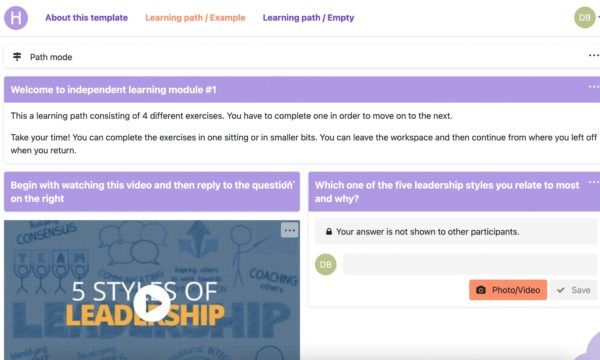 Learning Path
Engage participants in asynchronous learning processes that are simple, easy to follow, and supportive of individual ways of learning.
Try the template
View all