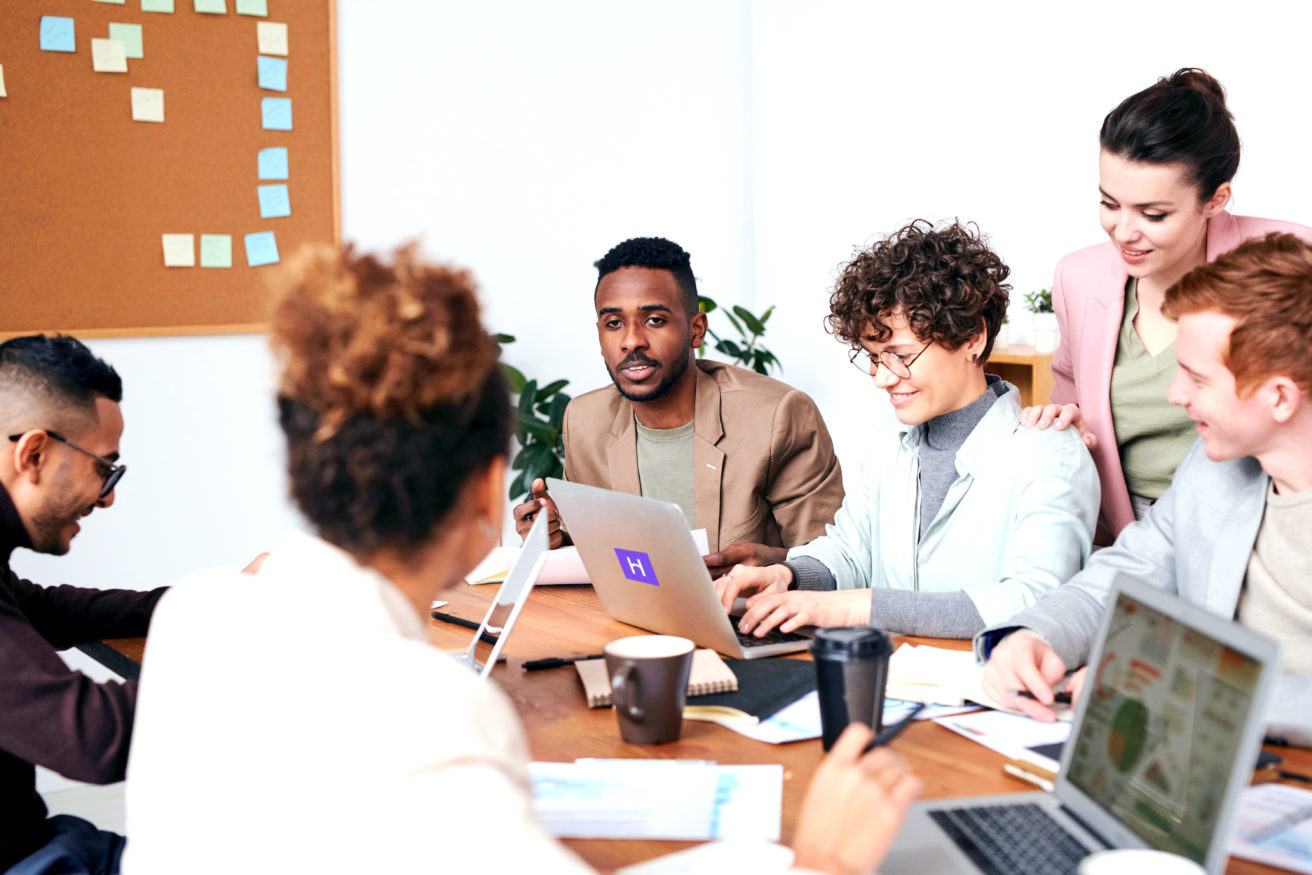 How Howspace's AI is empowering organizational transformation
Artificial Intelligence (AI) is revolutionizing modern workplaces in ways previously unimaginable. It is playing an increasingly crucial role in helping organizations achieve their goals by leveraging data to improve decision-making processes, automate routine tasks, and optimize workflows. AI has already been proven to increase efficiency and reduce costs, freeing up resources to focus on more strategic initiatives.
With a huge range of AI tools and technologies available, businesses and individuals alike can easily become overwhelmed by all the options available in this exciting field.
In this blog post, we will delve into Howspace's AI technology, discussing how it supports organizations in driving successful transformations. We will also provide a glimpse into the future of Howspace AI, and explore our AI team's ambitious vision and goals.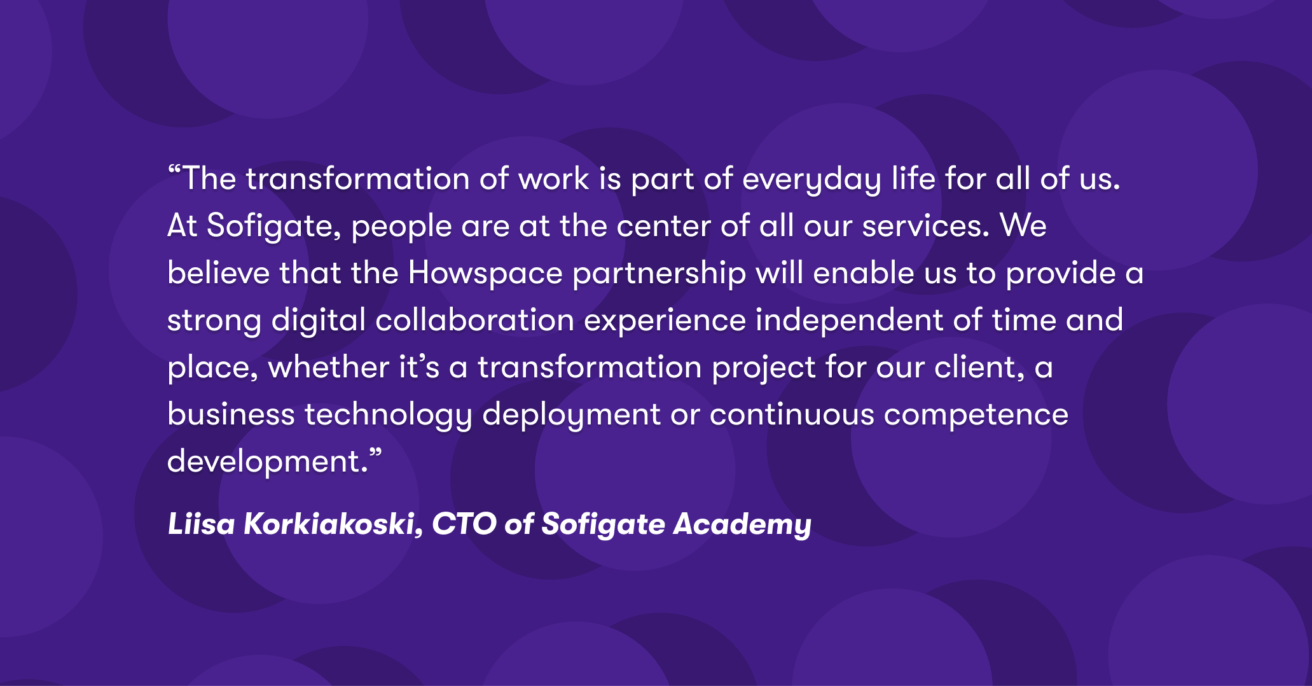 Howspace AI for seamless transformation
At the core of Howspace is our mission to empower organizational transformation and to help organizations navigate change and create lasting impact, both in business and the world. Supporting us in this not-so-humble mission is our powerful and unique AI.
Our platform integrates AI tools to analyze, sort, and translate discussions, provide feedback and guidance, and summarize insights. Its sophisticated capabilities allow for semantic, contextual, and multilingual understanding.
By leveraging these capabilities, our AI can help organizations design and execute transformation efficiently, while also supporting better decision-making and more effective collaboration between teams. Let's take a closer, more practical look at how our AI can support organizations in their transformation work.
Informed and agile decision-making
Decision-making can become a significant bottleneck, causing serious harm to a business. On the other hand, effective decision-making can be the key to unlocking the transformation process. One of the biggest challenges organizations face when it comes to decision-making is the huge amount of information scattered across multiple channels. It can be extremely tedious and time-consuming to sort through it all and extract meaningful insights.
Another major challenge is having multiple stakeholders who need to be included in the decision-making combined with the speed at which the decisions need to be made. In today's fast-paced business environment, decisions often need to be made quickly, leaving little time for in-depth analysis.
With Howspace AI, organizations are able to analyze and interpret large amounts of dialogue and information from all relevant stakeholders in one centralized space. Our AI can extract valuable insights from conversations in real time, helping organizations make informed decisions faster. By using Howspace AI, organizations can streamline decision-making processes, identify trends and patterns, and gain deeper insights into the needs and perspectives of their stakeholders with the click of a button.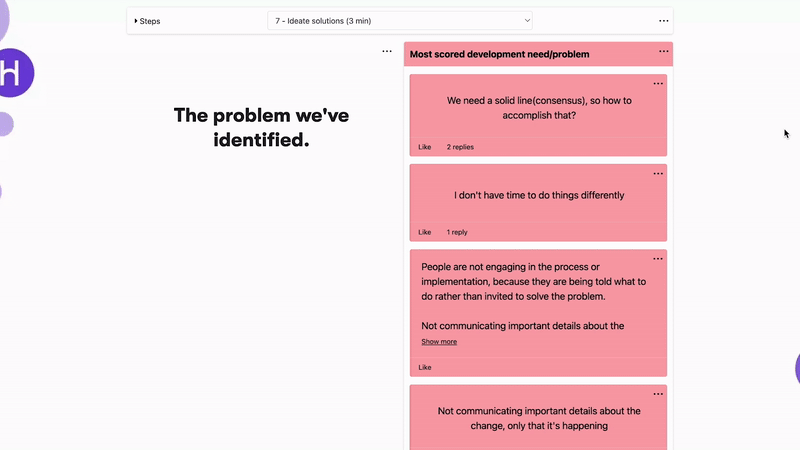 "Impartial AI categorizes conversations and extracts key points in real-time. Additionally, it reveals perspectives that might have been missed by participants who are focused on their respective needs. Thanks to these fresh points of view and handy AI-generated summaries, the management team was able to create an investment plan together. Howspace's rich, decision-supporting AI functionality has opened up the potential of AI in such a tangible way that some of Fellowmind's clients are excited to explore other AI opportunities through it." Niko Tuominen, VP of Strategy, Fellowmind.
Including all relevant stakeholders
Involving all relevant stakeholders in transformation and ensuring every voice is heard is another major challenge for today's organizations. This can often be due to:

Difficulties in coordinating and facilitating the participation of geographically dispersed stakeholders.
Power dynamics within the organization with some stakeholders having more influence and control than others.
Some stakeholders being hesitant to participate in the process either because they lack trust or because they don't see the relevance of their involvement.
Solving these challenges is, however, essential because when stakeholders are engaged and their voices are heard, they are more likely to be invested in the outcome and committed to its success.
Howspace platform is built exactly for that; allowing all stakeholders to collaborate and contribute their thoughts and ideas in a structured and inclusive manner. By using Summary, Word cloud, Theme clustering, and Sentiment analysis, it can be ensured that all voices are heard, and key insights are not overlooked. This in turn makes it possible to have input from all relevant stakeholders.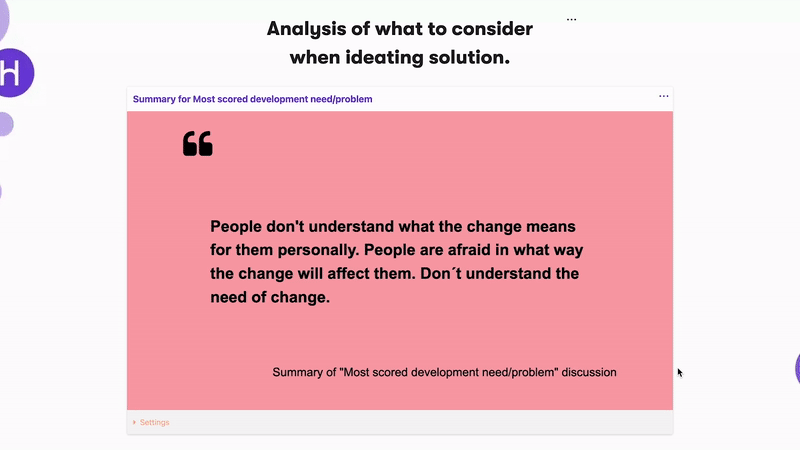 Additionally, Howspace's multilingual capabilities allow organizations to engage with stakeholders across languages and cultures, increasing the diversity of perspectives included in the problem-solving process.
"In addition, virtual working methods contribute to equality when the discussions are not only analyzed by humans but also by artificial intelligence. I feel that Howspace really gives every individual the opportunity to influence and be part of the decision-making process." Lotta Vuoristo, Head of Culture Journey, KONE.
Sense-making at scale
Information and knowledge are great – they can guide us in making informed decisions, creating better strategies, and in general, operating more efficiently. Challenges arise when there are vast amounts of dialogue, information, and perspectives to navigate.
Our AI makes sense of extensive dialogue by categorizing and grouping content and identifying keywords, topics, and sentiment. The platform provides visualization tools like Word clouds, Sentiment analysis, and interactive dashboards for deeper understanding and quick insights. This empowers organizations to efficiently analyze information and make informed decisions.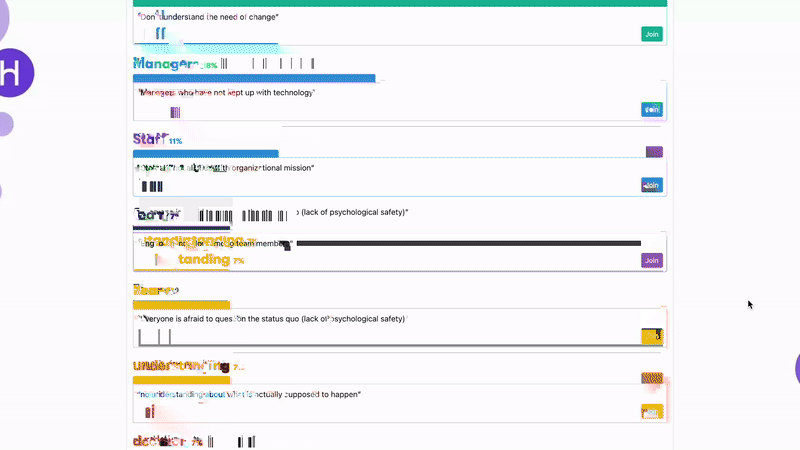 "The use of AI was critical when we identified our strategic capabilities, as we gathered a lot of data from our personnel. We got a lot of comments, opinions, and experiences from people in a written format, and the AI helped us to understand what was essential among massive amounts of data and opinions.
When facilitating that kind of process face-to-face, I would have been typing Post-it notes for the whole day, but now it all happened in the workspace. By only clicking a few buttons, I could have a good listing of the most important topics our participants were discussing. That enabled sense-making in a new way." Kati Järvinen, Talent Development Lead, Wärtsilä.
Future of Howspace AI
In the near future, Howspace AI will undergo its own significant transformation. Currently, the product makes use of AI to assist users in processing and organizing information. But as we head towards 2024, the Howspace AI team is working on incorporating generative artificial intelligence.
The implications of this next-generation AI for Howspace are profound. The AI will be able to understand the context and purpose of the dialogue, and thus provide customized insights that are relevant to the user's specific needs.
The new Howspace AI will serve as an effective co-assist to facilitators. The new AI will use its advanced understanding of the conversation context to aid facilitators in making sense of the dialogue. This assistance could include suggesting additional lines of questioning, highlighting key points of an agreement or disagreement, or pointing out areas where further information is needed. By working alongside humans, Howspace AI will enhance the collaborative experience, allowing for deeper insights, faster progress, and more meaningful outcomes.
The integration of generative artificial intelligence will significantly change the way we collaborate, learn, and extract insights from our discussions. By using AI to supplement human intelligence, Howspace is poised to become an indispensable tool for individuals and teams looking to make sense of complex information.
Leverage the Power of AI
As AI reshapes the future of work by driving innovation and unlocking new possibilities, organizations that embrace its potential will gain a competitive edge. By harnessing AI's capabilities, businesses can optimize workflows, foster collaboration, and make data-driven decisions, leading to increased efficiency, productivity, and success in the ever-evolving landscape of work.
And as AI continues to revolutionize workplaces, Howspace remains dedicated to empowering organizations in driving transformation and achieving their goals. With Howspace's AI, organizational transformation is not only more efficient and informed but also more collaborative and impactful.
---
If you'd like to see Howspace and its AI features in action, start for free today! You and 20 participants can immediately start discussions with real-time AI insights to guide your decision-making processes.
You might be interested in these as well
View all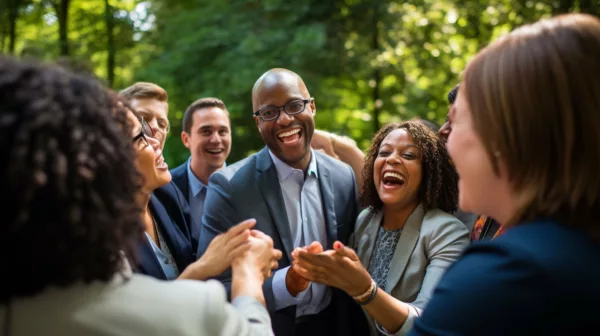 The importance of leadership in guiding organizational transformation
Discover how effective leadership drives organizational transformation. Explore strategies for successful human-centric transformations.
Read more
View all
Templates related to this topic
View all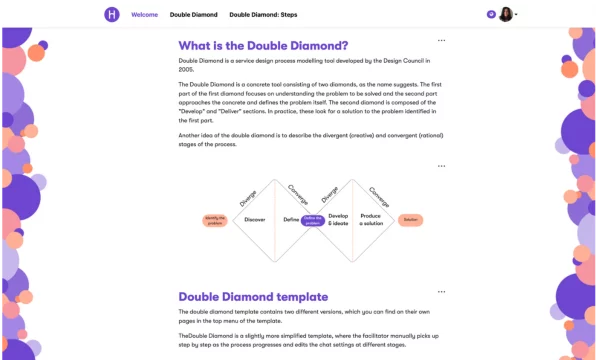 Double Diamond
This template helps you define what you need to solve, and then explore potential solutions in a collaborative way. It offers a plug-and-play workflow for a Double Diamond process, which you can edit if needed.
Try the template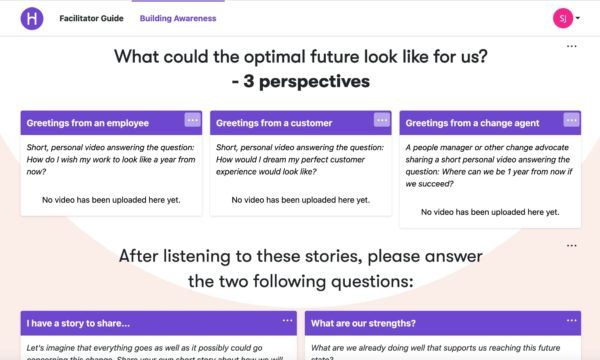 ADKAR: Awareness Stage
This is a template to execute the first stage of The ADKAR® Model of change in your organization: The Awareness stage.
Try the template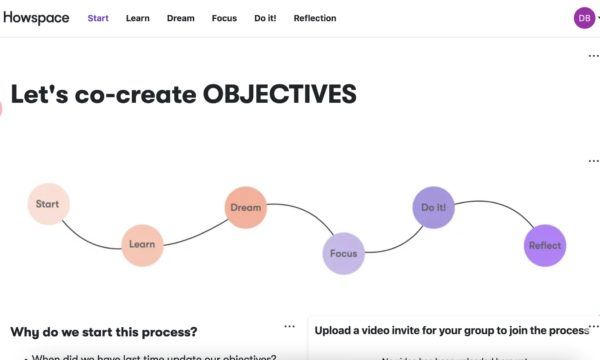 Co-creating 4D Objectives
This is a practical goal-setting template that utilizes an appreciative inquiry-based 4D-model in the context of a setting company or team-level objectives.
Try the template
View all