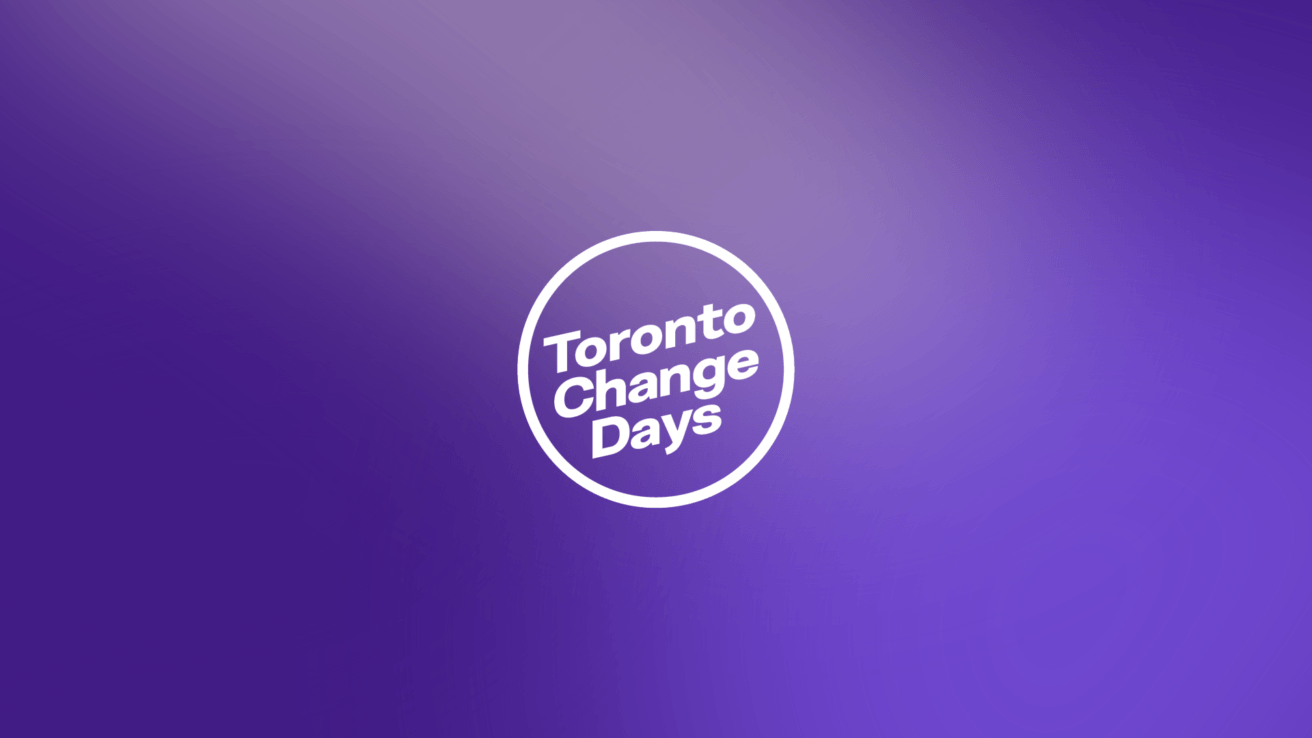 Toronto Change Days
Carrying on the conversation beyond a 3-day conference
Challenge
Toronto Change Days organizers Nik Beeson and Rich Batchelor wanted to bring together over 80 like-minded change professionals from all over the world in an event that placed impactful dialogue at its core. However, without the right guidance, conversation at conferences often remains superficial. Beeson and Batchelor sought a platform that would allow them to engage participants in meaningful discussion on important themes before, during, and after the Change Days.
Solution
Beeson and Batchelor brought Howspace on board as a platform for facilitating interactive, real-time conversations, allowing both facilitators and participants to engage each other and reflect on their conference experience.
Results
Increased feedback from participants: Facilitators like Rik Berbé were able to receive specific feedback on their workshops throughout the conference, creating awesome learning opportunities for future events.
More effective communication: Participants easily found activity and event schedules in the Toronto Change Days workspace, and facilitators could invite discussion directly via Howspace emails.
A venue for sharing insights: Conversations started on Howspace during the three-day event, continued on for days and spawned further plans between participants related to the event topics.
Toronto Change Days is not your average conference. Instead of building the event around static PowerPoint decks and one-way presentations, the organizers, Nik Beeson and Rich Batchelor, wanted to create an immersive festival of change.
And to help the festival goers connect with one another in and out of the workshops, Howspace was brought in to facilitate the conversation.
A conference like no other
Organized for the first time in November 2018, Toronto Change Days brought together 80+ change professionals from all over the world. Over the course of the weekend, 19 facilitators ran hands-on workshops that explored three themes: agility, boundaries, and curiosity.
"Our concept is based on Berlin Change Days, which has been going on for 10 years now," Nik explains. "We call Toronto Change Days a festival because it's dynamic. The facilitators have to create workshops that are highly engaging."
And as one of the facilitators and participants, Edu van der Werf, confirms, Nik and Rich succeeded in creating a supportive atmosphere.
"Toronto Change Days differs from other conferences in many ways. Perhaps one of the biggest differences is that you're both a facilitator and a participant. There's usually a certain power dynamic between the two, but there was nothing like that at Toronto Change Days, which helped build trust and made it easier for everyone to open up."
Setting up Howspace
The problem with most conferences is that social interactions during the breaks are typically rather superficial in nature.
"While conferences like these are small enough that you can meet everyone, people are busy moving from one place to another and conversations in the hallway tend to be quite short," Nik explains.
"And because we wanted to help the participants and facilitators engage in the theme of the conference at a deeper level, we decided to facilitate those conversations on Howspace. I saw how the platform was used at Berlin Change Days before, and so I saw an opportunity for people to connect before, during, and after the conference."
Once the decision to use Howspace was made, one of the event's volunteers Doa Al-Tewaj, started setting up the workspace and inviting both facilitators and other participants to join.
"At first, I had a couple of calls with the Howspace team to understand how the platform was used at Berlin Change Days," Doa recounts. "Even though I'm not super tech savvy, it was easy to build and edit the workspace. I created a dedicated page for each of the workshops and communicated with the facilitators to personalize their pages as they wanted. Whenever I ran into a question, I would just email Howspace, and they would help me out."
"About a week before the conference, we invited everyone to join Howspace, and slowly but surely, they started sharing their reflections on the platform," Doa says.
"We actually had a lot of fun creating the workspace," Nik adds. "We just started playing around with it and figuring out all the things we could do."
Three days full of learning and co-creation
During the three action-packed conference days, the participants got to choose the breakout sessions they wanted to attend.
"Instead of printing out programs, we published the agenda on its own page on Howspace. That way, the participants could check the schedule on their phones," Doa explains. "Then, it was up to the facilitators to decide whether and how they wanted to use Howspace during their workshops."
As an experienced change facilitator and consultant, Rik Berbé, one of the facilitators, has organized numerous workshops during his career. For him, Howspace was a welcome addition.
"The platform really helped in introducing the workshop to the participants. It's a really good way to inform people upfront about what kinds of sessions they can attend," Rik says. "Afterwards, it was also nice to hear feedback from the participants. People could decide whether they wanted their feedback to be public or not, which was good."
This sentiment is also shared by Edu, whose workshop received a lot of positive feedback through Howspace.
"In a regular conference, people might come up to you after the workshop to thank you and tell you how much they enjoyed the workshop, but chances are you never hear from them again," Edu explains. "In Howspace, they were able to give feedback throughout the conference and specify which aspects of the workshop they liked, which was great for learning."
In general, the participants seemed pretty happy with the use of the platform throughout the event.
"During the event, I sent new emails inviting everyone to participate in the discussion on Howspace," Doa says. "Overall, everyone really liked it, and I was surprised to see how many people were active on the platform throughout the event."
The conference doesn't have to be over when it ends
Over the course of the 3-day conference, most participants visited the platform at least once.
"A big thing about Howspace is that you don't have to log in. The truth is, if you had to insert a username and password to log in, I don't think a lot of people would have used it during the conference," Nik says and continues,
"The thematic conversations continued for days, and it's also been a venue for people to plan to meet together after the conference ended. I think it's a big deal. Howspace became a venue for sharing insight, and a launchpad for building a community of practice."
"Howspace has really helped us keep the spirit of the conference alive afterwards. Even though it ended three weeks ago, people are still actively discussing and making plans," Doa adds.
Templates used in similar cases
View all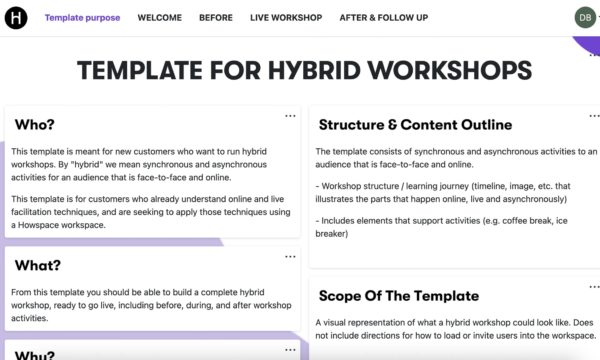 Design a Hybrid Workshop
With this template, you can build a complete hybrid workshop, ready to go live, including before, during and after workshop activities.
Try the template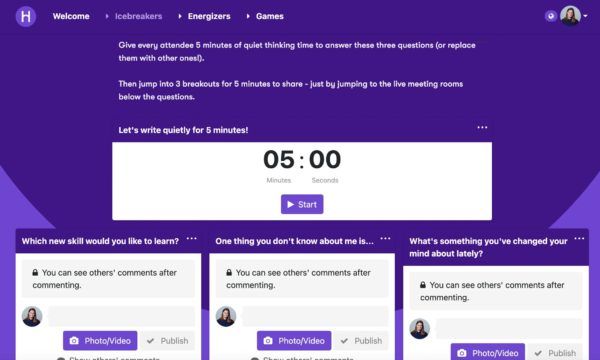 Icebreaker and Energizer Activities Template
This template offers a collection of different icebreaker and energizer activities and games to be used in virtual and hybrid meetings.
Try the template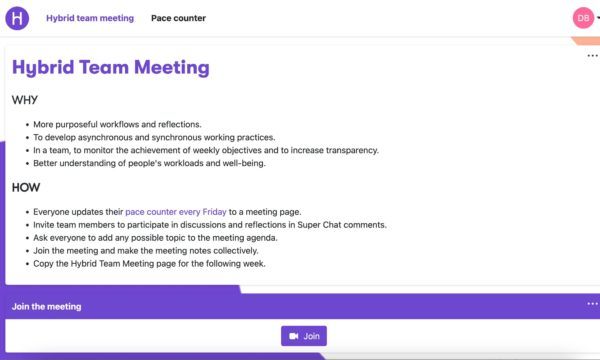 Hybrid Team Meetings
Develop more purposeful workflows and reflections that can be done asynchronously and synchronously for hybrid teams.
Try the template
View all