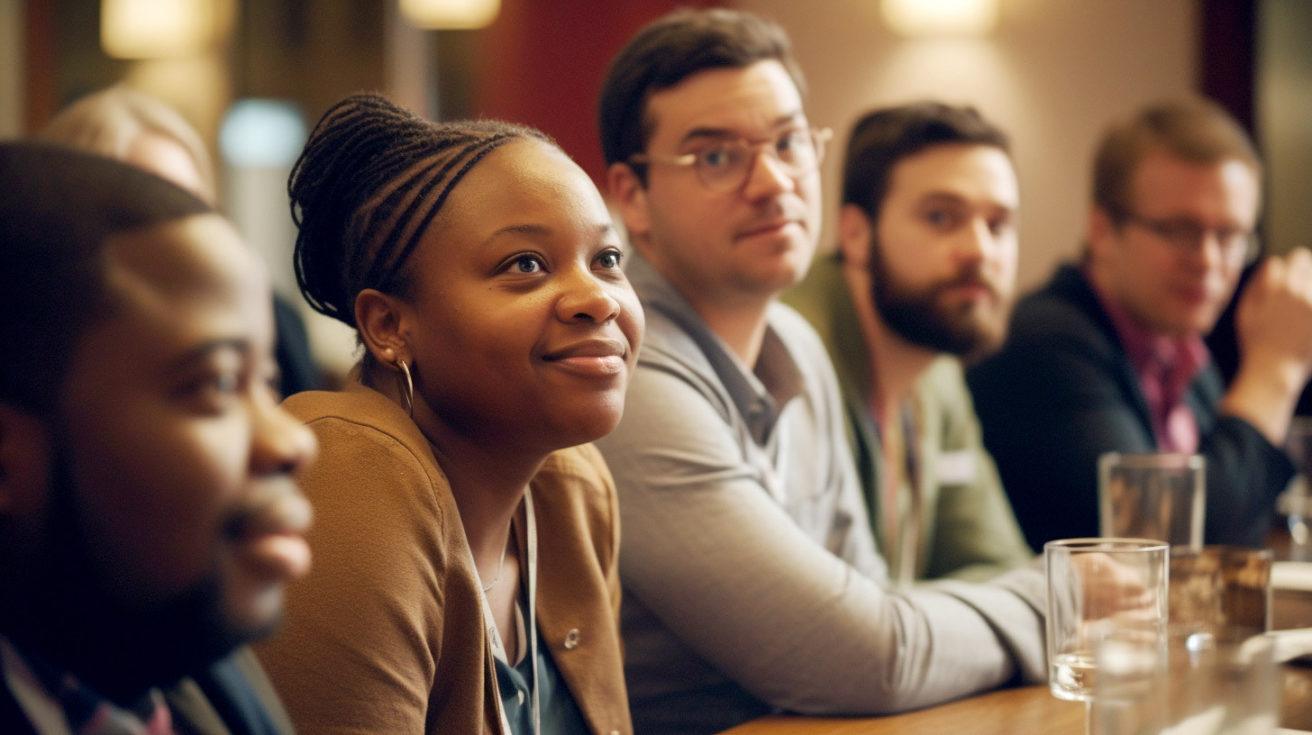 From detachment to belonging: Reviving member engagement with Howspace
In recent years, the trade union industry has encountered significant challenges in member engagement resulting in a global decline in union membership. The role of trade unions has also transformed from powerful social movements representing the voices of the working class into a more service-oriented approach for professionals. Many unions now function as service providers rather than platforms for collective action and advocacy.
This shift has led to a disconnect between unions and their members, leading to disengagement and a lack of sense of community and purpose. In this blog post, we will discuss how Howspace can help unions reinvent how to engage members, make every voice heard, and reignite passion and purpose.
The shift in trade union dynamics
The core idea of trade unions is to be a community-centered social movement fighting for better working conditions and representing its members' collective voice. However, over time, there has been a shift in the role of trade unions, and today many unions are perceived more as insurance companies and/or entities that members solely rely on in times of need.
Antti Mäki, CEO at me.voima also addressed the shift in our Boost Member Engagement webinar held earlier this year.
To reignite the original spirit and recapture the mission, it is essential for trade unions to examine how they can engage their members, promote better democracy, and foster inclusivity.
Reinventing member engagement and making every voice heard
Engaging members and making every voice heard is a big challenge for modern trade unions. Lack of member involvement and disengagement often stems from members' inability to see the value of union activities. Additionally, due to logistics and limited resources, it can be difficult for geographically dispersed members to stay connected with the union.
However, member engagement is the lifeblood of trade unions. Without hearing members' voices, unions don't have a basis for their existence, and moreover, they have no visibility into what is happening in the field. The union's strength lies in its membership, and a weak membership means a weak union.
To overcome these challenges, trade unions must reinvent their strategies for member engagement and leverage innovative solutions.
In our webinar, Mäki discussed three types of trade union participants; those who participate only in in-person events, those who want to participate only online, and those who want to participate regardless of the format.
Providing members with a safe space to stay connected
Providing a safe place for members to express their opinions and foster connections among themselves and the union is of utmost importance. The active involvement of members in union initiatives and the establishment of a strong sense of community are crucial for maintaining member satisfaction and ongoing engagement.
This is where Howspace comes in as a powerful tool. Howspace can be used to build a secure centralized platform where members can engage in discussions on various topics, and connect with fellow members as well as union representatives. By using Howspace, trade unions gain valuable insights into the challenges and joys experienced by their members.
Moreover, the platform enables communication between members and the union on their own terms and schedules, ensuring constant engagement and information flow. Customizable features empower unions to create regional and local chapters, fostering a sense of community and shared purpose among members.
Active member engagement and community building
Some of the most well-known trade unions across Finland and Scandinavia are already leveraging Howspace to revitalize their activities and strengthen member participation. Two prominent examples are the Trade Union of Education in Finland (OAJ) and JHL, Finland's largest trade union for the public and welfare sectors which have successfully adopted Howsapce for inclusive strategy building and member engagement.
OAJ recognized the need to attract new members and devised an inclusive strategy project using Howspace. With the aim of involving all members in the strategy-building process, the union organized 22 member-only evenings that engaged approximately 1,000 delegates. An additional 10,000 members were also invited, with one-third participating in the discussions facilitated through Howspace. This digital platform proved invaluable in summarizing strategic discussions and including internal committees, student members, and rejuvenating council work and foresight initiatives. Inspired by the positive experiences of other organizations, OAJ plans to further utilize Howspace for member inclusion and training.
JHL, in turn, has embraced Howspace to enhance the position of its members in the workforce and society. By creating virtual meeting spaces, JHL has fostered a sense of community and cooperation among professionals in municipalities, the state, parishes, and public and private welfare services. This innovative approach has enabled members to connect and collaborate regardless of their geographic location, eliminating the need to physically travel for meetings. Furthermore, Howspace plays a vital role in organizing training sessions, distributing materials, and ensuring the smooth flow of meetings—managing everything from agenda distribution to registration, requests for participation, and voting.
Adapting to a shifting landscape
It is clear that trade unions are facing a changing landscape where member engagement is crucial to ensure relevance and strength. In today's fast-paced and digitally connected world, traditional approaches to unionism must adapt to meet the evolving needs and expectations of members. By prioritizing member engagement and leveraging innovative tools and methods, trade unions can navigate the changing landscape, strengthen their relevance, and empower their members to shape a better future for workers everywhere.
---
With Howspace, unions can reinvent their member engagement strategies, transform their ways of operating, and ensure that their membership remains engaged and invested in the union's work. If you'd like to explore how Howspace can empower you in growing and building an engaged member base, let's talk!
You might be interested in these as well
View all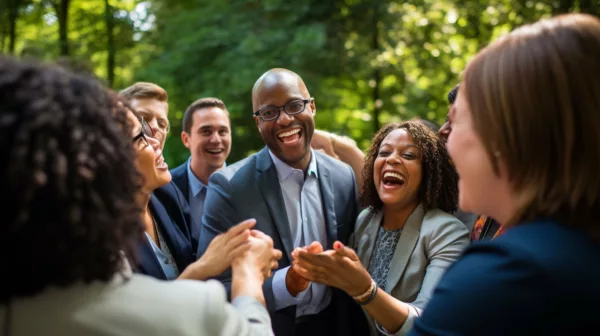 The importance of leadership in guiding organizational transformation
Discover how effective leadership drives organizational transformation. Explore strategies for successful human-centric transformations.
Read more
View all
Templates related to this topic
View all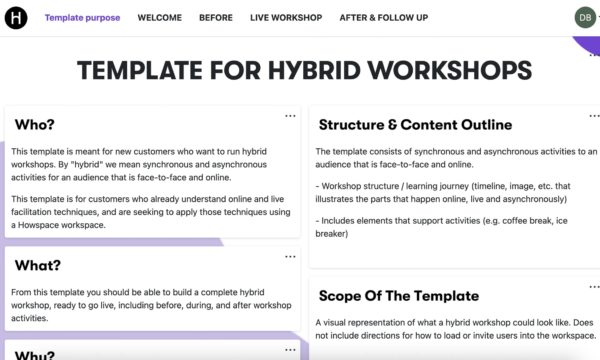 Design a Hybrid Workshop
With this template, you can build a complete hybrid workshop, ready to go live, including before, during and after workshop activities.
Try the template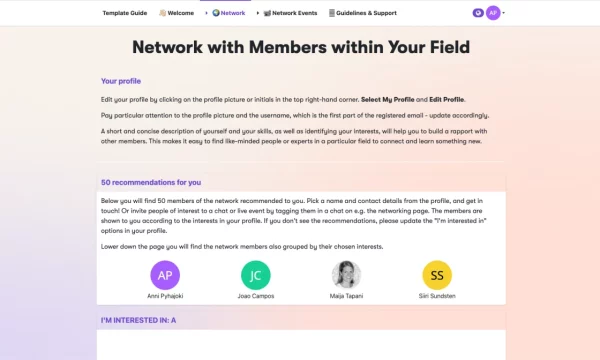 Network Template for Membership Organizations
The template helps unions and membership organizations create networks for their members. It allows for exchanging news, seeking peer support, discussing field-related topics, sharing knowledge, and collaborating on common goals.
Try the template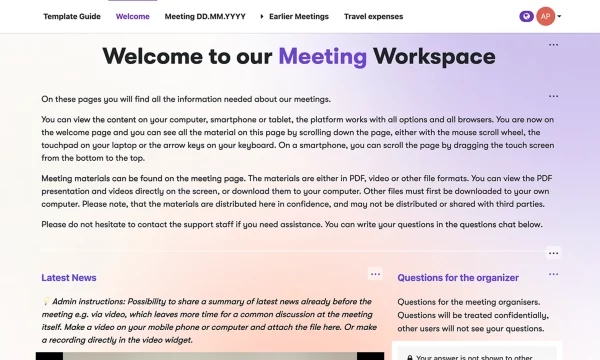 Meeting Template for Membership Organizations
The purpose of the template is to simplify the process of organizing meetings, whether on-site, hybrid, or completely remote.
Try the template
View all