Environment Online
Howspace accelerates the growth of Environment Online's international school climate movement
Challenge
Environment Online (ENO) is an international network of schools and communities coordinated from Joensuu, Finland. In May 2019, ENO planned an event of considerable scale—230 teachers and students from around the world were invited to Joensuu and Helsinki for a World Summit of Students for Climate, aiming to establish a worldwide climate agreement for schools and students.
Solution
Howspace was selected to support the event, and all participants, including teachers and 14-17-year-old school representatives, were invited to a digital workspace to do pre-work before the forum.
Results
Successful engagement before the event: Participants shared video presentations, participated in facilitated discussions, and performed pre-activities on the Howspace platform before they met in Helsinki. "We would not have been able to build the climate agreement from scratch within a week if we had not started to get to know each other and discuss virtually before the event. Even though we were strangers on different continents and no separate training was arranged for the use of the platform, over 95% of those invited also participated in the work digitally," Kaija Saramäki, facilitator of the ENO summit, explains.
Global co-creation: The content of the final climate agreement came from votes arranged in Howspace. The collaboration resulted in the Climate Agreement of Schools 2019–2025, which has to date been signed by over 450 schools around the world. The goal is to capture more than 3 million tonnes of carbon dioxide from the atmosphere by 2025. The signatory schools agree to either plant at least half a hectare of trees per year or to organize fundraising events to support the planting.
Powering systems change through collaboration and innovation
Manitoba HIV-STBBI CINetwork needed a solution that would enable them to create an engaging and fun online environment where they could bring people together and focus on tackling the stigma and 'isms' around HIV and STBBIs.
View the story
Powering research through collaboration
As a part of their research project, RUSI needed a platform that would enable synchronous and asynchronous collaboration. Howspace helped RUSI to run a collaborative research project and make everyone's voice heard.
View the story
Finnish Social Science professionals connect and deepen the learning of AI with Howspace
Howspace's AI features provided good overall support for YKA's e-Learning program to deepen AI learning.
View the story
View all
Templates used in similar cases
View all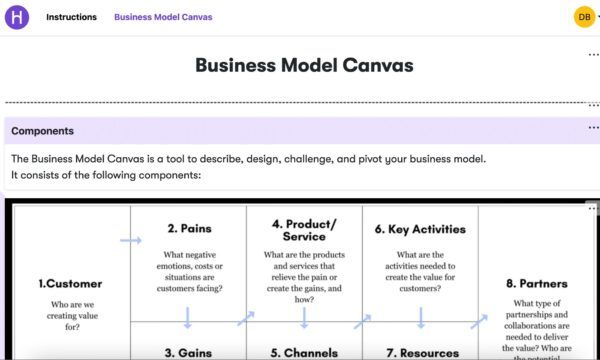 Business Model Canvas
The Business Model Canvas template helps you get your entire business quickly defined, explained, and visualized.
Try the template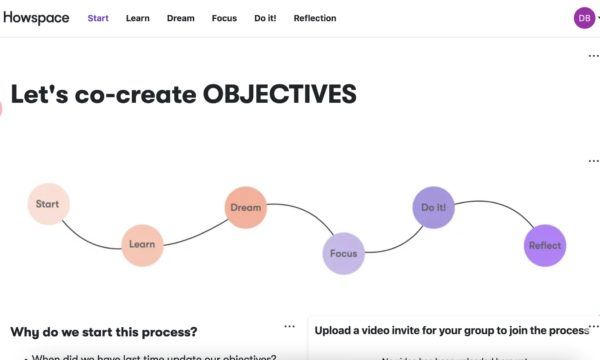 Co-creating 4D Objectives
This is a practical goal-setting template that utilizes an appreciative inquiry-based 4D-model in the context of a setting company or team-level objectives.
Try the template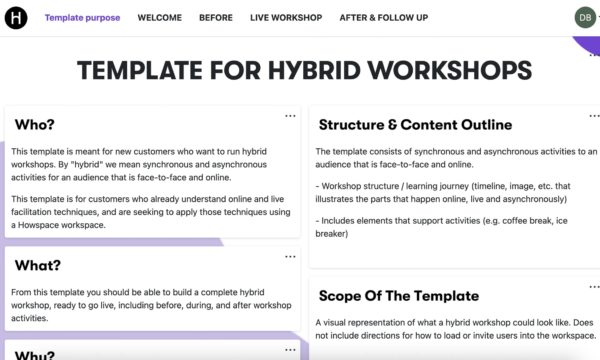 Design a Hybrid Workshop
With this template, you can build a complete hybrid workshop, ready to go live, including before, during and after workshop activities.
Try the template
View all