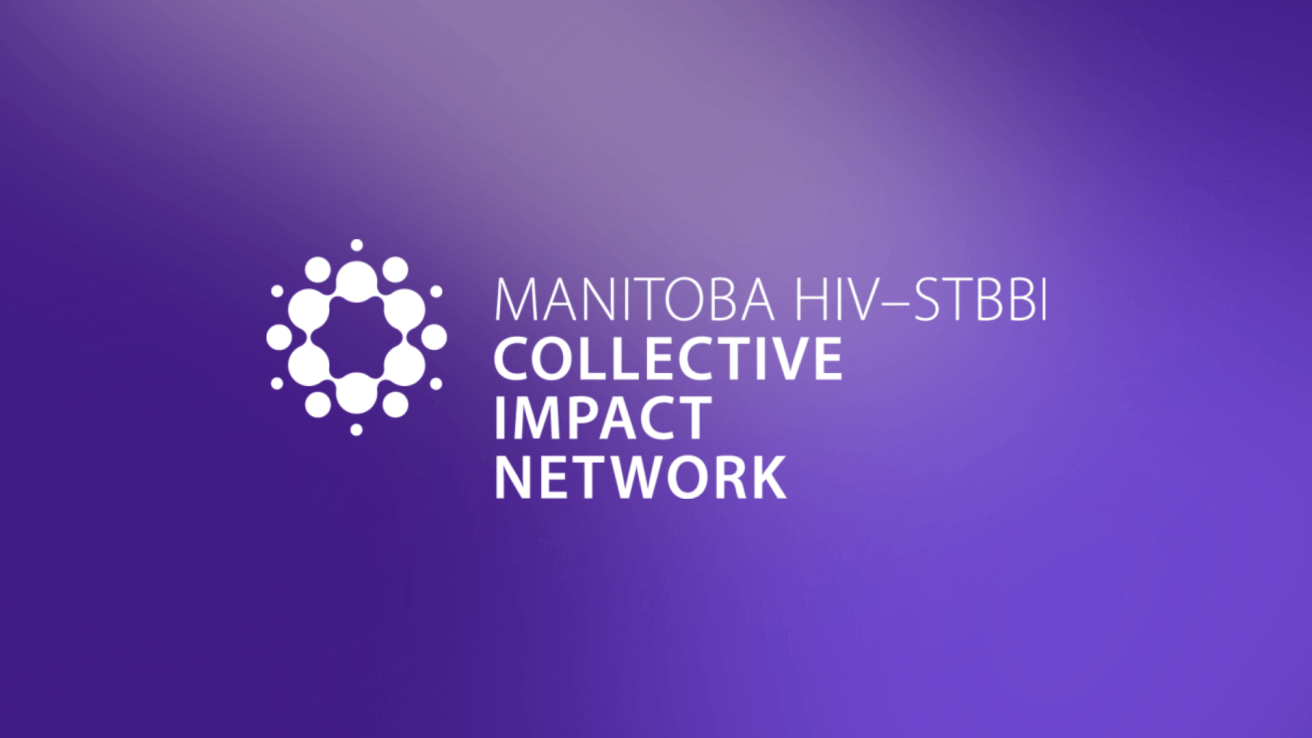 MB HIV-STBBI Collective Impact Network
Powering systems change through collaboration and innovation
Challenge
Manitoba HIV-STBBI Collective Impact Network (CINetwork) organizes two large events annually. Until 2020, these events had been organized in person. However, due to the global situation, there was a need to move away from the traditional ways of organizing events. One successful virtual event was held in the fall of 2020. For their spring event, The CINetwork needed a solution that would enable them to create an engaging and fun online environment where they could bring people together and focus on tackling the stigma and 'isms' around HIV and STBBIs. One of the main goals and challenges was enabling connections and collaboration during a virtual event. At the time, many people were already experiencing Zoom fatigue, so it was essential that the event wouldn't be a traditional online meeting but would rather energize and engage participants.
Solution
Paul Nunesdea (Architecting Collaboration) was brought into the event production team as a professional facilitator, and since he was already familiar with Howspace, it was an obvious choice for the event. The Howspace platform enabled the network to organize an impactful yet fun event where people collaborated and made connections. Based on the feedback from the participants, the event was a success, and people stayed engaged throughout the day.
Results
Creating an impact and accelerating systems change: Facilitating change in a virtual environment can be challenging, but Howspace made it possible to bring people together virtually to innovate and ideate new ways of tackling systems change.
Connections and collaboration: 85% of participants said they made a connection during the event, whereas 75% said they spoke with a potential collaborator. One of the event's key goals was to build relationships and collaborations, and based on the feedback, that goal was achieved.
Energized and inspired participants: Howspace enabled Manitoba HIV-STBBI Collective Impact Network to organize a virtual event that left participants feeling energized and inspired instead of experiencing Zoom fatigue after spending an entire day online.
Established in 2016 and supported by Nine Circles Community Health Centre, the Manitoba HIV-STBBI Collective Impact Network is a network of innovators that works to change the landscape of HIV-STBBIs (Sexually Transmitted and Blood Borne Infections) through system changes.
The Network runs two large-scale events per year, and the idea is to bring together a diverse number of stakeholders to talk about key topics around HIV and STBBI. Ultimately, the mandate is to reduce HIV and STBBIS but also try to tackle the complexity of the issues caused by the stigma around them.
Away from a traditional online meeting – Creating an engaging and fun space
In May 2021, the network hosted its tenth large network event, "Opening the Curtain on Stigma: Tackling the 'isms' Collectively". Laurie Ringaert (Change Weavers Consulting) and Paul Nunesdea (Architecting Collaboration) were part of the event production team; Paul served as Lead Facilitator of the event, working in collaboration with Laurie Ringaert as Co-Facilitator. Both of the facilitators lead the planning and development of the event. Laurie also serves as the Program Director and an Internal Evaluator in her consultation services for the CINetwork.
Collaborative planning of the event and engagement of a team of people in the event was one of the important ingredients to success. The planning team included: Lisa Patrick, Ken Bristow, Linda Larcombe, Rusty Souleymanov, Owen Black, Justin Lys and Mike Payne. Mike is the Co-Strategic Facilitator of the CINetwork and the Executive Director of Nine Circles CHC.
The event in May was the network's second-ever virtual event.
"Stigma and all the 'isms' collectively are what we wanted to bring to the table. The plan was to bring together a number of speakers, and we were trying to think of creative ways to do that virtually, " Laurie explains. "This was only our second virtual event after the one in the fall, so we brought in Paul as a professional facilitator to help us," she continues.
In the network's previous in-person events, a key component was to find creative ways to engage participants and make things fun. People enjoyed participating in these events because they were nothing like a typical meeting or a conference.
"I was involved in the project to make the online event more engaging and fun. Howspace was an obvious choice for the platform because it enabled us to build engaging spaces for the participants and speakers. We also wanted to ensure that all meaningful inputs and discussions were collected and that we could condense those quickly," Paul adds.
As the event's topic was opening the curtain on stigma and the 'isms', Laurie, Paul, and the team wanted to build an environment around a theatre theme; there was act one, act two, act three and so forth. According to Laurie, one of the winning spaces they built was a backstage room where people could relax and talk to each other.
"There were pictures of costumes and refreshments like in a real theatre backstage, and people liked to just chill out during breakouts," Laurie explains.
"Producing this event made me stretch to the limits of all the knowledge I have accumulated on digital facilitation. Howspace enabled us to build the theatre-like setting and create these relaxing, safe spaces for people to connect without being in a crowded Zoom call," Paul adds.
Creating the recipe for success
According to Laurie and Paul, Howspace enabled them to do several things other platforms wouldn't have. For example, Paul created a set of pre-engagement questions in the workspace to engage participants before the event. He also utilized AI to aggregate the conversations and inputs of the multiple sessions run during the event. However, one of the most important benefits of using Howspace was that it helped the network to create a sense of community.
"I don't know any other platforms that can make that possible. It was a fully virtual event, yet people were engaged and had this sense of community. And to add to that, it was really easy for us to use; our designers used different features of Howspace to design a beautiful setup for the event," Paul says.
Howspace was essential in helping the network team run a successful event. However, as Laurie points out, one needs more than just technology.
"A platform can't stand alone; you must have a great facilitator to make the platform work, and you need good planning – it's a recipe."
"And to add one more ingredient that will make an event successful; committed participants who give themselves to discussion and who are willing to share their lived experiences and histories. It doesn't matter how good the platform or the facilitator is; without these participants, the event won't be a success," Paul adds.
The event's purpose was to illustrate the intersectionality of various types of stigma and to change mindsets about the many 'isms' associated with HIV and STBBIs. In addition, the goal was to motivate a diverse audience and create an emergence of ideas through the collective thinking of various players to create systems changes.
"Our Collective Impact Network is all about changing the system and tackling its issues to make a change. When planning an event, the premise is that the whole design process involves people's lived experiences. To run successful events that really ignite change, we need diverse players involved in planning and joining the event. That's why it's crucial that our events are not perceived as boring conferences. Using Howspace, that was not a concern," Laurie explains.
Powering meaningful connections that drive change
A few other tools were used alongside Howspace during the event, and according to Paul, participants enjoyed using a blend of tools in a single event. Having an entire day online networking and participating in workshops can be tiring, but the feedback from the event was very positive.
As a part of the event, there was an evaluation where participants were asked to use one word to describe their experience. They were also asked how they were feeling after the day. The word clouds below are generated using the Howspace AI. The Word cloud on the left illustrates the answers to the question, "What is one word to describe your feelings/energy leaving the event today?" and the word cloud on the right illustrates the answers to the question, "What was one word that you would like to share about your experience today?".
"It was rewarding to see participants feeling engaged and enlightened despite being tired after the day," Paul says.
"It was so great to see these word clouds showing feelings like happiness and validation. We wanted to ensure this experience was engaging and energizing – not just another virtual meeting. And based on the feedback, it seems we succeeded," Laurie continues.
According to the event feedback, 80% of the participants were very satisfied with the event, and 80% also said the event met their expectations. Moreover, the NPS for the event was 60.
"As our events are all about collaboration and making connections, as a part of the evaluation, we ask participants whether they made connections or found collaborators at the event. According to the evaluation, 85% of the participants made a connection with someone, and 75% spoke with a potential new collaborator," Laurie elaborates.
Steps towards creating impact
According to Laurie and Paul, measuring the long-term outcomes of one-off events can be challenging as it is difficult to follow everything that happens afterwards.
"Looking at the great feedback, we can see that our event probably made a difference, but whether people actually go and do something after the event – it's hard to know," Laurie says.
"There are probably many great things happening afterwards that are partly happening because of the event! And on the other hand, if we look at the fact that we facilitated an engaging, inspiring and energizing event around a very important topic, participants are happy – and we did it all virtually – I think we have really succeeded and created an impact," Paul concludes.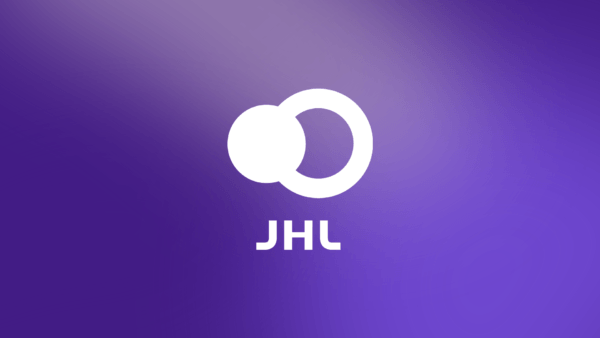 Howspace transformed JHL's member involvement and meeting management for good
Howspace has played an important role in supporting the transformation of JHL's networking and participation models for its members. Additionally, Howspace has brought much-needed change and new practices to JHL's meeting management.
View the story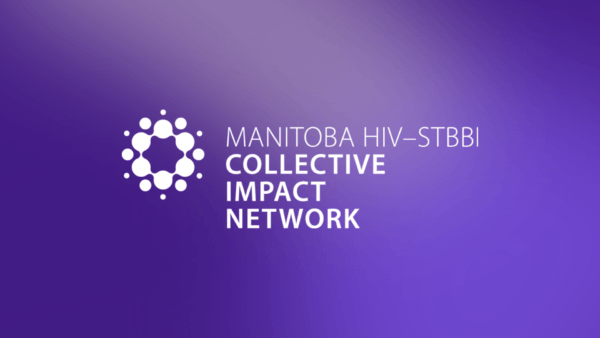 Powering systems change through collaboration and innovation
Manitoba HIV-STBBI CINetwork needed a solution that would enable them to create an engaging and fun online environment where they could bring people together and focus on tackling the stigma and 'isms' around HIV and STBBIs.
View the story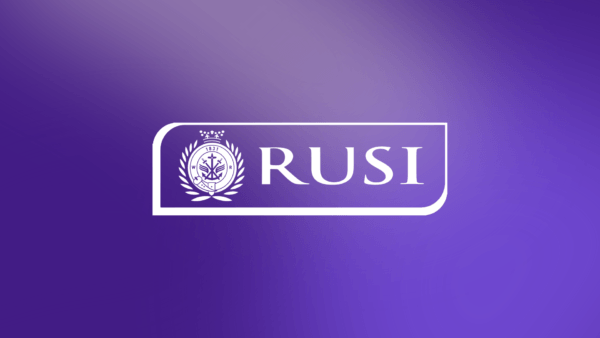 Powering research through collaboration
As a part of their research project, RUSI needed a platform that would enable synchronous and asynchronous collaboration. Howspace helped RUSI to run a collaborative research project and make everyone's voice heard.
View the story
View all
Templates used in similar cases
View all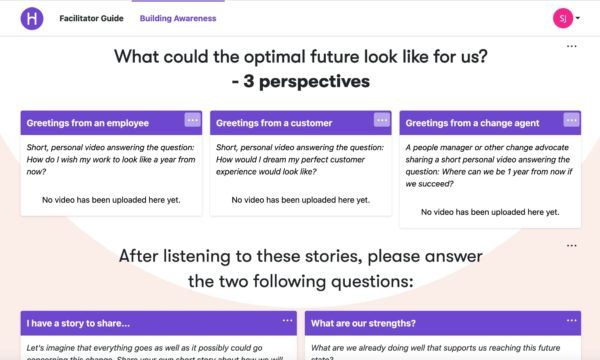 ADKAR: Awareness Stage
This is a template to execute the first stage of The ADKAR® Model of change in your organization: The Awareness stage.
Try the template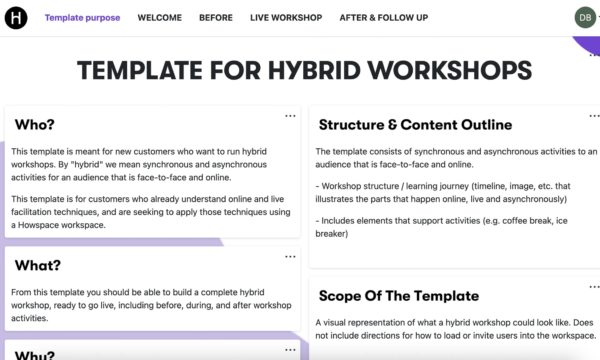 Design a Hybrid Workshop
With this template, you can build a complete hybrid workshop, ready to go live, including before, during and after workshop activities.
Try the template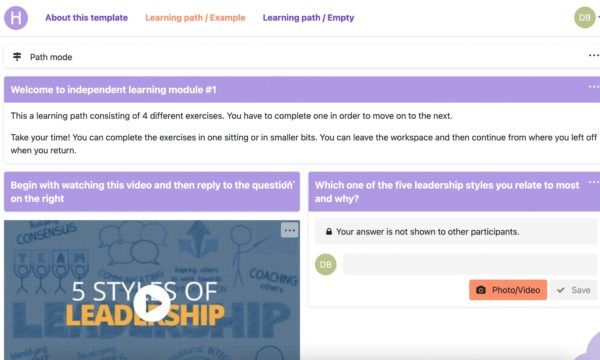 Learning Path
Engage participants in asynchronous learning processes that are simple, easy to follow, and supportive of individual ways of learning.
Try the template
View all