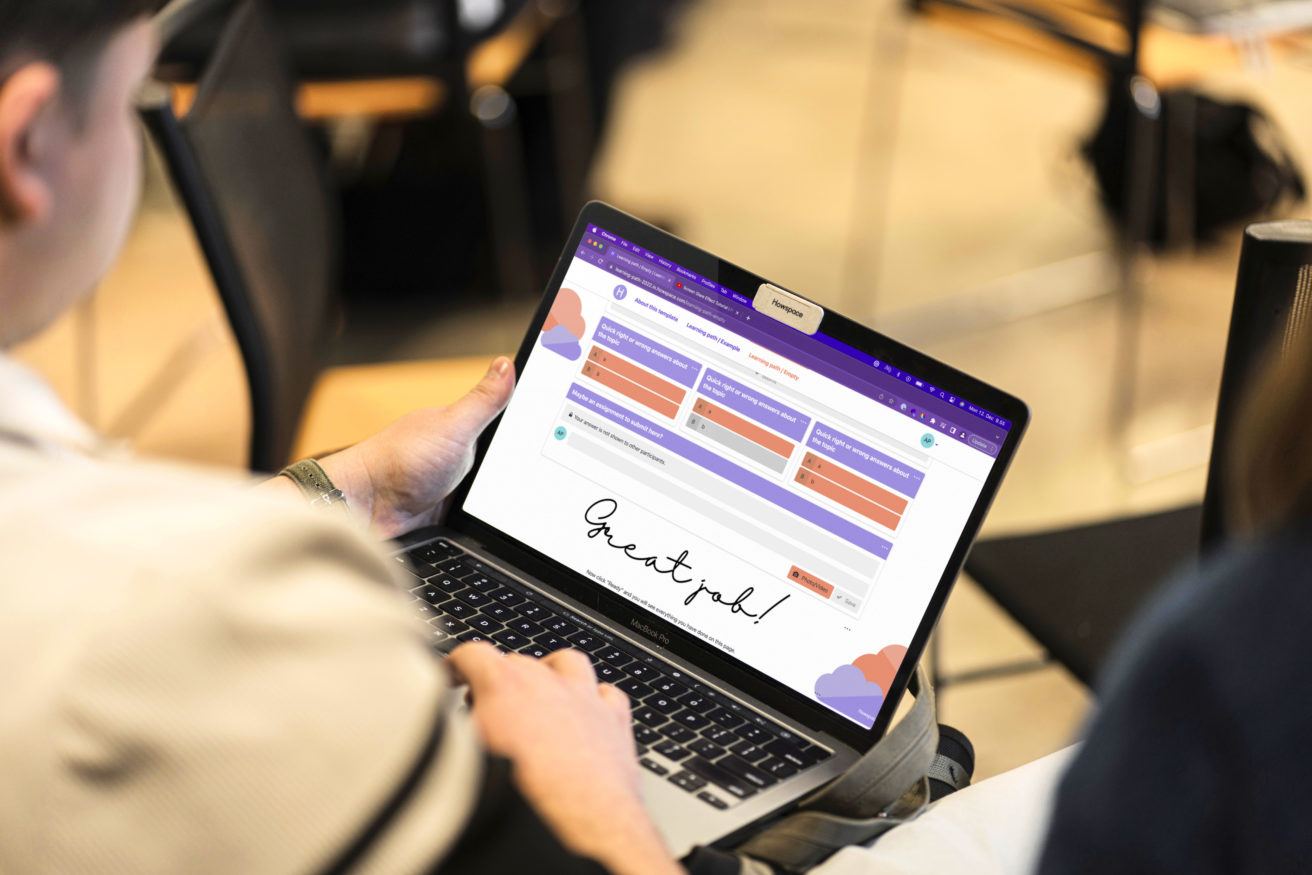 The elements of transformative impact: What does it mean in the context of learning?
Transformative impact involves unlocking and leveraging collective brainpower. When people come together around a meaningful, shared purpose, they're able to achieve the best possible results.
What exactly does transformative impact mean in the context of learning?
Let's take a look at the central role learning plays at Howspace, why collaborative learning is essential for every organization's success and transformation, and how you can put it into practice.
Learning is at the core of Howspace
Learning has always been a central part of everything we do at Howspace—it's part of our origin story.
The idea for what later became Howspace was born during a teacher training program in the late 90s. "As teacher trainers, we often received feedback that the best part of the training was the shared experiences and the time we spent with others during the breaks and other informal gatherings," explains Ilkka Mäkitalo, CEO and co-founder of Howspace.
This feedback led to an aha-moment: Peer-to-peer learning is the best way to learn, and the Howspace co-founders wanted to create a technology that would support this approach.
Howspace has grown beyond small peer-to-peer discussions, but at its core, it's about designing processes that enable deeper dialogue.
Dialogue is at the heart of transformative impact. In the context of learning, this means that allowing people to discuss, share their knowledge and experiences, and listen to each other is the best approach to support learning in organizations.
Our customers now take learning to new levels through peer-to-peer learning at scale, with thousands of people at the same time.
How to practice collaborative learning
Next, let's take a closer look at how you can practice collaborative learning to make a real impact.
Foster a learning culture
People in most organizations put a lot of effort into hiding their weaknesses and learning needs, according to studies by psychologist and professional development consultant Robert Keagan.
All this time and energy would be much better spent in real development. When organizations foster a learning culture and promote a growth mindset, employees will feel they can share their mistakes and lessons learned, and apply what they learn on the job. After all, failure is not a sign of weakness, but a necessary part of the learning process.
Learning organizations seek to equip their people with the skills to do their job better and work in increasingly fluid, democratized spaces. By creating a collaborative learning community in a platform like Howspace, you can encourage employees to share and reflect with one another.
Connect with others in a safe space
No matter how skilled or experienced an employee is, they can't do it all alone. Employees across an organization have skills that complement one another, and by working and learning together, they can be more efficient and achieve better results.
To drive transformative impact, organizations need to break barriers between teams and departments so that peer-to-peer knowledge can easily flow. To do so, a safe space for open communication is needed, which requires psychological safety. In other words, to share openly, employees should have no fear of criticism from others.
If someone's feeling insecure in a group dynamic, it's unlikely they'll ask for help, open up to others, or risk making a mistake. Only when an individual feels safe enough to share their thoughts and ideas without fear of criticism can they be in the right mental space for learning and creativity.
Lead by example
If leaders want their employees to learn from one another and grow, they need to model that behavior.
Rather than taking a top-down management approach, leaders must be curious and open to learning from employees so they can create impact together. By involving people in organizational processes and taking an open, experimental learning approach, you'll make more space for innovation—and face less change resistance.
What you can do with Howspace?
Here are a few practical ways you can use Howspace to design meaningful learning experiences that center on engagement and collaboration.
Employee onboarding & development
With Howspace, you can create collaborative online spaces for employee onboarding and development where employees can mentor each other and get inspired by each other's ideas and experiences.
Having opportunities to learn and grow is now the number one driver that people say defines a great work culture, according to a Glint report. Belonging and collaboration were also among the top five drivers.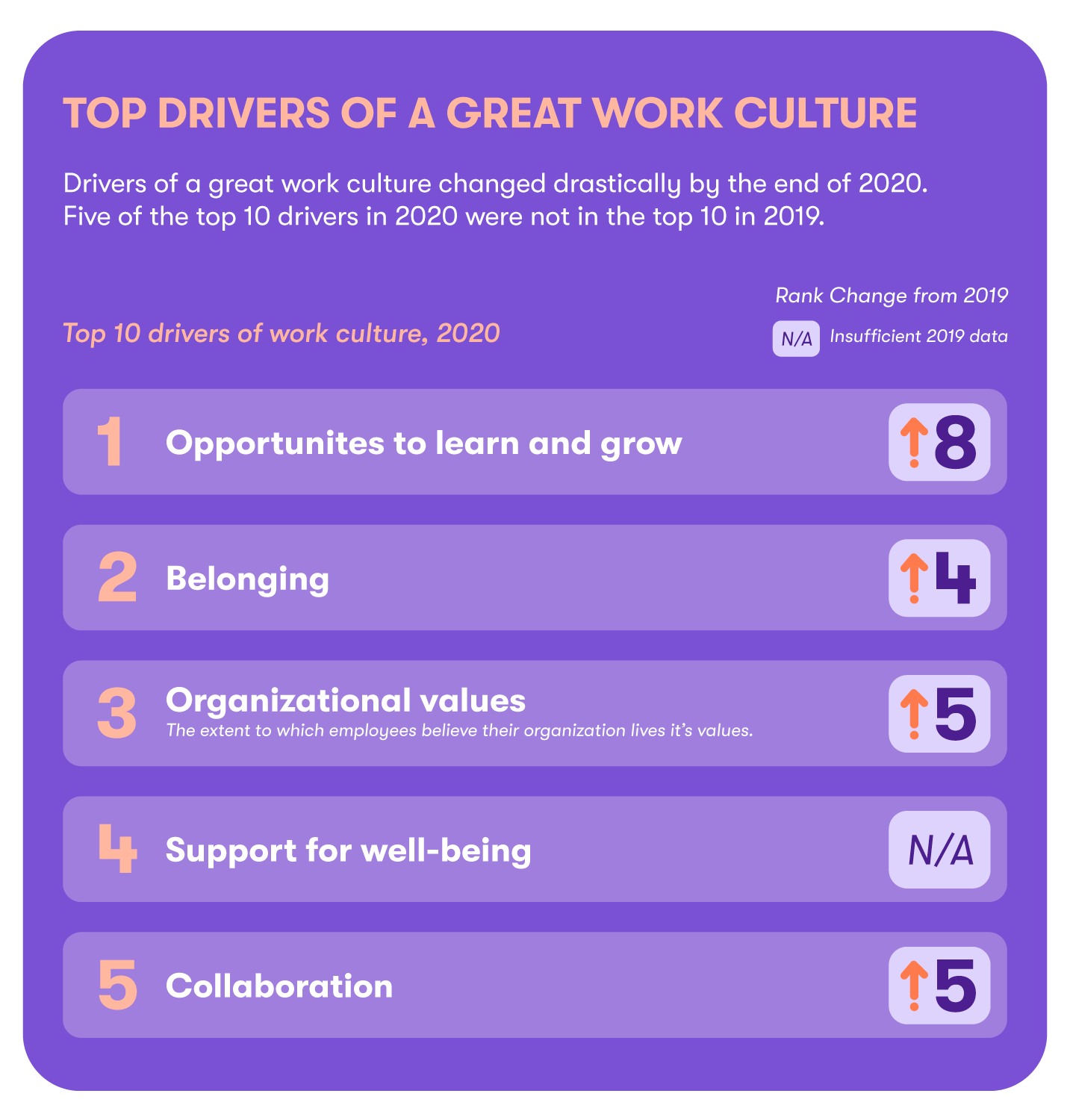 Original image source: Glint
That's why it's crucial to make collaborative learning a priority in your organization—from onboarding to ongoing employee development. Doubling down on learning and development (L&D) is key to gain a competitive advantage.
Learning is also rapidly becoming central to individuals' everyday work. 85% of L&D pros expect to see the same or more on-the-job learning through projects or gigs, according to the LinkedIn 2022 Workplace Learning Report.
Training programs
You can empower your employees, customers, or partners with collaborative training programs built on Howspace. By taking a collaborative learning approach, you'll enable participants to apply what they learn in their everyday work so it sticks.
For example, the training organization Optimé International achieved higher engagement levels and was able to support all learning styles by working with Howspace.
"There's something about the workspace in Howspace that creates a safe environment for people to contribute," explains Marty Blake, Chief Operating Officer at Optimé. This is because participants have time to reflect and can decide how they want to contribute instead of being put on the spot to speak out loud in front of all their peers.
Optimé uses Howspace to deliver asynchronous learning before and after their live virtual sessions, where collaborative learning plays a key role. Allen Bessel, Senior Vice President of Client Experience at Optimé, summarizes: "Howspace has become an extension of learning both before and after the classroom sessions through peer-to-peer discussions."
Learning communities
It's easy to create learning communications in Howspace where people share knowledge and learn from others. You don't have to limit learning communities to employees—you can also invite customers and partners, for example, to join and share their insights.
As David Donaldson, who was previously the Director of Client Solutions at Juice Inc, puts it, "Howspace enables us to create a community of practitioners that are all supporting each other and helping each other on their learning journeys. You get a bunch of people who come into Howspace and then they just start sharing—it just grows organically."
"Because of Howspace and how it works, we're able to have a conversation that actually spans three months, not three hours. It's enabling us to reach these larger wider audiences, but also create that larger sense of community," he continues.
---
Curious to learn more about the current state of collaboration in the context of learning? We conducted a multicountry, cross-sector deep dive to identify what workers want and need to be more prepared for the future of work.