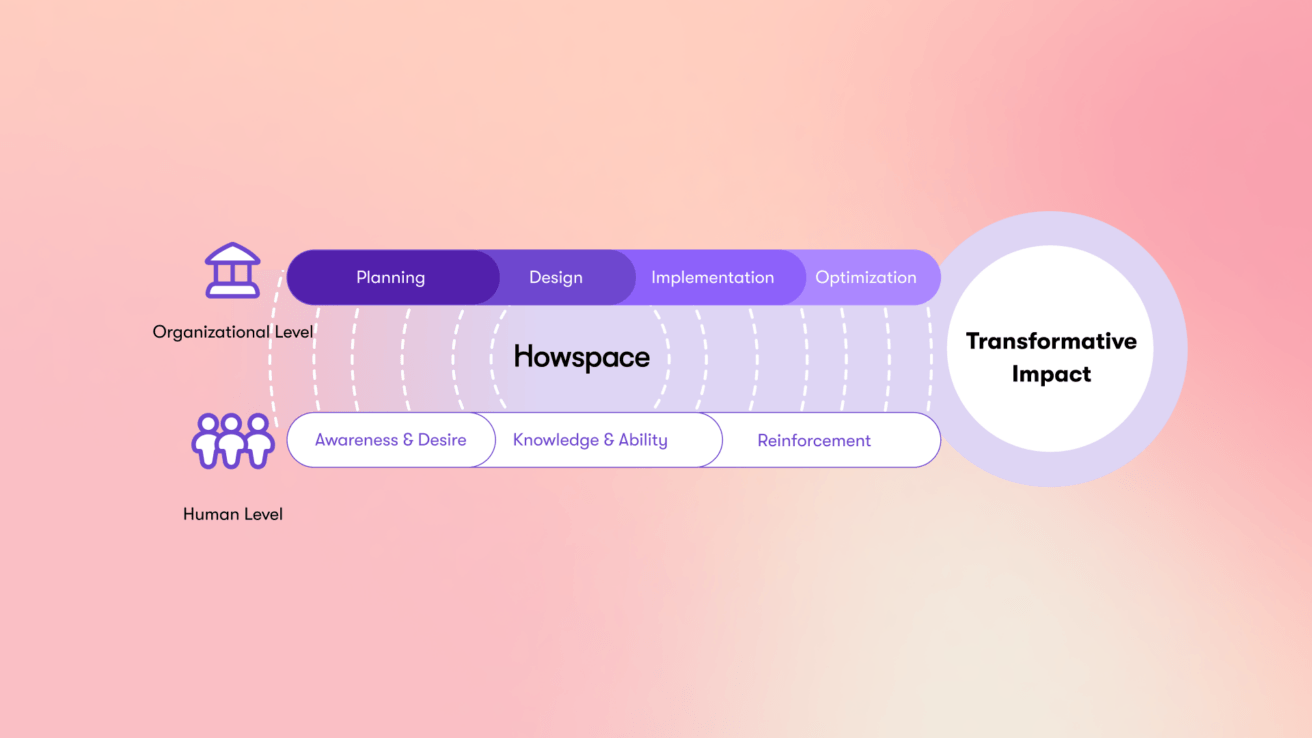 Howspace's approach to empowering organizational transformation
In today's fast-paced, highly competitive business environment, organizations are recognizing the critical importance of organizational transformation to not only survive but also achieve success and maintain a competitive edge. By embracing change, companies can effectively adapt to market shifts, seize emerging opportunities, and foster steady growth.
Successful transformation initiatives have been proven to deliver substantial financial advantages. A recent McKinsey report highlights that companies achieving their transformation implementation performance goals are highly likely to outperform industry averages in terms of financial growth. Moreover, those companies that not only achieve their goals but also maintain the transformation gains for more than three years experience twice the rate of financial growth compared to their peers.

In this blog post, we will delve into the concept of organizational transformation and its pivotal role in business. Most importantly, we'll explore Howspace's human-centric approach to successfully navigating large-scale transformations.
What is organizational transformation, and why does it matter?
Organizational transformation can have a huge impact on the growth and success of a business. When organizations embrace and implement transformative strategies, they embark on a journey of innovation and adaptability, which can lead to improved competitiveness and increased market relevance. Change initiatives enable companies to redefine their core processes, adopt new technologies, and revamp their organizational structures, resulting in improved efficiency, productivity, and customer satisfaction. Moreover, transformation fosters a culture of continuous learning and empowers employees to embrace change, free their creativity, and drive collective success.
Recipe for success
The impact of organizational transformation goes beyond short-term gains, positioning companies to thrive while achieving sustainable long-term success.
However, even though organizational transformation sounds straightforward, it isn't. In fact, 67% of leaders say they have experienced at least one underperforming transformation in the last five years.
Organisations that succeed in transformation excel at finding and promptly responding to signals of change. They have mastered the art of agile, frequent, and cost-effective experimentation, not only with products and services but also with business models, internal processes, and strategies. Additionally, they have the skills to navigate complex, interconnected systems in an increasingly interdependent world. Most importantly, these organizations recognize that their greatest asset is their people.
Leveraging people for lasting change
To truly succeed in transformation, organizations must harness the power of their people. By placing individuals at the center and considering their needs throughout the journey, organizations can achieve positive and lasting change. In fact, according to a recent McKinsey study, transformations with at least 7% of employees owning part of the transformation are twice as likely as those with less than 7% initiative ownership to have total returns to shareholders in excess of their representative sector and geographic stock index. So what really sets the more successful transformations apart is the involvement of every single individual and team.
However, becoming an adaptive player that leverages the human capital of the organization can be particularly challenging for larger organizations. Often prioritizing scale and efficiency, they rely on hierarchical structures and fixed routines, which lack the necessary diversity and flexibility for fast learning and change. Overcoming such deep-rooted management paradigms can be difficult, mainly when they have historically led to success.
Howspace – connecting people with the transformation
Organizational transformation truly is a complex and challenging journey that requires the active involvement of every employee. Many organizations fail to reach their full potential due to resistance to change and a lack of engagement, which are usually results of poor transformation leadership.
Human-centricity at the core
Transformations don't happen through initiatives and technology, they happen through people. That's why our core mission at Howspace is to connect people with transformation. As a combination of AI-powered technology and human-centric design, we want to empower leaders to involve every individual in the transformation journey – at scale. Using Howspace, leaders can create an inclusive space where employees can contribute ideas, participate in discussions, and co-create solutions.
Building a connection between people and transformation

The illustration above captures the essence of our approach to transformation. There are two interconnected levels; the organizational level, the engine room where strategies are formed and plans take shape, and the human level, the beating heart of every transformation – what brings the strategy and plans to life.
Planning – Awareness and Desire
The first stage of the transformation journey underlines the fact that before the journey can begin, both the organization and its people need to be aligned. On the organizational level, this planning stage will lay out the blueprint for the journey, while on the human level, this is where the spark of change ignites, as individuals recognize the need and understand the why of the transformation.
Design – Knowledge and Ability
The design stage on the organizational level is where the transformational gears begin to turn, aligning systems and strategies. However, change is not only about mechanisms. On the human level, this stage involves knowledge and ability – empowering individuals with the tools and insights they need to be the change catalysts.
Designing collaboration is also a vital part of this stage of the journey. True transformation isn't a solo act – it's a blend of various viewpoints and perspectives harmonizing towards a shared vision. Involving all relevant stakeholders to collaborate and contribute – at the right time – will enrich the transformation journey and ensure that it's representative of the entire organization. This is where mapping the collaboration comes into play. It's about creating a roadmap that guides interactions and collaboration, ensuring that the transformation journey unfolds seamlessly, with each participant having a clear role. Moreover, the map outlines the spaces where and how collaboration takes place.
Implementation and Optimization – Reinforcement
Next, the organizational level of the transformation journey progresses to implementation and optimization. These stages mark the realization of change in action and its ongoing improvement. On the human level, this reinforcement stage is the core of the transformation. This is where the commitment and collective drive of individuals will strengthen the impact of the change.
Howspace was built to bridge the gap between these two levels, enabling transformation that is not only holistic but genuinely human-centric – in every stage. Our platform will help foster the connection and dynamic of organizational and human levels, paving the way for lasting and positive change.
Building a transparent and inclusive organizational transformation journey
It's clear that every single individual may not be needed at every single step of the transformation. One of the key strengths of our platform is that it enables organizations to have the right people contribute at the right time while also ensuring transparency and openness. By utilizing Howspace, leaders can design transformation journeys that incorporate the input of all relevant stakeholders from the very beginning to the end. Moreover, by providing an environment and structures that foster innovation, leaders can set the scene for innovation and empower people to freely ideate, co-create, and learn together.
We believe in transparent leadership and great facilitation, and that's why our platform is designed to be a facilitator-led space where leaders can effectively drive progress by providing full visibility into the transformation journey. Our user-friendly platform that enables both real-time and asynchronous work will lower the threshold for participation while also ensuring that every voice is heard. At the heart of our platform is our unique AI, which serves as a supportive tool rather than a decision-maker. Our human-centric design ensures that technology and human interaction complement each other, making the transformation journey more effective and impactful.
By leveraging our platform's human-centric approach, organizations can unlock several key benefits throughout their transformation journey. Increased participation and involvement lead to better outcomes and lasting change. Transparency and openness foster clarity and shared understanding, reducing resistance to change. And ultimately, this will result in a committed workforce that is aligned with the organization's purpose.
Embracing human-centric organizational transformation with Howspace
Organizational transformation is not just about implementing change initiatives or adopting new technology; it is about empowering people. Companies that excel in their transformation recognize the pivotal role of their employees and involve them throughout the change journey. Our approach to transformation revolves around connecting people with change and fostering a collaborative and inclusive environment to do so.
At Howspace, we aspire to be at the forefront of shaping a new era of transformation – one that is inclusive, participatory, and human-centric. We firmly believe that the real potential of any organization lies within its people, and by nurturing their skills, ideas, and creativity, we can catalyze true change.
We want to accelerate the shift towards more human-centric transformations. We envision a culture where every employee has a voice and the opportunity to contribute to the transformation journey. And that is what the right mindset and our platform can enable.
---
At best organizational transformation is a strong force that shapes your business for the better. Howspace can support you in unlocking the full potential of your organization by putting people at the heart of transformation.

If you want to learn more about our human-centric approach to transformation and hear from speakers from KONE, Wärtsilä Energy, SAP, Sofigate, Gaia Consulting, and other industry experts and thought leaders, join our virtual Transformative Impact 2023 event on October 5.

You might be interested in these as well
View all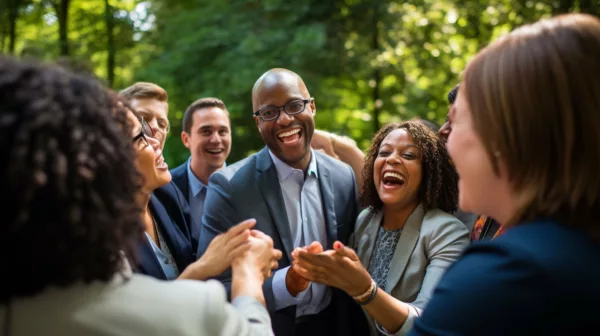 The importance of leadership in guiding organizational transformation
Discover how effective leadership drives organizational transformation. Explore strategies for successful human-centric transformations.
Read more
View all
Templates related to this topic
View all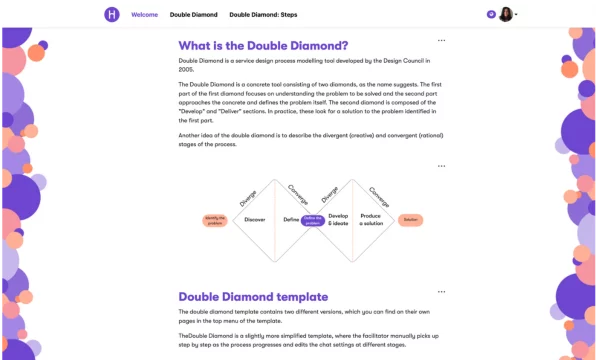 Double Diamond
This template helps you define what you need to solve, and then explore potential solutions in a collaborative way. It offers a plug-and-play workflow for a Double Diamond process, which you can edit if needed.
Try the template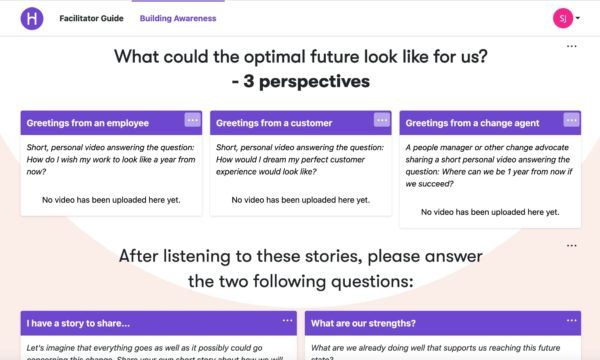 ADKAR: Awareness Stage
This is a template to execute the first stage of The ADKAR® Model of change in your organization: The Awareness stage.
Try the template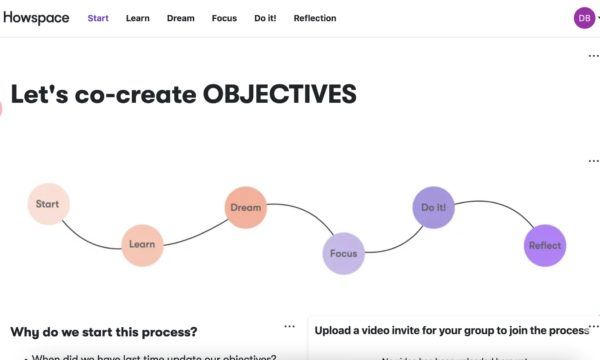 Co-creating 4D Objectives
This is a practical goal-setting template that utilizes an appreciative inquiry-based 4D-model in the context of a setting company or team-level objectives.
Try the template
View all