Royal United Services Institute (RUSI)
Powering research through collaboration
Challenge
Royal United Services Institute (RUSI) needed to find a solution that would enable them to bring together 25 assessors to collaborate as a part of a research project. The assessors were located around the globe, so it was important to be able to work both synchronously and asynchronously.
Solution
Howspace allowed RUSI to organise live workshops and have participants access all information, discussions and resources whenever needed. Moreover, the Howspace platform made the research project significantly more collaborative, and all research material was collected in one place and accessible throughout the research project.
Results
Everyone's voice heard: Even though not everyone could participate in every workshop, Howspace made it possible to join conversations and share thoughts asynchronously – making everyone's voices heard.
Increased collaboration and knowledge sharing: Howspace enabled 25 expert assessors from around the globe to come together to share their views and knowledge on the research topic.
Higher engagement and involvement: Using Howspace, RUSI was able to create an easy-to-navigate and engaging environment for project participants to be involved and contribute to the research.
Royal United Services Institute (RUSI) is an independent think tank producing evidence-based research, publications, and events on defence, security, and international affairs to help build a safer UK and a more secure, equitable, and stable world.
Power of knowledge and collaboration
In late 2021, Grace Evans, Lauren Young, and their team started to work on a Horizon Scan . The aim of the research was to examine the trends and impact of climate change on large-scale illegal, unreported, and unregulated (IUU) fishing.
"This was a very collaborative project where we brought together 25 assessors – experts in their respective fields. As the project was about IUU fishing, we had a whole range of individuals involved; from former fishermen to American national guards, from officers to academics,fish biologists and to individuals who work in the geopolitics space," Grace explains.
The project's biggest challenge was finding a way to have assessors from around the world collaborate as they were analysing and prioritising the list of trends. This process included two rounds of voting, and Howspace was utilized inthe second round of the process.
"We started out with over 100 [trends], and we assigned our experts a certain number of trends to review and revise, giving us new title suggestions, clustering them or combining or breaking them apart," Grace describes.
"We had two separate rounds of voting. I joined the project during the second round of voting, and that was when we started to use Howspace," Grace adds.
Making everyone's voices heard
According to Grace, the first round of voting saw the assessors working individually. It was Grace's and Lauren's responsibility to combine the individual reviews at the end. Howspace was involved in the second round, and Grace describes it as being significantly more collaborative.
The Horizon Scan project included five 3-hour long online workshops with the experts involved. Howspace was used to have people comment, share links and information, and have discussions before, during, and after the workshops. The project team needed a platform where the conversation could continue even after the live workshops.
For the second round of voting, the assessors had access to all the information that was on the platform, including each other's comments/thoughts unlike in the first round.
"The participants were able to use the information all other assessors had shared on the trends. So, rather than just being given a list of titles and ranking them one through a hundred, they could click around the workspace and go through all the information, documentation, and conversations about each trend," Grace explains.
Being able to access all the information and discussions asynchronously was important, especially as not everyone was able to attend the live workshops – there were participants from all time zones around the world.
"We weren't able to run workshops at times that work for people from all time zones, but we still wanted to have every assessor give input and collaborate as much as possible on as many topics as possible," Grace adds.
Engagement and impact through collaboration
In addition to enabling conversations and knowledge sharing, RUSI needed a platform that would let them embed documents and link media. Given that the project's outcome is a research paper, it is extremely important that everything is saved and accessed after the live workshops. And, of course, it was essential that the platform was easy to use.
"From the participants' side of things, we only heard positive feedback. People complimented how easy it was to navigate and find what they were looking for – it was very straightforward. Everyone who engaged with the platform said it was really easy and fantastic. In projects like this, having everyone participate and engage will always remain a challenge, but that's a part of running workshops and projects online," Grace explains.
When talking about the results of using Howspace for the project, Grace lists peoples' voices being heard as the biggest one. In research projects, it is vital to be able to engage people and have them contribute to the topic.
"The first round of voting – which was done without Howspace – was quite indicative of where participants' existing knowledge base was, whereas the second time around, some people ended up voting differently. This makes me think that the discussions and hearing other people's knowledge and experiences made some participants change their thinking. So, I believe participants were really listening and taking others' views into careful consideration," Grace describes.
"It's difficult to quantify the results, but it did seem that the collaboration made a real impact on how the research ended up looking and what the final results of the project ended up being," Grace concludes.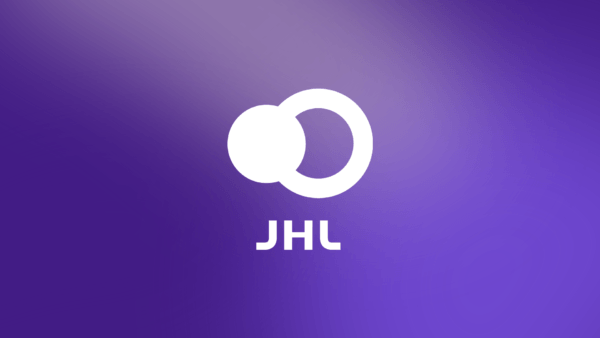 Howspace transformed JHL's member involvement and meeting management for good
Howspace has played an important role in supporting the transformation of JHL's networking and participation models for its members. Additionally, Howspace has brought much-needed change and new practices to JHL's meeting management.
View the story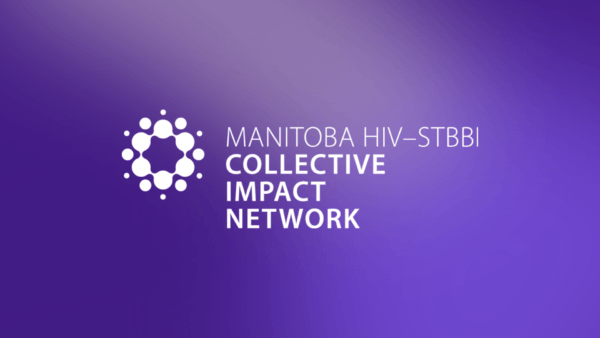 Powering systems change through collaboration and innovation
Manitoba HIV-STBBI CINetwork needed a solution that would enable them to create an engaging and fun online environment where they could bring people together and focus on tackling the stigma and 'isms' around HIV and STBBIs.
View the story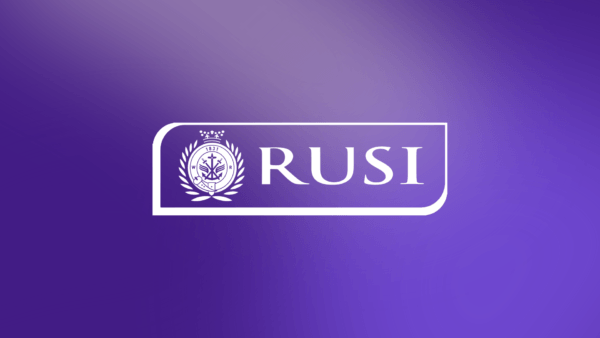 Powering research through collaboration
As a part of their research project, RUSI needed a platform that would enable synchronous and asynchronous collaboration. Howspace helped RUSI to run a collaborative research project and make everyone's voice heard.
View the story
View all
Templates used in similar cases
View all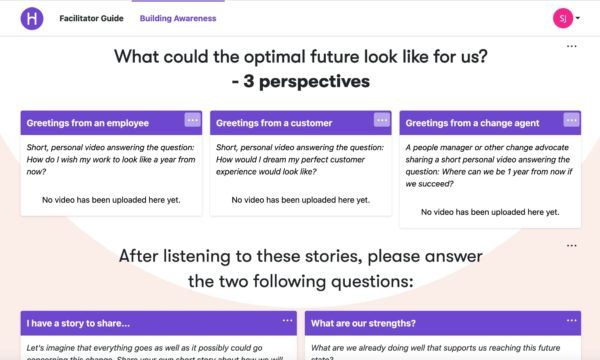 ADKAR: Awareness Stage
This is a template to execute the first stage of The ADKAR® Model of change in your organization: The Awareness stage.
Try the template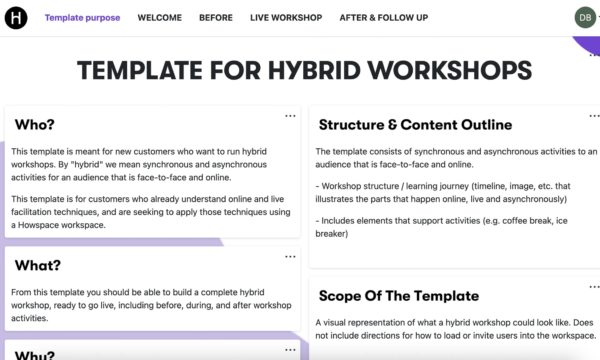 Design a Hybrid Workshop
With this template, you can build a complete hybrid workshop, ready to go live, including before, during and after workshop activities.
Try the template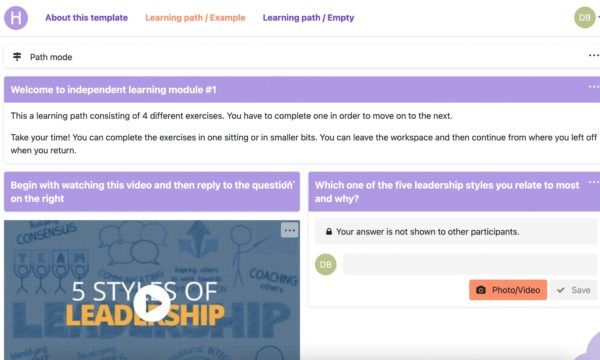 Learning Path
Engage participants in asynchronous learning processes that are simple, easy to follow, and supportive of individual ways of learning.
Try the template
View all