HR4
HR4 develops customer and employee experiences with Howspace
Challenge
HR4 is a consultancy offering HR management, research and business management services. They needed a digital learning and collaboration environment for their customer training programs that enabled their consultants to facilitate and guide learning rather than leaving the students to their own devices.
Solution
They started using Howspace, internally known as HR4 Campus, for most of their training and continuously adapted it to their needs. Because of the flexibility of Howspace, they also started to use it for their customer events and as an internal communication tool for their on-location staff.
Results
Facilitated learning: Facilitator-led learning keeps the students committed and engaged.
Multi-purpose tool adapted to different needs: While Howspace was adopted for its capabilities as a learning platform, it eventually extended into other parts of the organization as an event platform and communication tool.
Hybrid and remote reach: "Our company has nearly 120 employees, most of whom work in customers' locations. Through HR4 Campus, our employees across the entire country, including Oulu in the north, can participate in our Skills Academy training programs. Howspace makes training and other operations more effective."
Similar customer stories
The House of Change's journey: From a training organization to a transformation organization
The House of Change (THOC), a learning and development organization in Belgium, made their services more digital, more relevant, and more impactful.
View the story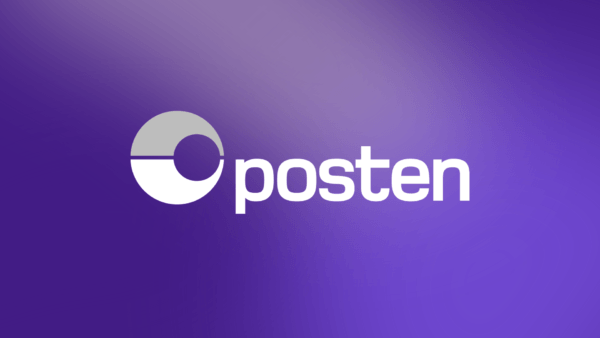 Posten Norge created a leadership community to succeed in a changing environment
Posten Norge involved the whole organization in the renewal of their strategy. This is how they used Howspace to succeed.
View the story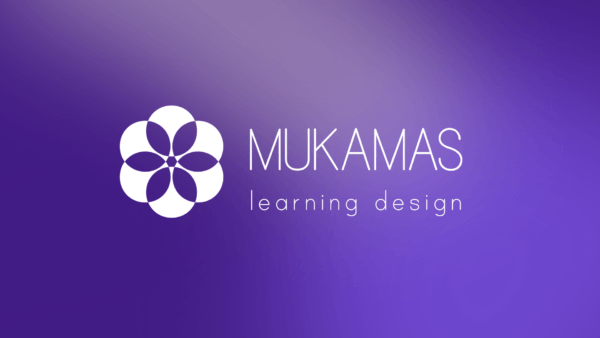 Mukamas Learning Design used Howspace to engage 600 participants in dialogue
Mukamas Learning Design increased engagement among 600+ participants in a kick-off event for Finland's largest secondary vocational school.
View the story
Templates used in similar cases
View all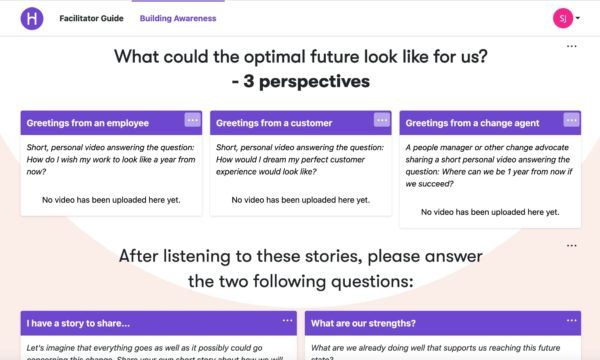 ADKAR: Awareness Stage
This is a template to execute the first stage of The ADKAR® Model of change in your organization: The Awareness stage.
Try the template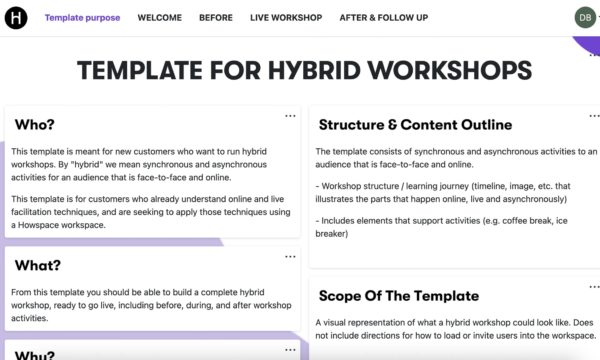 Design a Hybrid Workshop
With this template, you can build a complete hybrid workshop, ready to go live, including before, during and after workshop activities.
Try the template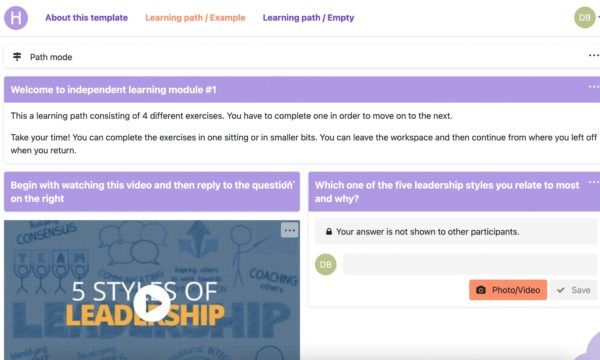 Learning Path
Engage participants in asynchronous learning processes that are simple, easy to follow, and supportive of individual ways of learning.
Try the template
View all