Jumpstart your collaborative process
Get started quickly with our ready-to-use collaboration templates.

Inspire big ideas
Whether you're new to the platform or a long-time customer, Templates enhance your processes with the best practices of other Howspace community members.

Get excited
See how other Howspace users build their workspaces to drive impact across organizations and industries.

Get started
Avoid getting caught up on a blank canvas and customize a template that's designed with your goals in mind.

Get creative
Build your own templates to cut down on prep time for workshops or routine processes, or to experiment with new ways of working!

Get contributing
Share templates you've made to the Gallery so others can benefit from your experiences on the platform.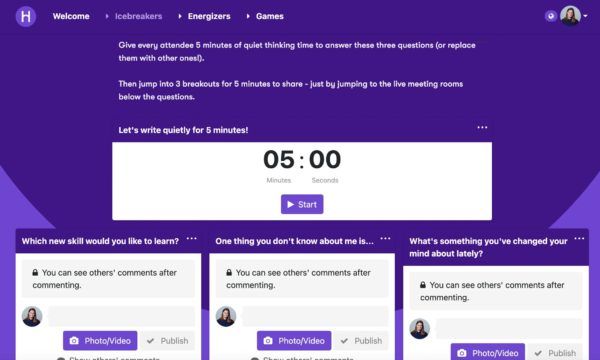 Icebreaker and Energizer Activities Template
This template offers a collection of different icebreaker and energizer activities and games to be used in virtual and hybrid meetings.
Try the template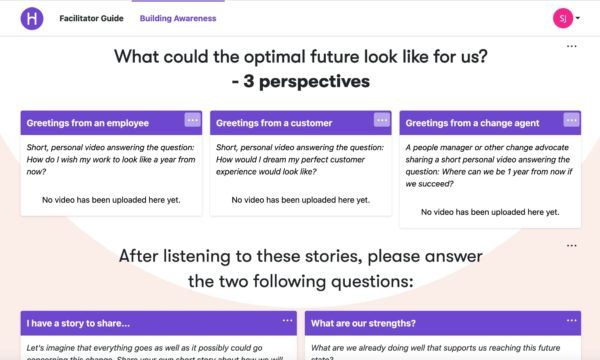 ADKAR: Awareness Stage
This is a template to execute the first stage of The ADKAR® Model of change in your organization: The Awareness stage.
Try the template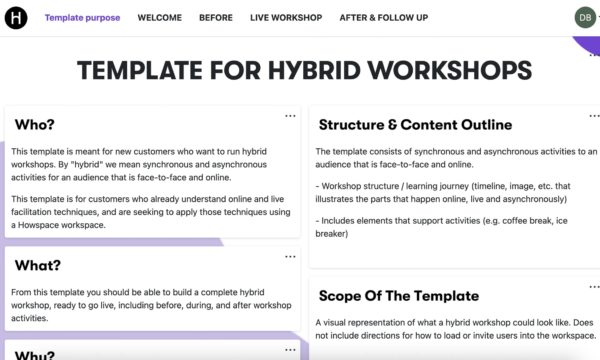 Design a Hybrid Workshop
With this template, you can build a complete hybrid workshop, ready to go live, including before, during and after workshop activities.
Try the template
View all
FAQ
Howspace Templates allow you to jumpstart your workspace creation process with high quality and inspiring templates built by members of the Howspace team and our awesome community of users from around the world. All Howspace Templates are fully customizable, allowing anyone who downloads one to make changes, both to visuals and format, that best suit their unique needs.
We're still in the process of building up our Gallery with awesome pieces of inspiration—and we're looking forward to your help in that!—but currently, you can find Templates built for creating workshops, improving team collaboration, providing feedback, and more.
You can start using Howspace Templates, if
you are an admin user in Howspace and have the rights to create new workspaces. If needed, contact your main user to make sure you have the required rights.
or
you are not yet a customer, but you want to try Howspace for free for 30 days. During the trial period you can test as many templates as you like.
Find a Template you want to use, and click on it to view its description.
Below the image of the template you will find the Try this template -button. Click on it.
Now you are just a few steps away from accessing your template:

If you are already a Howspace user and you have the rights to create new workspaces, find the yellow bar at the top of the window and select: Already using Howspace? Create a workspace using this template.
If you are not yet a Howspace user, fill in your details on the form and click Open your trial to start your free trial using the template of your choice.

Give a name to your new workspace and click Create a new workspace. Now you have a workspace with the contents of the template, and you are the only admin user of the workspace.
Customize the workspace if you wish and invite your participants!
Yes! Templates and our Template Gallery are free and available for everyone. You can start using templates on your existing subscription or start a trial by trying a template.
Absolutely! Templates are the perfect way to get started with Howspace, taking inspiration from the best practices of other users and customers who've been on the platform for a while. You can open a free trial for 5 users and experience 30 days of full access to our latest AI-powered premium features.
Find a Template that you like and open it up.
Click "Try this template".
Fill out the Trial form, then click "Open your trial".
You'll be taken right into your trial with the Template you've chosen!
We welcome all Howspace community members to submit their best practice templates to the Gallery so that others can find inspiration and learn how to use the platform when they're just starting out! Make sure to read our Submission Guidelines if you want to contribute a template.
Visit "My Templates" in the Action Menu to find the template you want to submit.
Click "Edit template" in the drop-down menu found under the […] icon.
At the top of your template, you will find a yellow bar, where you can click "Template Settings" to open up your template.
Give your template a name that clearly explains what this template is, as well as a short intro that will make it easier for others to find. In the Description box, explain how to use your template and why it's useful to your fellow Howspace users!
Choose up to 3 tags that best describe your template, and include a cover image that'll set your template out from the rest.
When you're satisfied, you can click "Published to Gallery" under Public template sharing. Our team will review your template before approving it for public use. Click "Save" when you're done, and we'll get an alert on our end that you've submitted a template!